Raquel Leviss claims fans didn't see the entirety of her conversation with Lala Kent on Tuesday night's episode of Vanderpump Rules. In fact, according to a message shared on Instagram, Bravo editors left something major on the cutting room floor.
As she looked back on their chat during an episode of the Pump Rules: After Show, Raquel also shared a photo taken at the time of her meeting with Lala, and in the comments section of the post, she revealed what fans didn't see from their conversation.
"We both need our daily dose of anti-b***h serum aka chai tea lattes ☕️ #pumprules (photo taken summer 2019)," Raquel wrote in the caption of her March 24 post on Instagram.
Following the sharing of the throwback photo, Raquel was met with a comment from a fan who was suspicious of the editing of her scene with Lala.
"That editing was so obvious and shady during Lala's apology. They tried to make it look like Lala gave you a non apology and you were just so grateful for any crumb lol," the Bravo fan wrote. "I see you editors."
"Our conversation was much much longer than what was shown," Raquel confirmed. "This conversation was one of my favorite moments of filming because we really connected and were able to move on from last years argument."
Another fan told Raquel she was sad to see that Lala failed to apologize. However, in response to the fan, Raquel claimed Lala actually did apologize.
"You know what's even more sad? Lala did apologize and they decided to edit that part out," she shared in a now deleted post.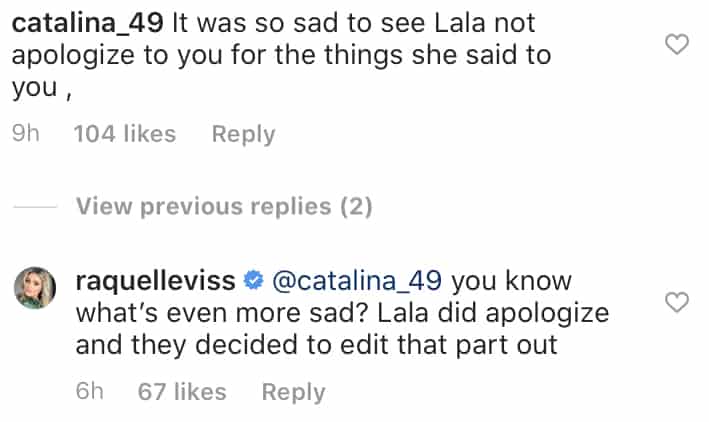 Raquel also spoke about her chat with Lala during a taping of the Pump Rules: After Show, revealing that her boyfriend, James Kennedy, told her in advance that Lala was expecting an apology.
"It was interesting because James told me that Lala expected an apology from me for the way I spoke about her father's death. I was so taken back by it because I'm expecting an apology from Lala," Raquel admitted.
According to Raquel, she felt she deserved an apology from Lala due to the way she treated her during season seven.
"She treated me so poorly last season and really came after me in a way that's unacceptable," she explained. "I just wanted to lay it out there, like, 'If you really think I'm stupid, Lala, then we never have to have a conversation again.' And then she told me, 'No, I don't really think you're dumb. I just lash out at certain things at certain times.'"
During her own After Show appearance, Lala confirmed she apologized to Raquel during their coffee date.
"I felt the need to reach out to her to apologize that she was in my line of fire," Lala said.
Photos Credit: Startraksphoto