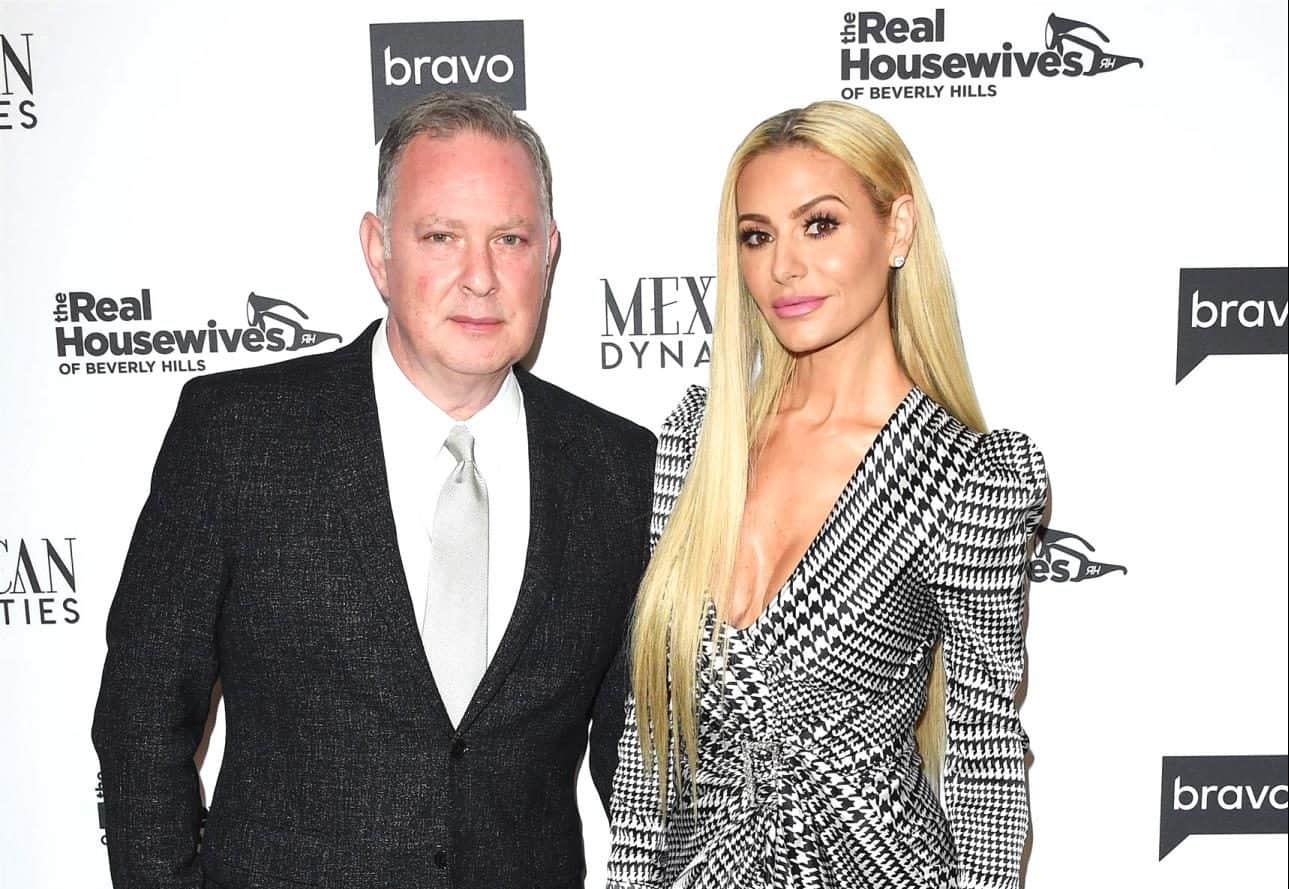 Dorit Kemsley's husband, Paul "PK" Kemsley, isn't happy with the way he's been portrayed on The Real Housewives of Beverly Hills.
During an April 27 appearance on Heather McDonald's podcast, Dorit confirmed PK is unhappy with the way he's been shown on the show and admitted to being sad about it while also explaining why his oldest children haven't been seen on the show and sharing her thoughts on the reality curse on marriages.
After Heather asked Dorit if PK was okay with his on-camera persona on Juicy Scoop, Dorit replied, "No, not at all."
According to Dorit, PK is much different than the man fans see on RHOBH and she hates to see that producers haven't shown a more well-rounded view of him.
"He's a man who's done a lot in his life and he's a really, really kindhearted good, sweet, gentle, smart man and I think they don't show a lot of those sides to him and that's what's unfortunate for him and for me," Dorit explained. "I get a bit sad about it because when you love somebody and people have a certain image of them and it's so far from the truth, it hurts you."
Dorit and PK share two children and PK has three older children, one son and two daughters, from a previous marriage, none of whom have been seen on RHOBH.
Speaking of her three step-children, Dorit revealed that PK's oldest daughter is currently working as a makeup artist in Los Angeles.
"She did makeup school here, which I helped her get into and find that passion. She's a very talented makeup artist," Dorit said. "The youngest is still in school. She's in London with her mom. [And] the oldest boy did study in New York when we were there and then chose to go back to London so he's working there. He's in film and entertainment."
While Dorit is present in the lives of PK's older kids, she said that their mother did not want them to be on the show.
"I'm very respectful to them and their mother. They don't really want to be a part of [RHOBH] and we would never force that on them," Dorit shared, adding that the children could certainly appear on the show in the future if they wanted to.
Although a number of Real Housewives couples have called it quits after seemingly spiraling in their relationships on their shows, Dorit told Heather that she was never concerned about the show having a negative impact on her marriage to PK.
"That never frightened me, scared me, or worried me because I think that happens only when it's a marriage that already has cracks and you're living in something like this that's going to highlight those and make it happen quicker," she explained. "PK and I already have a very strong marriage and a great relationship based on trust respect and love and you can't crack that. If anything, the things we've gone through together have made us stronger."
As for her future, Dorit said she's hoping to expand her Beverly Beach brand which currently offers high-end yet affordable swimwear and athleisure.
"I can see myself doing a lot of things," she confirmed. "I for sure see it as a lifestyle brand. I love leisurewear and we'll see. I'm working on a few different things and I see it building and expanding and growing."
The Real Housewives of Beverly Hills season 10 airs Wednesdays at 8 p.m. on Bravo.
Photo Credit: Vince Flores/Startraksphoto.com