Dorit Kemsley is still being held accountable for her late arrival to Teddi Mellencamp's accountability event.
As the Real Housewives of Beverly Hills cast rehashed the drama during Denise Richards' dinner party on Wednesday night's new episodes of the show, Kyle Richards called Dorit out on Twitter for failing to fulfill her commitments to the show. Dorit responded by accusing Kyle of lying about her late arrival, saying she didn't have the option of traveling with the rest of the women and slamming her for attacking her over her glam when the topic was irrelevant.
"If [Dorit] did not want to show up on time for Teddi I would have thought she would at least have to show up on time for her commitment to RHOBH… Like we all had to," Kyle tweeted on May 13.
"Teddi made it clear we could come when we choose," Dorit clapped back. "I told the entire group I was coming after lunch. Suddenly I'm late and not committed to my 'obligations'? I wasn't even aware you were all traveling together and wasn't invited. I didn't get that memo!"
According to Kyle, she believes that if the issue she had with Dorit's late arrival, which seemed to stem, at least from Kyle's point of view, from the fact that Dorit got all glammed up for Teddi's event, had stayed between the two of them, it would have ended there. However, Dorit believes it was Kyle who chose to get the rest of the cast involved.
"You were happy to get people involved until [two] people didn't agree with you," Dorit noted. "And making up a story about me being late because of glam and being mad about me glamming in the 1st place feels like an attack for no good reason. We're supposed to be friends."
"I am not making up anything. Ask [Erika Jayne]," Kyle advised. "We thought we all had to leave at 5am. And we are friends. But could have handled it better without everyone piling on."
Kyle then added that she didn't want to include others in their dispute.
"When was I happy to get anyone involved? I didn't ask anyone's opinion and didn't want to say what people had already said to me," Kyle said.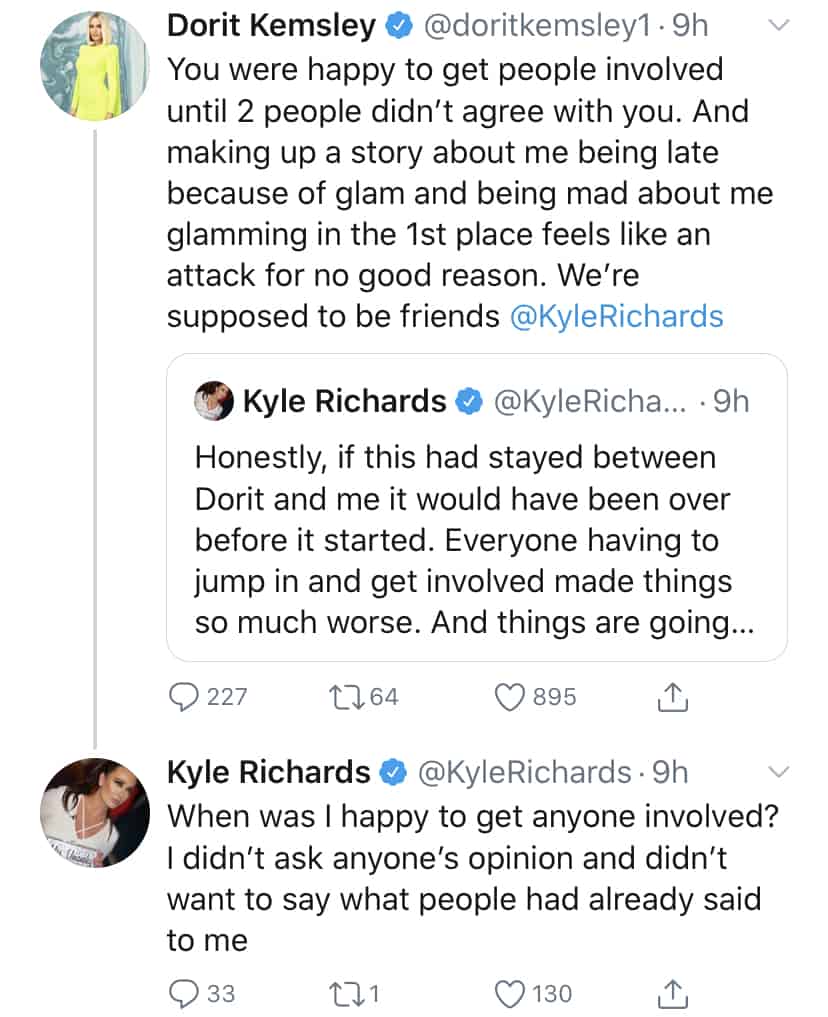 The Real Housewives of Beverly Hills season 10 airs Wednesdays at 8 p.m. on Bravo.
Photos Credit: Bravo