Are 90 Day Fiancé: The Other Way stars Ariela Weinberg and Biniyam "Baby" Shibre still together?
Ariela, 28, and Biniyam, 29, have documented their love story on the second season of the 90 Day Fiancé spinoff, detailing how Ariela met Biniyam while vacationing in Ethiopia.
The couple learned early on that they were pregnant, and Ariela decided to leave her hometown of Princeton, New Jersey, to head overseas before her due date so the couple could raise their son together.
Ariela struggled to adjust to life in Ethiopia, as living conditions weren't exactly similar to what she was used to in the United States. The couple also quarreled over finances, as Biniyam struggled to make enough funds to support his family.
Moreover, after their son was born in December 2019, the couple struggled to see eye-to-eye on many things, from the baby's name to deciding on baptizing him in Biniyam's faith.
These issues have caused viewers to wonder if the couple managed to stay together after cameras stopped rolling. According to both Ariela and Biniyam's social media pages, however, things are looking solid as they both continue to post sweet photos together and with their son.
"Ethiopian food is the best!" Ariela exclaimed in a post last week, showing she and Biniyam enjoying a traditional Ethiopian meal together.
The reality star recently hinted at she and her partner still going strong in an Instagram post shared on Monday, as the two cozied up for an intimate selfie.
The couple, who welcomed a son, Aviel Biniyam Shibre, in October, appeared happy and still in love in the photo, posing in the hallway of the apartment they share in Biniyam's hometown of Addis Ababa, Ethiopia.
For her caption, Ariela used several hashtags about the show, also linking she and Biniyam by simply writing "#arielaandbiniyam."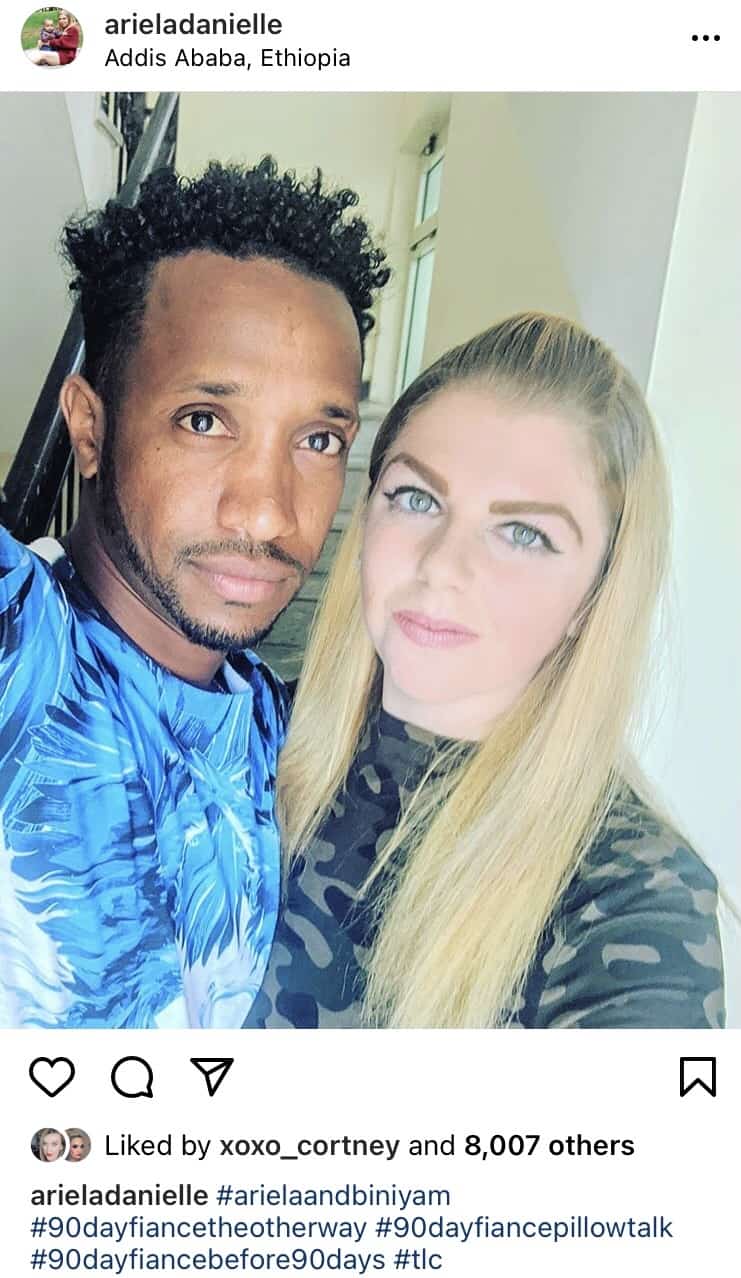 Ariela also shared a photo set of Biniyam's close friend, Tsion, with Aviel, showing the generous support she's received and the friends she's made on her relationship journey with Biniyam. According to these tender shots, Ariela seems content and shows no signs of leaving the country.
"Together we have shared so many joys and some sorrows. These pictures remind me of some of our wonderful adventures," Ariele wrote in the post.
Biniyam also shared a sweet family photo last week with Ariela, baby Aviela, and friend Tsion, following the moment on the show when Ariela welcomed their first child.
"Your real family are the people who are always there for you through thick and thin," the reality star wrote.
https://www.instagram.com/p/CG6YokgHAS-/
Catch new episodes of 90 Day Fiancé: The Other Way every Sunday at 8 p.m. ET on TLC to find out what happens with Ariela and Biniam plus all the other couples.