Editor's Note – This story was originally written last fall.
The Real Housewives of Beverly Hills are now known for their over-the-top looks and on-hand glam squads, but it wasn't always that way. That was until Erika Jayne came along.
The flamboyant reality star burst onto the RHOBH scene in 2015 for season 6, stunning the ladies with her Barbie-esque appearance, dance pop singing career, and much-older, very rich husband, Tom Girardi.
But even more stunning were Erika's high-fashion, uniquely chic styles, as she proudly toted around her glamorous team of experts who helped her plan and create specialized "looks," creating "characters" for various occasions.
In a fashionable celebration, Reality Blurb is taking you back through the RHOBH seasons to reflect on some of Erika's most iconic, memorable outfits. Check out the styles below! What's your favorite?
Sexy Berliner Barbie, Season 8, Episode 17 
Erika is known for her fiery performances and music videos, so it was no surprise that she brought the fire, sexiness, and sass in this dominatrix look for the Berlin, Germany cast trip during season 8 (posted here by Erika's hair stylist, Clyde Haygood). The "XX$PENSIVE" singer's tight, red latex blouse, fitted black pencil skirt, and über high black heels gave off some secret Berlin "sex club" vibes, as the reality star joked during the cast's alcohol-infused river boat ride. The look was completed with a super high ponytail, punk-style bangs, and a fierce, black-winged eye, as her fire engine-red lips aptly matched her statement piece blouse.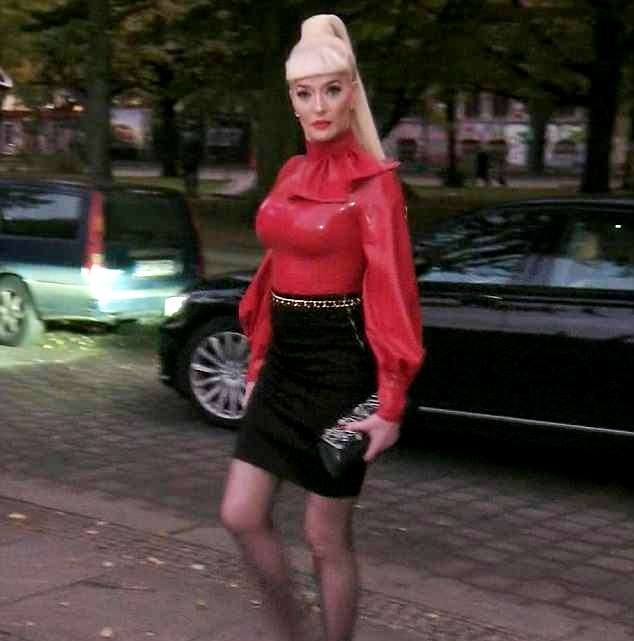 Although the final aesthetic was undoubtedly fabulous, the 49-year-old detailed the difficult journey getting in to the outfit, crediting "lube and baby powder"as her saving grace.
Grunge Glam, Season 10 Confessional 
Erika toned it down a tad (for Erika Jayne standards) in this season 10 confessional style, which channeled Clueless-era grunge chic. Her high, tousled ponytail and nude lip complemented the look, which featured a black, mesh, long-sleeve bodysuit or top, elegantly accessorized with layers of gold necklaces, rings, and earrings. One necklace showcased a Christian cross, giving that signature '90s, Gothic-tinged feel for the overall look.
Dolce Vita Doll, Season 10, Episode 13 
Erika appeared to be plucked straight from a Dolce & Gabanna ad for this style, looking like a chic, 1960's Italian film star with a cropped 'do and dramatic smoky eyes. Her black mini dress had long, lace sleeves and a corset-looking waist, tied up from a deep, plunging neckline. Drop earrings and french manicured-nails completed the classic, elegant mood.
"Rome is a place to be expressive," Erika said while on the trip. "Let's embrace all those old Italian film stars and all of that sort of Italian luxury."
Tokyo Pink, Season 8, Episode 4 
This candy-colored, eclectic look definitely set the bar for vacation style, as Erika began showing off her various pink wigs while supporting Lisa Rinna's daughters, Delilah Belle Hamlin and Amelia Gray Hamlin, for their modeling gigs in Tokyo, Japan.
The reality star showed up for the trip to a Geisha house to the shock and awe of Lisa, flaunting her playful, yet incredibly chic look that perfectly emoted Tokyo's vibrant and artistic Harijuku street styles. Erika explained that her thigh-high, patent leather boots were "old school Gucci" and her black-and-pink-lined cape dress was a vintage Alexander McQueen piece, that was around "15 years old."
Moschino Scribble, Season 9 Confessional 
Erika has a strong affection for Moschino, or the luxury Italian fashion house known for its campy, theatrical designs. Erika infamously wore a Moschino T-shirt dress to Dorit Kemsley's 40th birthday party in season 7, which she found fashionable, but …. Dorit had different thoughts.
This "scribble" look from the pop star's season 9 confessional was every bit of camp and drama, giving a post-modern, 1940's vibe dialed up with a multitude of hues. The red-and-black colors that covered her white blazer and white hat were aptly complemented by her fiery red lip and black, cat-eye eyeliner, accessorized with art deco-style earrings and a low chignon. Topping off the look were Erika's see-through, dotted black gloves, with matching red nails peeking out from underneath.
Gatsby Gangster Moll, Season 7, Episode 9 
When Erika Jayne receives an invitation to a Great Gatsby party, you better believe she won't be showing up in a Party City-style, flapper girl costume. The Pretty Mess author instead arrived to Lisa Rinna and husband Harry Hamlin's epic soirée in this "gangster moll" number, specifically channeling '20s and '30s "Blonde Bombshell" actress Jean Harlow with a short, curly blond wig and plunging black, long-sleeved dress. The bottom of the dress' sleeves displayed flashy, silver detail while Erika's makeup was the ultimate stunner, with a blood-red lip and smoky, smudged eyes.
Chanel Chic, Season 10, Episode 13 
The stylish star again went for a '60s-like vibe for this season 10 Rome trip look, donning a classic Chanel tweed jacket and white logo finger less gloves. Her black turtleneck and thick, black-winged eyeliner gave a mod feel while a low ponytail adorned with a dark red ribbon and gold-chain-covered fanny pack completed the cool, sophisticated look.
Fierce Funeral, Season 10, Episode 12 
While getting glammed up for the second night out in Rome, Erika and her team discussed the mood for this look, with the vintage-style veil causing creative director, Mikey Minden, to proclaim that she was "going to a funeral." The funeral that evening would would be for Denise Richards' RHOBH career, as those Brandi Glanville affair rumors were finally brought to the table, causing Denise to subsequently distance herself from the group and ultimately leave the show entirely.
Erika couldn't be brought down by the conflict, however, serving up a fashionably fierce style in a black blazer whose tail fell dramatically down the back and to the floor, creating a high-low feel over a black mini dress. The blazer was cinched at the waist with a dramatic, ultra-wide belt, and her '60s-style bouffant was cinched in the front with a thin, black headband and veil.
Black Angel, Season 8, Episode 16 
Another fabulous, old Hollywood homage came from this season 8 Berlin trip look, with a direct nod to German film star, Marlene Dietrich. Specifically, Erika noted that she was channeling Marlene as well as French film icon, Catherine Deneuve in the 1983 vampire flick, The Hunger, giving a Gothic-tinged style that was utterly vogue. The "Painkillr" singer donned black, silk-looking trousers with a black fur vest belted over a long-sleeved, black lace top. She wore a signature '30s-style, black pillbox hat with a glamorous veil and sparkling silver brooch tucked in. Her makeup was film noir-ready, with a burgundy-red lip and sultry bedroom eyes.
Erika Jayne raised the fashion bar for all casts across the Housewives franchises, but she also gave something incredibly vital to Bravo fans: flashy, unbridled fun. It can be all too easy to ask around what everyone's wearing to whatever party, occasion, or function is planned, eager to fit in and feel comfortable among friends or family.
But Erika's eccentric, individual styles can teach us all to truly embrace ourselves and not be afraid to express every last bit — the funky, the sexy, the punkish, the glamorous, the mod, the casual, the truly ostentatious, and all the above.
If there's one thing viewers can take away from Erika's time on the RHOBH, it's this: never forget the child-like joy and delight that comes with playing dress-up.