Erika Jayne is sharing where she stands with Sutton Stracke while defending herself against fan backlash as she also promises to address what Kyle Richards has had to say about her legal mess.
Viewers watched as Erika attempted to shut Sutton down on the September 1 episode of Real Housewives of Beverly Hills. As fans know, Sutton has been the most vocal about Erika's divorce and legal mess, even going as far as to claim the Pretty Mess author has lied to her co-stars about a number of things.
However, when Sutton tried to have a conversation with Erika to come clean about some of the things she's said — with a lot of pushing from Kyle —  Erika was having none of it, and she forcefully told her fellow Georgia native to, "Shut the f*ck up."
Following the dramatic episode, Erika seemingly had the same attitude when she took to Twitter to weigh in on her confrontation with Sutton and respond to fans' comments.
She began by defending her behavior on the show and thanking her supporters before declaring she'll never stop fighting for herself.
"God forbid I fight for myself.  Stop thinking I'll quit just because you think I should. F*ck that," she tweeted. "Thank you to everyone that is supportive and understanding.  I will not be stopped."
Then, after one fan praised Sutton's courage, also stating it wasn't about Erika "fighting for herself," the "XXpen$ive" singer clapped back by letting everyone know where she stands with Sutton today.
"Sutton is the only one strong enough to say what others said behind closed doors," the fan wrote. "It's not about you 'fighting for yourself,' it's about you genuinely responding to friends' questions and concerns."
Erika responded, "We're not 'friends' in case you haven't noticed."
However, she wasn't done responding to viewers' opinions as she also fired back at another person who slammed Kyle for calling Sutton out for sugarcoating her previous remarks about Erika.
"Wow [Kyle] what an *ssh*le! [Sutton] tried to talk to [Erika] and she shut her down immediately! I would never talk to Kyle again if I were you Sutton!" the fan tweeted.
"Wrong," Erika asserted. "[Sutton] tried to give an early, sanitized version of what she said to Kyle and I wasn't having it. [Kyle] finally got it out of her at the table. Don't be fooled."
But once a fan told Erika not to "be fooled" by Kyle, she insisted that fans will eventually see her confront the Halloween Hills actress about some of the comments she's made regarding her legal woes.
"You don't be fooled !!! KYLE TALKED SMACK ABOUT YOU TOO!" the fan noted. "SHE WAS IN AGREEMENT QITH QHAT THE OTHER LADIES WERE SAYING ABOUT YOU ! AND DORIT TALKED ABOUT YOU AND BACK PEDDLED IN FRONT OF THE WORLD!"
Erika fired back, "Don't worry, we'll get to that."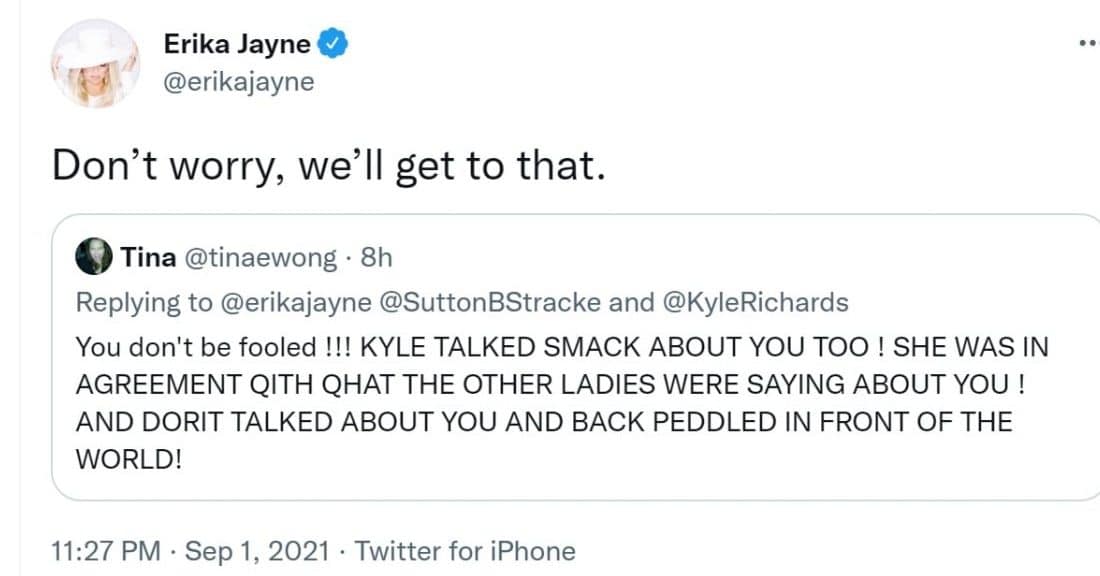 At that point, Erika was seemingly finished dealing with the backlash, but she felt obligated to get one last dig in on those she claims are spewing "conspiracy theories" about her.
"Someone just sent me some yummy cannolis so goodnight Twitter. Im going to enjoy myself," she wrote. "Y'all dumb b*tches with the conspiracy theories will keep at it alll night. Check back in the AM."
The Real Housewives of Beverly Hills season 11 airs Wednesday nights on Bravo at 8/7c.