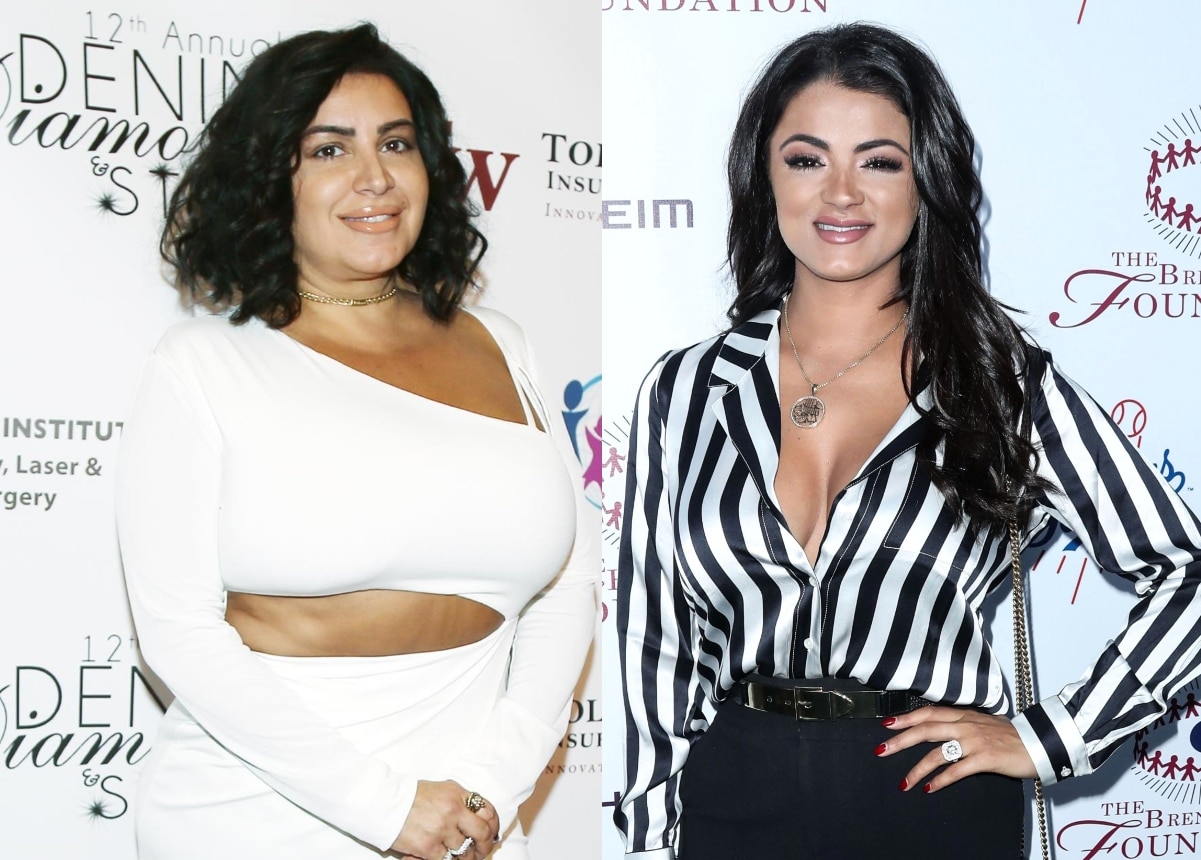 Mercedes "MJ" Javid and Golnesa "GG" Gharachedaghi have had a rocky relationship history. At one point, the Shahs of Sunset stars went back and forth on social media, taking public digs at the other.
In the aftermath of the show's cancellation, Mercedes spoke about her current relationship with Golnesa – who once wrote a post that seemingly shaded her weight.
In an interview for the Behind The Velvet Rope With David Yontef podcast, Mercedes was asked if she and Golnesa were in a good place.
"Yes," she answered. "And I'm like crossing my fingers. I'm like, I hope nothing fucks it up … When we talk to each other [now], we're trying to be calm and come at each other, like [with] … kid gloves."
She went on, "We're treading hard, but with a renewed respect to be calm and not get mad. It is so easy for us to rub each other the wrong way cause there's a lot of love and a lot of ego."
The host also asked about Mercedes' friendship with Mike Shouhed and Paulina Ben-Cohen.
Note: This interview took place before Mike's arrest for alleged domestic violence.
"I love and adore those two. I wish they would come over to my house more often, but you know, they have two kids, and then Mike's launching his real estate downtown, which is this beautiful new building in Hollywood, which is taking up all his time between his kids and his brand new house and his real estate," she said. "We talk all the time, every day."
Mercedes shared that she does not speak with Destiney Rose or Asa Soltan Rahmati.
She then was asked about her secret to marriage.
"I had one long-term relationship that I broke up with amicably because I knew we weren't meant to be. And I think that if you're a woman who's not afraid to be alone and you live inside of your self-love, then you're not going to settle for the wrong guy," she said.
"With Tommy [Feight, my husband], we definitely were like, the goal post is always going to be love and respect … I didn't really think about like anything other than when you're 80 years old, and you're wiping each other's asses. Do you want to make sure that that was somebody that you love, respect, and can laugh with?"
She continued, "Even in our very humdrum kitchen, like meetups in the day where [I say] 'I am so tired,' [he'll respond,] 'What do you mean, you're tired? Like, you shouldn't be tired. Like I've done so much more than you today.' Like that's what he says to me every day. And so we're still laughing at each other and with each other, and you know, like that's the important stuff."
Mercedes also gave an update on her mom, Vida Javid.
"She's so cute. She's really good. She's hanging out with us. She's like steps away from us. As we speak, our little guy is in preschool. He's going to be home in about half an hour," she said. "My son and my mom together are so beautiful. She loves him, and he calls her grandma Vida … It's a treat to have my mom all the time."
Despite the recent cancellation, Mercedes previously hinted at a new spinoff, which includes several stars from Shahs of Sunset.