Teddi Mellencamp was dealt with some scary news on Tuesday: She has stage two melanoma.
In a series of posts shared to her social media pages, the former Real Housewives of Beverly Hills cast member, who went public with a skin cancer scare earlier this year before ultimately noting she was in the clear, confirmed the diagnosis and shared her next steps.
"Despite my anxiety, I listened to the doctors and went in for my 3-month skin check last week since my previous melanoma. They said I had another abnormal spot near my last one so they did a biopsy. I got the call this morning: Stage 2 melanoma," Teddi announced to her fans and followers on October 11. "Now, next Wednesday I go to an oncologist to have it cut out and come up with a game plan on next steps."
According to Teddi, her next steps will be determined by the results of additional testing and biopsies of other spots nearby that were taken on Tuesday.
"Moral of this story: If a doctor says, 'Come in every [three] months,' please go in every [three] months. I so badly wanted to blow this off. 'What could happen in [three] months?' I thought. Apparently a lot," she continued. "I was a 90s teen, putting baby oil and iodine on my skin to tan it. Never wearing sunscreen or getting my moles checked until I was 40 years old."
"This has been such a wakeup call for me, and I hope to all of you, to love and protect the skin you're in," Teddi added.
Prior to sharing her Instagram post, Teddi appeared in a video on her Story.
"So I just finished my workout and I got a call from the doctor that the other spot came back melanoma. They asked me to come right in so I'm here. I'm facing my fears and making sure that I'm staying on top of these doctors' appointments," she told her fans and followers.
She then shared a photo of the back of her shoulder.
"This one I had biopsied last week came back stage 2," Teddi wrote. "Got [two] other spots biopsied today and going back to oncologist Wednesday… Waiting to find out if they will fully cut this one out today or next week and other next steps."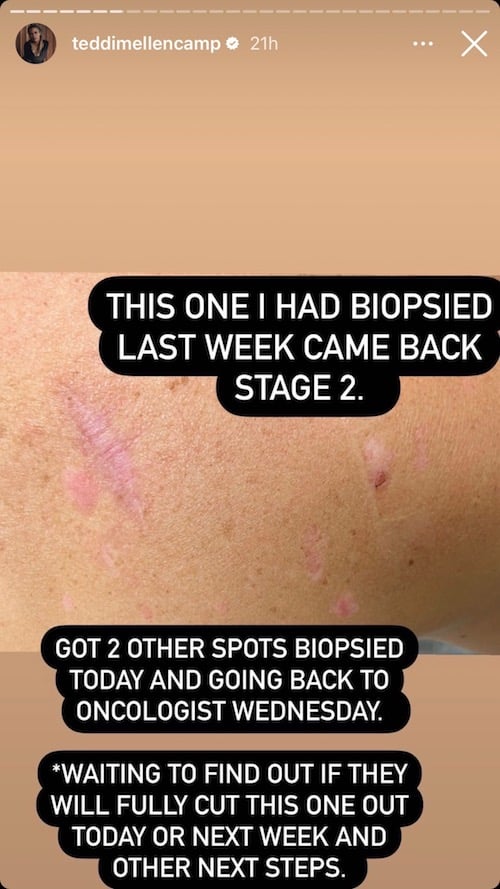 Also on her Instagram Story, Teddi shared before and after images of her moles.
"For those asking for before pics… This was before removal. This one was melanoma in situ (stage 0 melanoma)," she wrote with her before pic.
Then, with her after pic, Teddi said, "This one is stage 2. Before pic. This little brown dot was not there [three] months ago."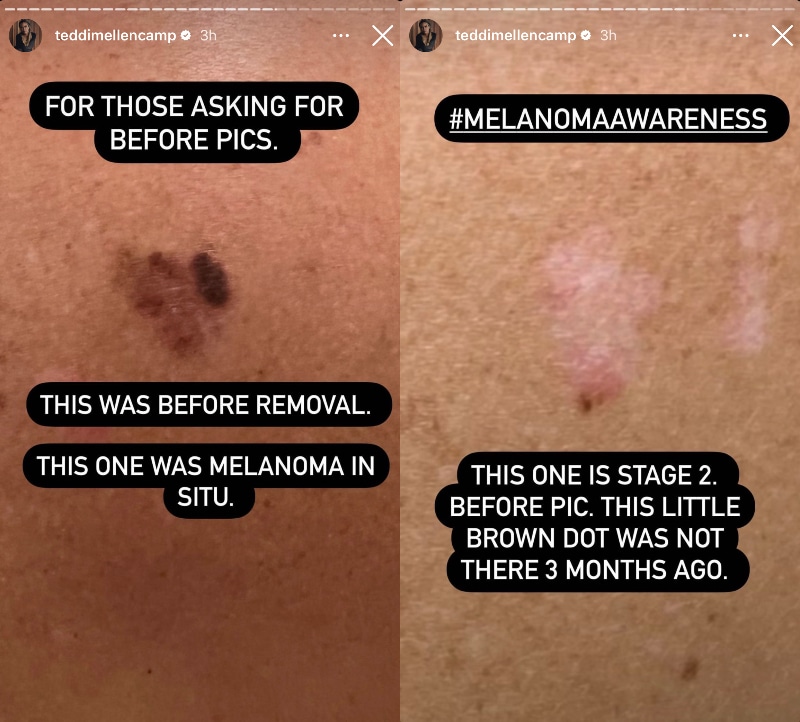 The Real Housewives of Beverly Hills season 12 reunion begins airing tonight, Wednesday, October 12, at 8/7c on Bravo.