Luis Ruelas was praised as "the best ever" when he surprised Teresa Giudice's four daughters, Gia Giudice, 21, Gabriella Giudice, 18, Milania Giudice, 16, and Audriana Giudice, 13, with matching Cartier bracelets for Christmas. However, while they were reported as being worth $12,500, they have since been labeled as "fake."
After Gia and Milania shared videos of their bracelets on TikTok, the Real Housewives of New Jersey husband came under fire for potentially purchasing the girls fake designer goods as an Instagram account shared images of authentic Cartier bracelets.
On December 28, The Real Bad Fashions posted side-by-side pics of Milania's bracelet and a screenshot of an authentic one from the brand's website on Instagram. And right away, a number of Bravo fan pages caught on, with Bravo Snark Side resharing the post and including a hashtag for "fake."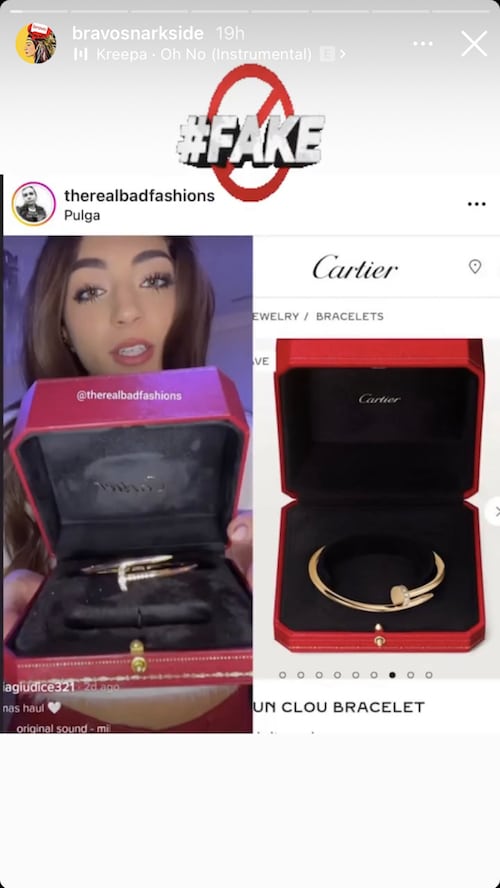 Faces of Bravo also reshared the post, along with an additional pic provided by The Real Bad Fashions, which drew attention to the script written inside the Cartier box.
In the box given to Milania, the "Cartier" script appeared larger and off-center.
The script also appeared much different in Gia's box.
In addition to the script being larger and off-center, it also seemed less bright when compared to the authentic boxes pictured on Cartier's website.
Following the sharing of the side-by-side comparisons, a number of RHONJ fans weighed in.
"The box is clearly not real, nor the bracelet. Do you think they know?" one person asked.
"Wondering why these girls wouldn't Google the real product before posting. It's obviously different," said another.
"When her wrist starts turning green she's gonna be confused," shared a third.
"The "C" is a dead giveaway," added someone else. "There's nothing wrong with buying dupes if you can't afford the real thing, but don't show it off like it's real."
Meanwhile, in response to the claims of fakes, the Giudices' attorney, James Leonard, released a statement to Page Six Style.
"I think in the spirit of what Christmas is really all about, people's focus should be elsewhere and not on something silly like this," he said. "That being said, the girls are very happy with their bracelets and grateful to have received them."
The Real Housewives of New Jersey season 13 premieres on February 7 on Bravo.