UPDATE – Good news to report as according to podcaster Kate Casey, Lindsey has been found again and is currently with her mother Tammy. The original story is below.
After Tammy Knickerbocker's daughter, Lindsey Knickerbocker, went missing in Las Vegas last month but was later found, she has reportedly gone missing yet again — potentially after being "taken."
Days after the 59-year-old Real Housewives of Orange County alum, who appeared in a full-time role on the series' second and third seasons, confirmed she made contact with Lindsey, 34, and that Lindsey was with a man named Eric and didn't want to return home, Kara Keough-Bosworth, 34, the daughter of Tammy's former co-star, Jeana Keough, 67, offered an upsetting update.
"Lindsey made contact with her mom last week, but has since disappeared. We need your help. There is concern that Lindsey may have been taken. Please help us find Lindz," Kara wrote in the caption of a February 1 post shared on Instagram, which included a missing persons report.
In the report, it was written, "The Las Vegas Metropolitan Police Department Missing Persons Detail is asking for the public's assistance in locating Lindsey Knickerbocker."
"Lindsay Knickerbocker was last seen on 01/07/2022 at approximately 0000 hours near the 1500 block of S. Las Vegas Blvd Las Vegas, Nevada," the report continued. "All hospitals are asked to check their registries for the missing person and notify the police immediately. It should be noted that HIPAA permits disclosure upon request by law enforcement and is authorized pursuant to 45 C.F.R. section 164.512."
"Anyone with information regarding Lindsey Knickerbocker and her whereabouts are strongly encouraged to contact the Las Vegas Metropolitan Police Department at (702)828-3111, the Missing Persons Details during business hours at (702)828-2907 or by email at [email protected]," the report also stated.
It is unclear if the "2022" mention was a typo or if Kara was sharing an old report in an effort to give additional information about Lindsey and the police department to her followers.
Following Kara's sharing of the report, Lindsey's older sister, Megan Knickerbocker, 36, reacted to her disappearance in the comments section of her post.
"Thank you [Kara Keough-Bosworth] and family for all your help and support through this nightmare. Praising she is found," Megan wrote.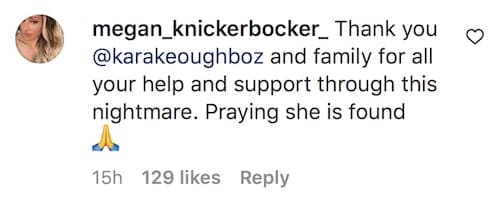 As RHOC fans may recall, Lindsey was arrested in February of last year on drug and forgery charges after being found with meth and $2,000 in counterfeit money in her car.
After leaving her full-time role on The Real Housewives of Orange County after season three, Tammy was featured in guest-starring roles on seasons four, five, six, and 10.