Lala Kent reacted to Tom Sandoval being caught having a phone conversation with Raquel Leviss on a plane on her Instagram Story on Monday.
As she slammed her Vanderpump Rules castmate as a "narcissist" and suggested he was on his way to "bang his side chicks," Lala was also featured in a TikTok video in which she responded to questions about the three-part reunion and Sandoval and Raquel's affair.
During the Q&A, which was shared by It's a Bravo World on Instagram, Lala reacted to a fan who wanted to know why producers let Raquel watch the reunion from her trailer before she took to the stage, especially if it would serve as a "heads-up" and allow her to pre-plan her answers to the then-upcoming questions.
"We know she's not smart enough to do that. Even if she watched it on that monitor, she already did a one-on-one. So now, not only does she have to remember what he said, Sandoval, she has to remember what she said in her one-on-one, then she has to remember what she watched in the trailer with all of us talking at the reunion. Too much!" Lala declared.
According to Lala, she believes Sandoval and Raquel's romance began in April of last year, at least in an emotional sense.
"I'm gonna say this: I think that the emotional affair started around the time of Coachella. Gotta lay the groundwork before you start an affair because that doesn't just happen randomly. I will bet my bottom dollar on it. The emotional affair started a long, long time ago," she stated.
Lala also commented on the bomb that is expected to drop during part three of the Pump Rules reunion (producer Alex Baskin confirmed he and his team are waiting to begin filming season 11 until the cast is aware of this "new information").
"Can't tell you. Cannot tell you. I've been sworn to secrecy. For real," she shared.
That said, Lala does know what the bomb is.
"I went to the [NBCUniversal] For Your Consideration party for the Emmys, ran into some producers. They said, 'Do you know what the big reveal is?' I asked them what I thought it may be. They said, 'No. That is not it.' And then they told me, and I was like, 'Oh wow, alright,'" she recalled.
As for her comments about Sandoval's phone chat with Raquel, Lala shared them on her Instagram Story along with a screenshot of leaked photos.
"Look at this clown checking in on his Main Chick before he goes to get f-cked up and bang his Side Chicks. Maybe even some randoms to add to the [rolodex]," she wrote.
"He's also making sure he maintains his energy supply. He's got to keep her where he needs her. He's fully plugged into her, and she thinks it's because she's loved and cared about by him…" she continued.
Also in the post, Lala suggested Raquel is "nothing but an energy source for the narcissist."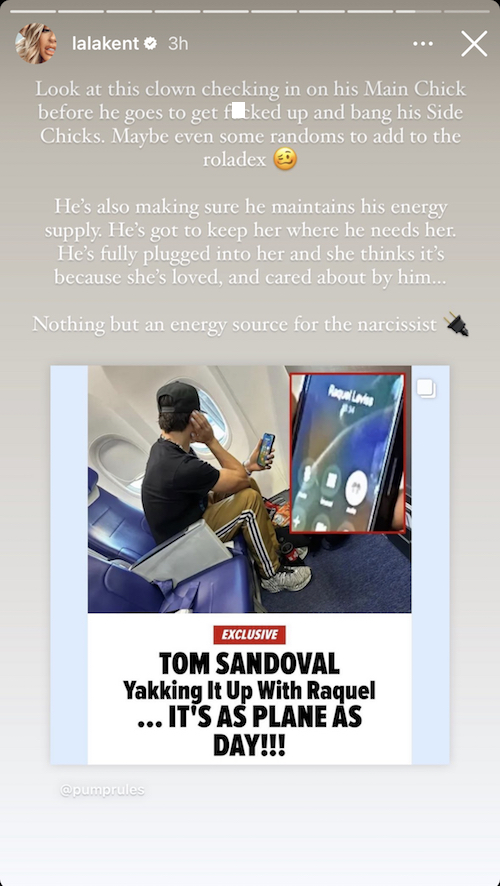 Part two of the three-part Vanderpump Rules season 10 reunion continues Wednesday, May 31, at 9/8c on Bravo.