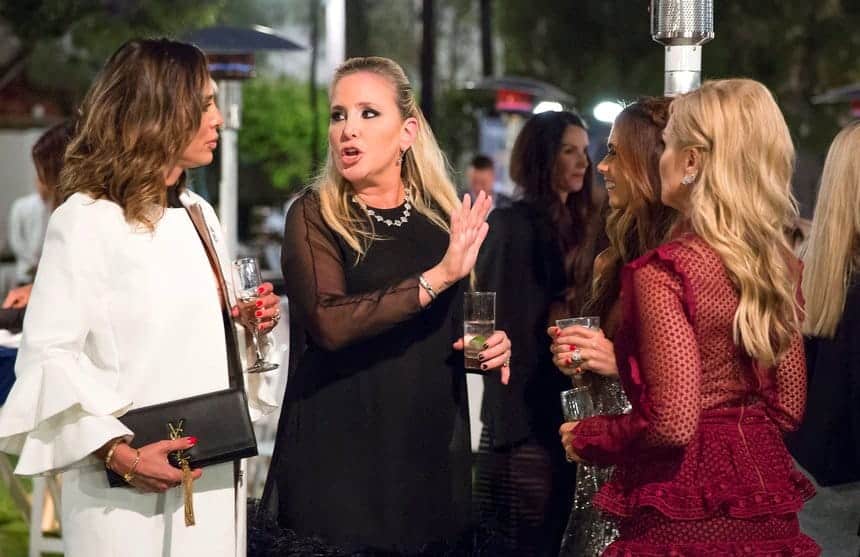 The finale episode of the Real Housewives of Orange County opens up in the only place it should: Coto Insurance, the business empire of Orange County (you just don't know it yet). Vicki is running around with her McDonald's headgear on barking out orders as her son Michael blankly stares open-mouthed at the circus unfolding before him. Linda, the office manager, doesn't seem to be managing anything, particularly not the technology aspect of the company. It's a good thing Ali, the business partner, enters ready to discuss the future of Coto. He invites Michael (who is working hard…or hardly working) into the conference room with Vicki and some other dude where he announces- are you sitting down- that Michael, Vicki's son, receives the SHOCKING news that HE will be getting a new position and is set to grow with company!! Oh…now Michael can crack a half smile. My question is this: what about Brianna? What is she-chopped liver stuck chasing around those maniac boys in the house her mother bought for her?
Meanwhile…over at the Dodd house–Is it just me or is it nearly impossible to tell what time of day it is over there? I mean, we have Kelly decked in red slacks and nude one-sleeved top which sort of evokes a figure-skater circa '94, Jolie in jorts, and Bobbi in a plush robe. Is it 11 am or 8 pm? The world may never know… Bobbi suddenly gets whisked away by her very own Fairy Godmothers who get right to work making this 68 year old look like a 68 year old with lots of makeup. Jolie suggests that Grandma Bobbi sign up for Bumble (um, how does she know this?) and once Bobbi is done getting made up, Kelly lets her mother in on just how much she cannot stand her husband Michael. Man, this finale is just FULL of shocking news, huh? Kelly claims she cannot take "the highs and lows" of the relationship and I'm just sitting here thinking that at least their relationship lasted longer than the other Kelly and Michael duo over on daytime television (I'm talking about you, Ripa & Strahan…)
Over in Tamra's neck of the woods, we find her preparing for her daughter Sidney's high school graduation. I am so happy that Tamra gets the chance to be a part of this event after the tumultuous relationship they have had in years past. Tamra dresses modestly for this event, in her LBD with thigh-high slit, cuz ya know, can't draw too much attention to herself! Tamra heads off with her son Ryan to celebrate the start of a new relationship with her daughter.
Meghan and her husband, Mr. Personality Jim, gush over their "candle party" aka their oh snap, we haven't hosted anything all season so we should really step up our game so Meghan gets signed for season 13 party. The event looks gorgeous and completely over the top, in true housewife style. The other women are having a great time getting ready to go. There's Lydia in a shiny dress looking like a real life silver Oscar award, Kelly and her boobs (what reduction?), Shannon being #awkward with her hubs, and Peggy just being Peggy.
Kelly calls in a favor to her new bff Shannon and just like that, a double limo date is planned, despite Kelly's husband's grumblings. Before they scoop up the Dodds, we lucky viewers get to experience the world's MOST awkward limo ride with Shannon-ladykilla- Beador and her husband David. Over at the candle party, more and more guests begin to make their grand entrances via the long marble staircase. Tamra and Eddie get to do a living #TBT since they had their wedding at the same venue a few years back. While they reminisce about the beauty of that day, Kelly and Shannon haze their hubbies in the limo as if they're in a fraternity. When will the husbands realize that if they start drinking, it may actually make their wives more bearable? Amateurs. Once Shannon and her posse arrive at the event, she nearly throws a fit when she realizes that there may not be vodka! It's all too much. Peggy arrives on "Armenian time" (aka late) looking like she just stepped out of a Beyonce video gone wrong- holy wind-blown hair.
When all the ladies arrive, the classic "let's make up for the finale episode" business begins. First we have Lydia and Shannon. This reunion gets so over the top that Lydia actually says to Shannon that she is "her favorite." Is Shannon ANYONE'S favorite? After Meghan's King Collection emo speech, the confusion begins. The infamous Real Housewife talk sesh starts with Kelly and Peggy. Kelly calls Peggy a princess and Peggy says that Kelly is jealous. They get over these remarks, but then suddenly, the camera pans over to Shannon's knight in shining armor, David. David is now questioning Diko, Peggy's husband, about the previous events that caused turmoil between the ladies. Enter Tamra, who enjoys inserting her tiny little body into big situations.
There is so much finger-pointing and apologizing going around that I need a graphic organizer or a map to try and figure out who did what and who is angry at who. The women can't even keep track of it all! The back and forth between Shannon and Peggy goes on for far too long. Are they friends? Is Peggy leaving? Is she bluffing? Is Shannon a drama queen? (Yes). Is Peggy confusing? (Yes). It all seems very planned and as if the episode is only an hour long, so Bravo better get these ladies all ending on a good note. The women finalize the issues between one another, apologize for their husbands, children, second cousins, and the world, and naturally head on over to the bar. Meanwhile, Kelly is drunkenly talking smack to Vicki about her lovely husband right in front of him. Again, #awkward. When Kelly says she is "done" with Michael, is that Real Housewife "done," or real life done? These ladies and the "d" word… What I find as the biggest issue here that Kelly is actually taking love advice from Vicki!!
My favorite part is at the end of the Real Housewives season-the tiny blurbs stating what the ladies are up to now. Kelly: "If there's a will, there's a way." That's her final quote. Seems to me she will be making a joint Bumble profile with her mom, Bobbi. Two for one sign up deal?
Meghan– Striving for more babies. Heck, they make cute kids. Make millions. Just pick up a personality for your husband along the way.
Lydia: She must have eaten the glitter her mom throws away since she thinks she grew a back bone this season…
Shannon: Poor Shan. Hopefully she gets rid of that dead weight, and I don't mean the extra pounds she is carrying around. I mean David.
Vicki: No pressure here Steve, but I am pretty sure big Vick is looking for a ring. She only mentioned it 45 times.
Peggy: ….is she coming back?
Tamra: Turning 50! Go girl. She needs to focus on the good and not focus on the sadness.
Overall, this has been quite the season, but let's face it…the upcoming reunion episodes are gonna be awesome.
Photo Credit: Dale Berman/Bravo
TELL US – WHAT ARE YOUR THOUGHTS ON THE RECAP AND RHOC SEASON FINALE?