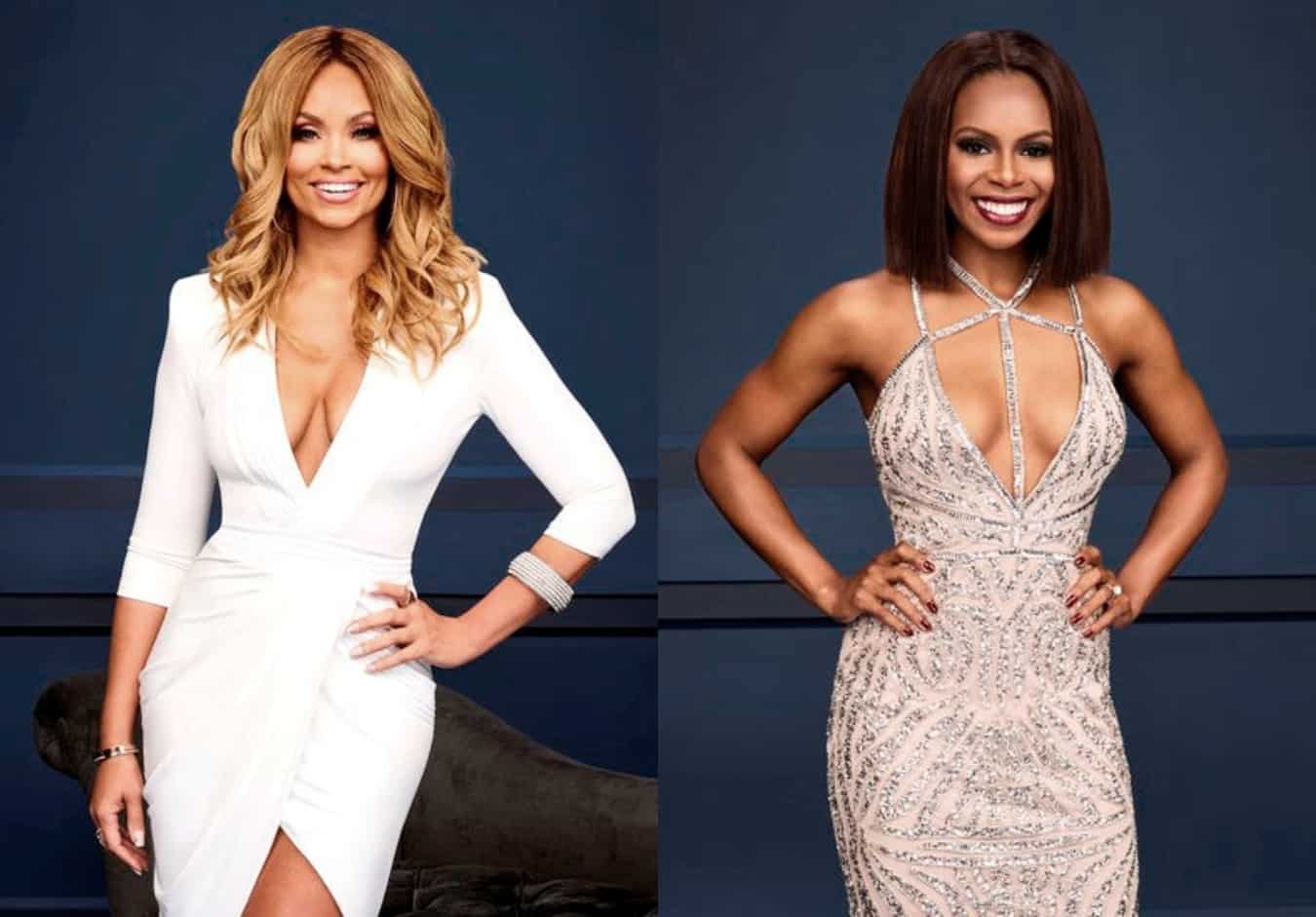 The ladies of The Real Housewives of Potomac took yet another fateful trip in last week's episode, and the inevitable fallout had reality fans buzzing. Luckily for us, series star Gizelle Bryant wasn't shy about giving her take on all that genteel southern shade!
As fans will recall, the arguing started before the ladies even left Potomac city limits. Newbie, Candiace Dillard was still smarting over Charrisse Jackson-Jordan, asking if her mother paid for her engagement ring, and she wasted no time confronting her over what she called a "shady b**ch moment.
But now, Gizelle is speaking out and she's stating that Charrise's question was only a joke, and that Candiace had brought it on herself by telling everyone that her mother subsidized her lavish lifestyle.  Additionally, Gizelle is insisting that Candiace still owes Charrisse an apology, while Candiace had the shadiest response to Gizelle's apology demands!
"I guess everybody's drinking sensitive juice", Gizelle quipped in her latest Bravo blog. "Charisse asking Candiace if her mother paid for her ring was a lighthearted joke, but it was based in truth. Let's keep it real: Candiace has spoken several times about the fact that her fiancé has NO money, and that she (Candiace's mother) has all the money in the world. So did Charrisse really think her mother paid for the ring? NO! But Candiace's mother's money is all this girl EVER talks about."
Gizelle added that, as the new girl, Candiace had forgotten her place, and really should have apologized for the confrontation.
"I said it before and I'll say it again: Candice owed Charrisse an apology. Again, I don't know…you meet a group of women, who you don't know, start calling people names, then expect everyone to like you, and want you to be around. Middle school, high school, nor adulthood works that way," she explained.
Now, before we're too hard on Gizelle, let's remember she's also having some relationship issues. Her boyfriend, Sherman Douglas, has been acting a bit squirrelly lately, and when Gizelle spoke to him before she left, he was a little dismissive.
"As a woman, if you're going out of town for a few days, you always want to feel like your boo is going to miss you. I just feel like all men need to take a communication class," Gizelle said.
RHOP'S MONIQUE ADDRESSES CLAIMS THAT SHE WAS DRINKING BEFORE ACCIDENT!
Very true. Let's just hope Giselle isn't teaching it!
Meanwhile, Candiace took to her Bravo blog and gave the shadiest response ever to Gizelle's demands for an apology!
"I don't owe these ladies anything but a middle finger and the blackest part of my behind," said Candiace. "Gizelle and her fair-weather friendships. In five minutes, she'll be talking cash money sh– about Charrisse, and all be right with the world again."
Oh, but there's more! Candiace then gave a list of things Gizelle needs to apologize for herself –
"But since we're out here requesting apologies all willy nilly and such, allow me to commission a few apologies from Gizelle for her most grossly offensive indiscretions. I am requesting apologies for:
-the unrelenting visual of Sherman eating that damn strawberry
-for being the tacky, tactless, and just generally the unpleasant person that is Gizelle Bryant."
Ouch! The ladies continue their trip…and the "shady b***h moments" tonight at 8/7c on Bravo. Stay tuned! A preview clip is below –
Photos Credit: Bravo
TELL US – THOUGHTS ON GIZELLE & CANDIACE'S COMMENTS? DO YOU THINK CANDIACE SHOULD APOLOGIZE?