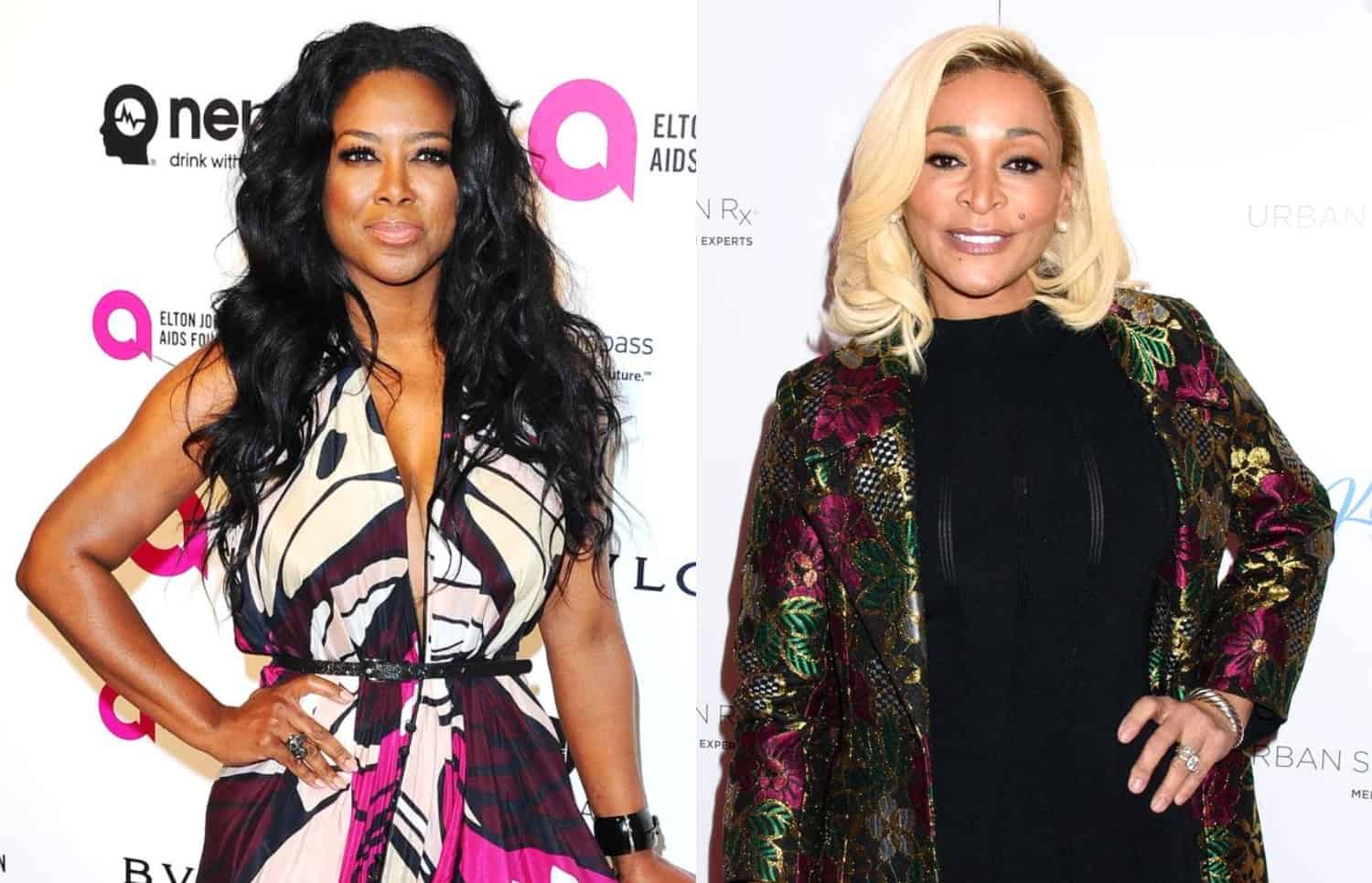 There's something very satisfying about the Housewives' worlds colliding, and it's particularly sweet when it's a smackdown between two heavy hitters like the Real Housewives of Atlanta star Kenya Moore and the Real Housewives of Potomac's Grande Dame, Karen Huger!
The feud began between the two Bravolebrities after Kenya, 47, took umbrage to a conversation Karen had with co-star, Candiace Dillard on the RHOP's Sunday night episode. During a sit down, Karen cautioned Candiace about bragging about her pageant days and told her "we're all pageant girls in our own right," before advising her to dig deeper and show the others that there was "so much more" to her than that.
Kenya, who famously won the Miss USA pageant in 1993, immediately took to Twitter to defend pageant girls around the world. "We are all pageant queens in out own right. Karen, really…how???" Kenya wrote.
Kenya also questioned why a married Karen wasn't wearing her wedding ring during the cast trip to France, writing, "Can someone tell me why Karen isn't wearing her ring? I never understand her speech #RHOP."
Karen, never one to take a hit lying down, swung back pretty quickly, thanking Kenya for her "pageantry attention," and proclaiming herself "still the queen" in a Tweet.
Kenya then fired another shot at Karen, saying it "cracked her up" that Karen didn't see how "special" pageant girls really are, prompting a blogger to step up and defend Karen, explaining that she was only trying to say that all of the women have had their special moments, and that bragging about them simply isn't a good look.
Kenya then took another shot at Karen, when she agreed with a fan that Karen purposely talks fast so that the ladies can't understand her and that it's basically a way of denying accountability for her actions.
She never got the response she was looking for as Karen stopped responding!
Fans of both shows began firing back at Kenya for starting the beef in the first place, and accused her of being "bitter" over "losing her peach!" One fan went so far as to tell Kenya to "fall back," and cautioned her against "coming for the OG of Potomac!"
Kenya did get support as well with one fan telling her "You know secretly you would shake up the #rhop cast if you were on it Kenya," and another one stating, "Yaaaaasss sound off queen."
I'd say this round goes to Karen! In the meantime, when she's not starting cross franchise twitter wars, Kenya is using the extra time she has on her hands, since being fired from RHOA, to prepare for the arrival of her first baby with husband, Marc Daly, while also hinting that she's taking meetings about a possible spin-off on Instagram.  We're gonna miss you, Kenya!
Photos Credit: Vince Flores/startraksphoto.com, Janet Mayer/StartraksPhoto.com
TELL US – TEAM KENYA OR TEAM KAREN?!