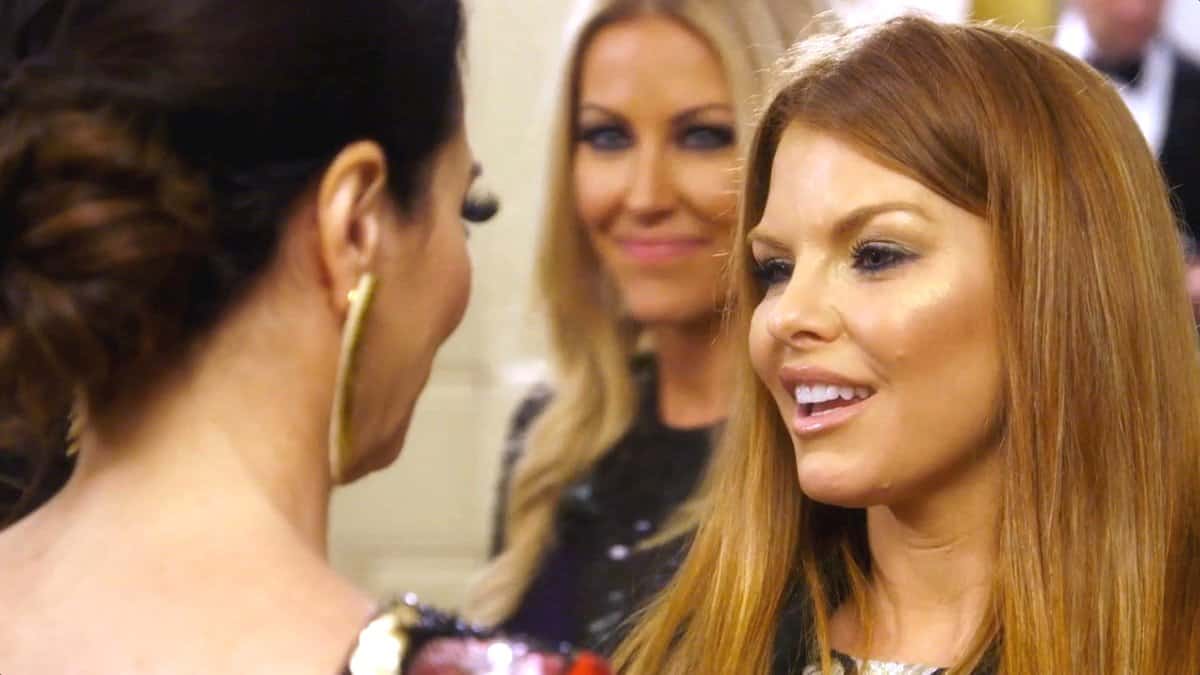 We're gearing up for some serious drama on The Real Housewives of Dallas!  Two episodes into the season, and we've already seen two parties, a drunken attempt at riding a stone lion, and the unveiling of a new addition.  There's a lot to unpack from last night's episode, so let's get right into it, shall we?
When we picked up with the southern belles, they were attending D'Andra's anniversary party, and everyone was having a fabulous time.  But then D'Andra threw some major shade at LeeAnne by announcing, during her toast, that they were going to have an impromptu wedding ceremony for LeeAnne and Rich!
They weren't, of course, and poor Rich looked like he might vomit, but why put them on the spot like that?! It was unnecessary, and just cruel.  But everyone managed to laugh it off, and D'Andra continued her toast to her husband, Jeremy, saying that she'd known within 5 minutes of meeting him that he was the man she was going to marry.  Jeremy agreed that it had been love at first sight, and said he was having sex with D'Andra within 3 minutes.  So, it was a classy moment all the way around.
Back at LeeAnne's table, she and Stephanie began bonding over dark moments from their past.  Both women said they had suffered from depression at different points in their lives, and that alcohol often aggravated those emotions. Then LeeAnne revealed that she had tried to commit suicide several times, and in an effort to commiserate and find common ground, Stephanie admitted that she had tried to end her life once, as well, at the age of 22.
Both women said that it was difficult to talk about, but were glad to have opened up to each other, something that never would have happened last year. In fact, Stephanie said she admired LeeAnne for being so transparent and using her painful past to help others.
A few minutes later, everyone was surprised to see Brandi show up, particularly D'Andra.  Brandi had already said that she wouldn't be attending the party, and everyone knew that she was still angry at D'Andra for spreading those Adderall rumors, but she didn't say a word about it.
Brandi said they could discuss all of that another day, and that she just wanted to congratulate her friend, and celebrate her happiness.  It was pretty big of her.  The women shared several shots and toasted each other…and Stephanie just got toasted!
The girl was absolutely wasted, and could barely walk without assistance, so naturally, on her way out, she decided it was the perfect time to climb up on top of a stone lion, and attempt to ride it.  She very nearly fell on her face, but her friends managed to catch her in the nick of time.
The following day, surely hung over, Stephanie began planning her own party, an event that would be Brandi's adopted son Bruin's first introduction to Dallas society. And it even had a kitschy title: Bubbles and Bru.  The only problem was that Stephanie felt that all of the women should be invited, and she knew Brandi would need some convincing.
So Stephanie called Brandi, and told her that she had bonded with LeeAnne, and didn't want to leave her out of of the festivities.  She also said that D'Andra should be invited, and that the absence of the two women would call more attention to them than their presence, and she didn't want Baby Bruin's big night to be overshadowed by drama.  Brandi actually agreed…probably because she was sleep deprived and covered in baby spit up at the time, but all the same, she agreed.
In the meantime, D'Andra was dealing with maternal issues of her own.  She and her mother, Dee, have been on the outs ever since Dee grudgingly handed over the reigns of her company to her D'Andra. But D'Andra is determined to do a good job, and more than anything, the poor girl just wants her mother to say she's proud of her.
She was working on a new marketing plan with her associates, and they'd decided that it would be a good idea to make the packaging of Green Miracle, the herbal weight loss supplement that had launched the entire empire, a little more modern.  But when D'Andra broached the subject with her mother, she wouldn't hear of it.  She said it was her company and her vision, and she knew what worked.
D'Andra was confused as to why even a simple discussion about packaging was met with such resistance, and implored her mother to reconsider.  Dee told her that it was often difficult being an only child, and that mother/daughter relationships were usually  fraught with issues because if they often jealous of one another, especially if they were attractive.
Now, D'Andra was more confused than ever (I must admit I was too).  Who was supposed to be jealous of whom in this scenario, she wanted to know? Dee explained that D'Andra was an attractive woman and that she was no slob, herself.  But when D'Andra said she wasn't jealous of her, Dee simply said "well," and sat back in her chair, secure in the knowledge that she had won an argument her daughter didn't even know they were having. After all, wasn't this conversation supposed to be about packaging?!
D'Andra implored her mother to reconsider the packaging, and said that the issue didn't have to drive a further wedge between them.  She said that she was running the company now, and deserved to be able to do it without her mother looking over her shoulder and second guessing everything she did.  She fears that their business relationship with affect their mother/daughter relationship, and said that they couldn't continue on that way.
Dee went back to the argument they had last season about the business, and said she had felt "verbally abused" by her daughter. Then she announced the conversation was over, and dismissed her daughter like she was a naughty six year old.  D'Andra was crushed, and said she felt they'd never have a good relationship until her mother stopped trying to control and manipulate her.
Stephanie, on the other hand, has a great relationship with her own mother.  Her family came to visit and see her amazing new home, and the two women talked about Stephanie and LeeAnne's conversation at D'Andra's party.  They fought back tears as they recalled the night Stephanie downed an entire bottle of pills, following a breakup with an emotionally abusive ex-boyfriend.
Luckily, Stephanie had gone to her mother after taking the pills, and told her what she'd done, and her mother had immediately called an ambulance, which arrived just in time to save Stephanie's life.  It was a dark memory for both women, but Stephanie's mother thanked her for coming to her at the time, and said she was proud of her for opening up to LeeAnne, and trying to understand her, rather than sitting in judgement.
And perhaps LeeAnne really does deserve a second chance (okay maybe 5th) chance at friendship with the ladies.  She really seems to be trying to make changes, and become a better person.  She even has a new business venture, and she's putting her heart and soul into it.
She designed an "infinity dress" that she hopes to pitch to the shopping networks, and let me tell you, they'd be fools to pass it up.  It's a basic black dress that can be transformed into several other dresses with snap on ruffles, sleeves, a train..the possibilities are almost endless.  And the idea is genius! LeeAnne said that if she can transform herself, she can "transform the world." That might be taking it a little far, but I appreciate the sentiment. Go get it, girl!
When it was time for the Bubbles and Bru event, Kameron and her husband, Court, were the first to arrive, and a they wandered around feeling awkward and wondering where their hosts were, Kameron took in all the blue decorations, and the name "Bru," and quickly began to crack the code.  This girl is more than just blonde hair and pink dog food!
She correctly guessed that a baby boy must be on the way, and since she knew Stephanie wasn't pregnant, she also correctly guessed that the baby boy must belong to Brandi.  But when Stephanie finally came downstairs, and Kameron told her what shed figured out, Stephanie attempted to throw her off the scent by telling her that she was using a surrogate, and was expecting a baby boy.
She even involved her husband, Travis, and Cary in the farce, getting them both to agree that a surrogate was carrying a baby boy for Stephanie that would arrive very soon.  As the rest of the guests began to arrive, Stephanie was thrilled to see LeeAnne, who donned a purple ponytail extension long enough to graze the floor, and the two women hugged, and agreed that they wanted to keep their newfound friendship going.
When it was finally time for Baby Bru to make his debut, the Redmond family descended the stairs in all their ginger glory, cuddling their new ginger baby boy, who despite being adopted, looks for all the world like Brandi and Bryan made him from scratch.  He's adorable, and if you don't watch this episode for any other reason, seeing Baby Bruin in his oversized newsboy cap is reason enough. Omg…scrumptious!
The show faded to black as the crowd gasped in surprise and wonder at Brandi's new addition, and it was a rare happy Housewives ending…but the warm feelings won't last long.
Scenes for next week's episode show the RHOD ladies taking a trip (sigh) and spoiler alert: it ends in fighting and tears..and kissing and skinny dipping! Trust me, you don't want to miss this one. Stay tuned!
TELL US – THOUGHTS ON THE LATEST RHOD EPISODE?