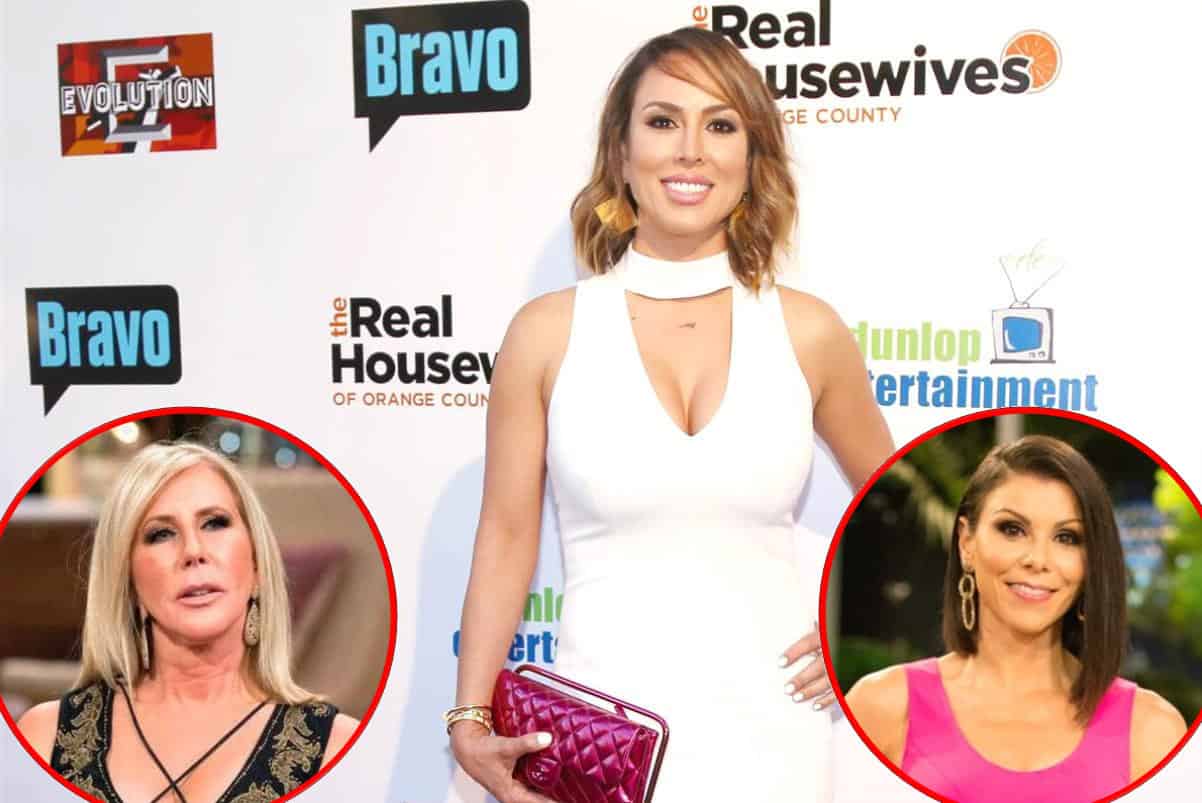 The Real Housewives of Orange County star Kelly Dodd is blasting her former castmate Heather Dubrow after Heather fired back at Kelly for secretly filming her in the parking lot of a gym. Also, Kelly is revealing if there's any hope for a reconciliation with Vicki Gunvalson after Vicki accused her of using drugs during the RHOC season 13 reunion.
Last week, Kelly took to her Instagram Stories to share a video of Heather as Heather chatted with a friend in front of the Orange Theory gym they both frequent.
"Heather Dubrow is just sitting there. I'm trying to avoid her at all costs, trying to get in my work out. And ugh, she won't leave the area," Kelly said in her video.
And during the latest episode of her podcast, Heather Dubrow World, Heather fired back at Kelly for secretly taping her.
"In the light of day, this grown woman, this mother is sitting in the car filming me and my friend Sarah because we're standing outside Orange Theory talking," Heather shared. "Maybe I should be flattered that she is obsessed with me or wants to make a thing because clearly, you're not going to make a video and post it and say my name seven times. You want me to see it, right? Okay, Kelly, I saw it! Thanks for the laughs. It's so weird."
After hearing Heather's clap back, Kelly took to Twitter to slam the former reality star for mentioning her name and wondered why Heather didn't just work out at her home gym in her mega-mansion.
"Thanks Heather Debrow for commenting on me ..Why are u @ orange theory?? Don't you have a gym & a personal trainer @ your mansion that u wouldn't show for the world. #fake," Kelly tweeted on Saturday.
Thanks Heather Debrow for commenting on me ..Why are u @ orange theory?? Don't you have a gym & a personal trainer @ your mansion that u wouldn't show for the world .. #fake pic.twitter.com/m6Gjanzm6U

— Kelly Dodd (@RHOC_KellyDodd) December 8, 2018
In a separate comment on Instagram, Kelly slammed Heather as "thirsty," and called her irrelevant. "She's so above everyone and everyone is beneath her without any skills but her absolute fake acting skills which is a farce!! Lmfao… thanks for commenting on me.. I'm relevant and you are NOT!!! Thanks joker face!!!" wrote Kelly.
She didn't end there as in a separate tweet, she denied her video of Heather was mean.
"For people thinking my video of @heather Debrow was mean?? She yelled at me @orangetheory ask @evolutionusa .. I miss heard a question on dr Dubrow miss spoke [sic]. Publicly apologized and she still went after me @Orangetheory that's why I avoid her!! Scared of skeletor..#jokerface," tweeted Kelly.
Kelly is referencing their earlier feud which she sparked after claiming Vicki had told her Dr. Terry Dubrow had supposedly killed one of his patients during an appearance on Watch What Happens Live last year.
Kelly was forced to retract her inaccurate comments after Heather complained to Evolution USA (the production company behind the RHOC).
It's possible that Kelly's own past actions could be playing a role in why Bravo reportedly has no plans of firing Vicki despite the ultimatum Kelly gave the network in recent weeks.
During part I of the RHOC reunion, Vicki accused Kelly of using cocaine, an allegation Kelly immediately denied. Later, Kelly took to social media to state she would never return to the RHOC unless Vicki got fired.
This week, a report came out stating Bravo is not planning to fire Vicki and would rather have the ladies work out their issues on the next season of the show. Kelly is, however, revealing a possible reconciliation with Vicki remains out of the equation.
"I will never fix things with her! EVER!," Kelly tweeted after a fan wondered why she would want to fix things with Vicki following her actions.
When another fan said that Kelly couldn't have it both ways and that her co-stars didn't sign up to be called nasty names, Kelly stood firm on the fact that she was not spreading lies.
She said I have a fat ass mouth first !! I'm not spreading lies. I'm just calling a ♠️ a ♠️ and pointing out the obvious.

— Kelly Leventhal (@kellydleventhal) December 4, 2018
The Season 13 reunion of The Real Housewives of Orange County wraps up tonight on Bravo at 9/8c.
Photos Credit: Instarimages, Bravo TV