Madison LeCroy was accused of attempting to cheat on Austen Kroll during last night's episode of Southern Charm and did her best to shut down the allegations by sharing a series of text messages sent between her and Danni Baird, who made the revelation, on her Instagram page a while later.
Unfortunately, after her unsuccessful attempt at proving her innocence, Madison was called out by Danni yet again and this time, Danni seemingly provided the receipts necessary to prove her case against Madison.
"Here's the deal…," Danni wrote in the caption of her Instagram post, which included the message and photo that were sent to her boyfriend Gentry.
"Was trying to be a girls girl… but if you wanna play that game…," she continued.
In the message, someone who was not named wrote, "Hey Gentry! My hairdresser and I [were] scrolling through Instagram and she saw your face in an ad and said you were hot and I said I knew you. She wanted to meet you. Her name is Madison [LeCroy] and she owns her own business and is now on Southern Charm. Here's her pic."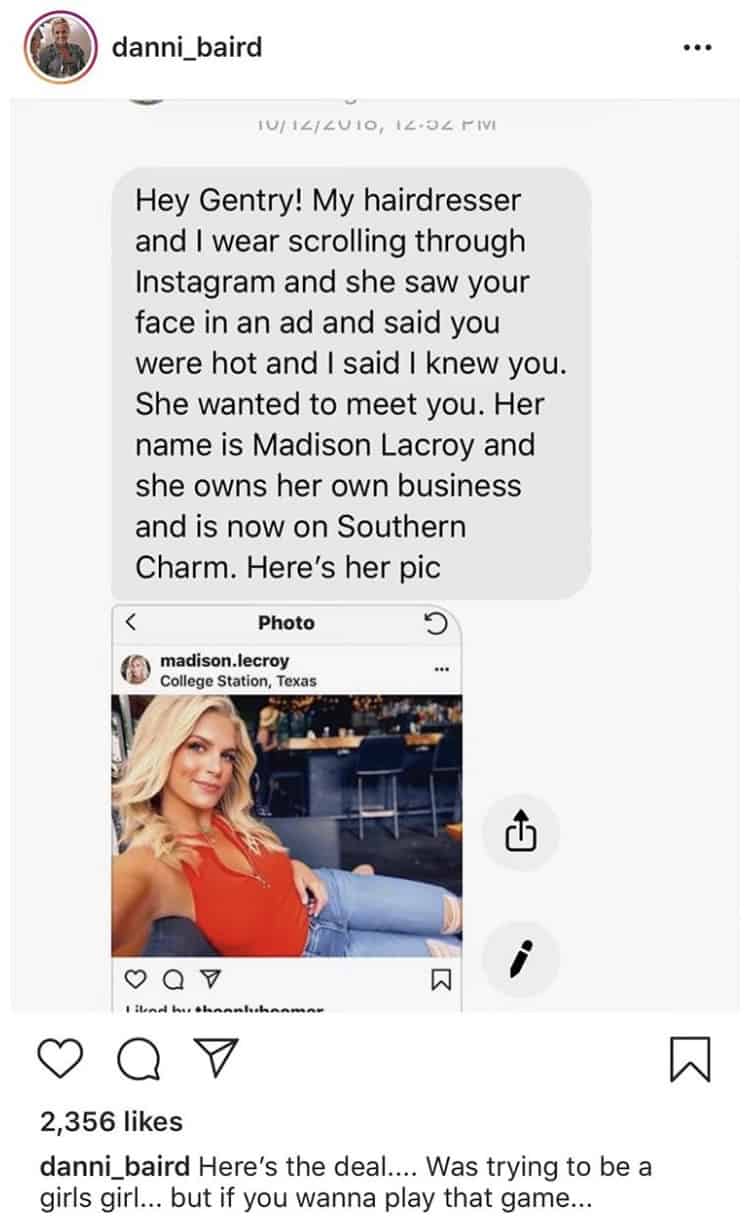 Just before Danni's post was shared, Madison took to her Instagram Story and shared a series of text messages sent between her and Danni which she hoped would silence any cheating speculation.
In the texts, Madison appears confused about what messages Austen is referring to, and Danni responds to her, stating: "He's talking about Gentry."
A short time later, Madison shared a second post on her Instagram Story in which she spoke to Danni directly and slammed her for pushing a "false narrative" before claiming Danni had been dumped by Gentry.
"Let me nip this in the bud right now. This message was written by my client who was scrolling through her pictures while I was doing her hair," Madison wrote. "She showed me his picture and said 'Isn't he hot' to which I replied 'Yes he's good looking.' I never said fix me up with him… She wrote that on her own. I don't know why you are bringing this false narrative up again especially since he has broken up with you."
Madison also wanted to know why Danni shared the Instagram screenshot of her friend's message about her and Gentry possibly meeting up but failed to share Gentry's response.
"Where's his response Danni?" she asked in the comments section of her co-star's post.
As for Gentry, the Beautiful Snarky Mess Instagram page shared a photo of him, and that is below.
https://www.instagram.com/p/ByF4CpOHHGz/
Southern Charm season six airs Wednesdays at 8 p.m. on Bravo TV.