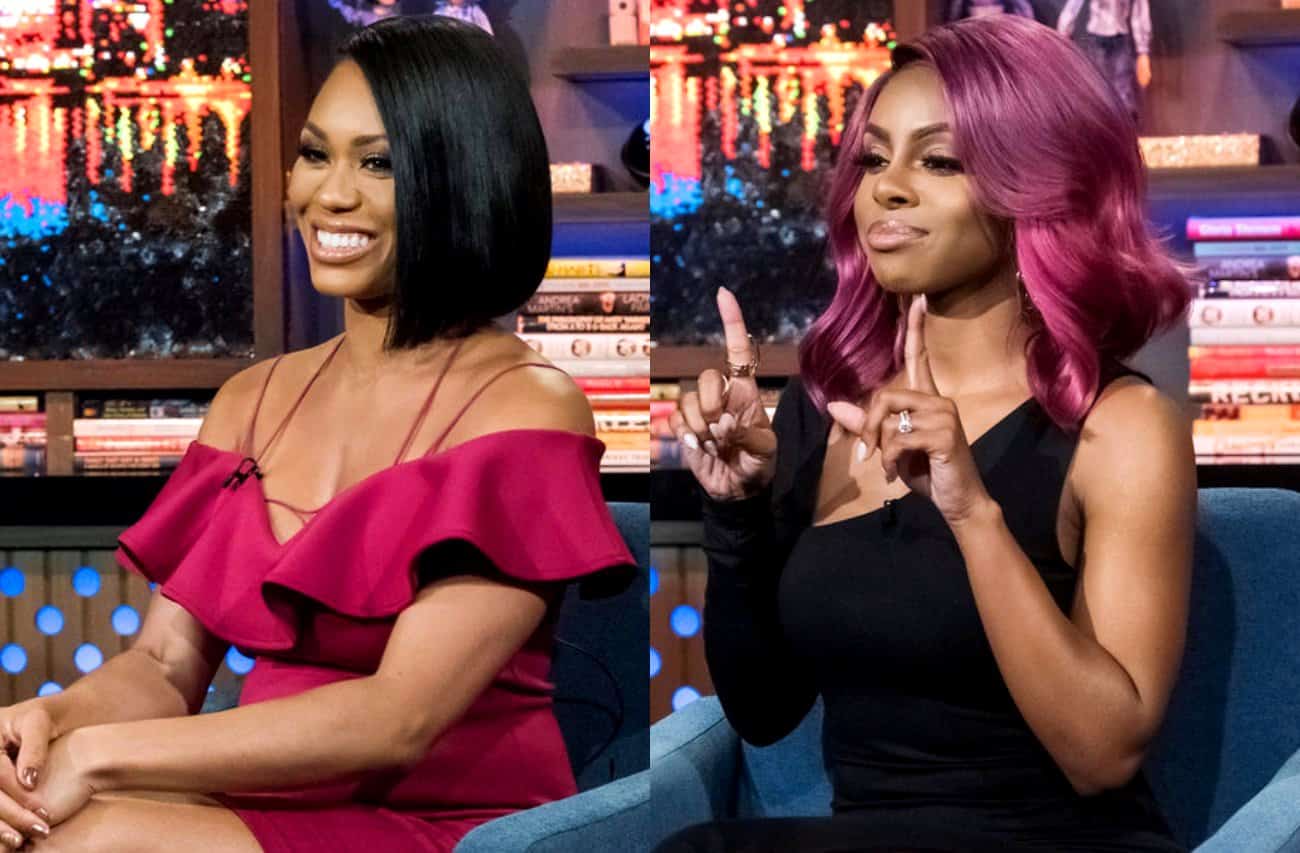 The Real Housewives of Potomac star Monique Samuels isn't thrilled about the way her comments about Katie Rost are being interpreted by her co-star, Candiace Dillard Bassett. Monique revealed she feels like her co-star twisted what she said.
During last week's episode of The Real Housewives of Potomac, Candiace sat down with Gizelle Bryant for some food at her husband's restaurant. Then, she proceeded to tell Gizelle about Monique's supposed comments about Katie's changing appearance.
In a flashback, Monique talks about Katie's appearance, comparing her free spirit to a line in the movie Amistad. According to Monique, it appears that Candiace didn't quite catch that reference the right way. Candiace had claimed Monique said Katie looked like a character from the movie, which is about slavery.
"Candiace totally twisted what I said when I made the comments about Katie. It was apparent I was speaking about Katie's spirit and compared her free spirit to a line we all know well from the movie Amistad," Monique explained to Bravo in her blog, which consisted of Bravo asking questions about the episode from last week.
Throughout the conversation, Monique also makes comparisons to Ashley Darby, who tends to have a relaxed bohemian style.
"What I said was, 'She is a free spirit, like Ashley on steroids. She went from prim and proper to an Amistad 'give us free' type of spirit.' For Candiace to say I was referring to Katie's looks is a totally different interpretation of the actual conversation we had. Candiace must've felt as though Katie looked like someone from Amistad and projected her thoughts and feelings on to me," Monique added.
Interestingly, Monique believes that Candiace has been projecting her own issues onto people. This season of the RHOP, viewers have seen Candiace struggle with her mother as she tries to gain respect from her.
"She's been doing this a lot lately (projecting her issues on to others). I was very disappointed to see my 'friend' discussing me with someone she knows I don't get along with and have been actively trying to move forward with. The whole conversation was very messy," Monique concluded.
The Real Housewives of Potomac airs Sundays at 8/7c on Bravo.
Photo Credit: Charles Sykes/Bravo