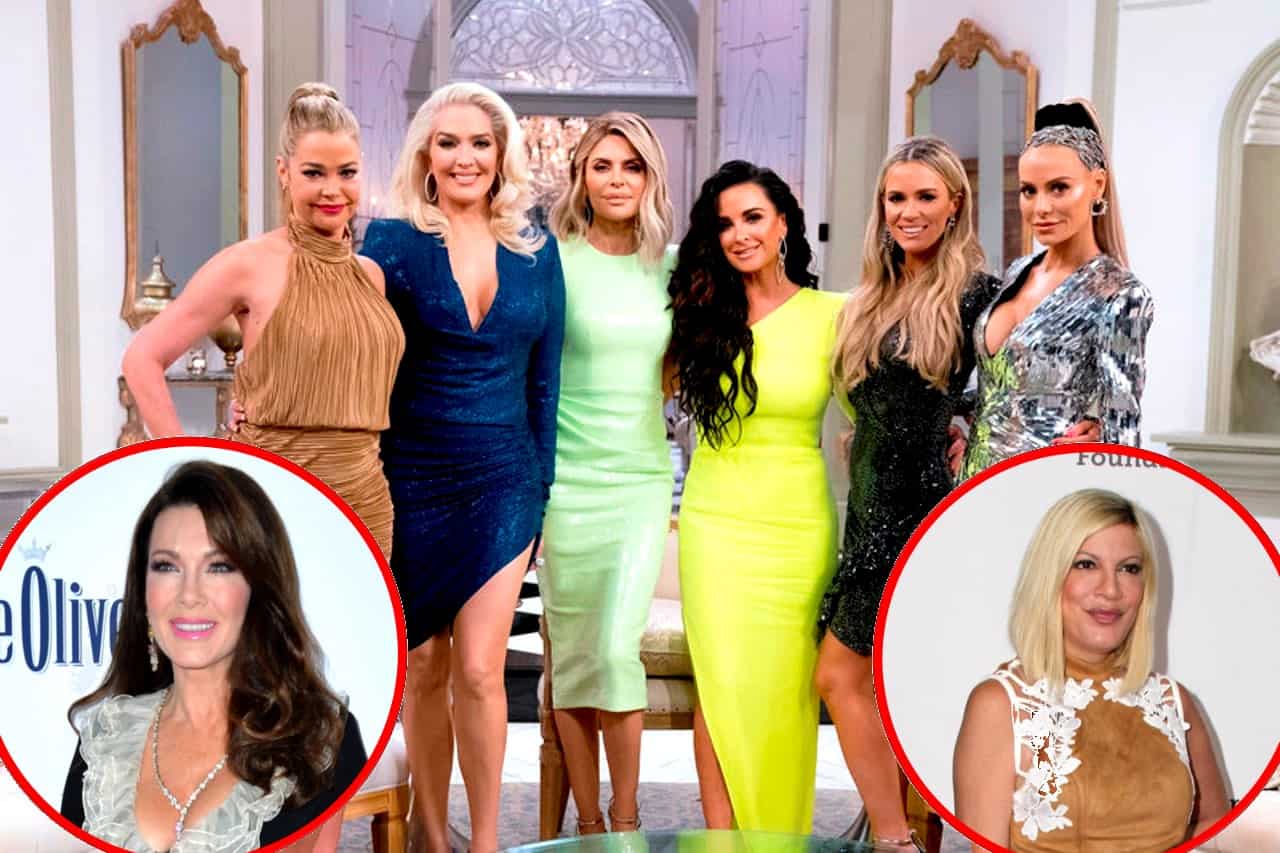 The women of Real Housewives of Beverly Hills may have been ordered not to speak about Lisa Vanderpump to the press, but that isn't stopping Erika Jayne from commenting on potential new castmembers.
Weeks after former RHOBH cast member Brandi Glanville suggested producers of the show had requested the cast lay low following some backlash over the treatment of Lisa by her costars, it appears there might actually be a ban in place preventing the cast from speaking out about Lisa.
During a video interview with ET Canada, which was published on August 13, Erika was asked about the status of her friendship with Lisa since season nine wrapped. However, before Erika could give an answer, a man off-camera yelled, "We can't comment on that." And Erika ended up not answering the question about Lisa.
You can see that exchange go down in the video below.
Could it be that Lisa's camp has put a gag order on the cast? Or, has Bravo ordered the girls not to speak about Lisa in fear of spoiling upcoming storylines? The answer is still unclear.
But just because Erika couldn't talk about Lisa doesn't mean she couldn't spill about potential future RHOBH cast members. In the same interview, Erika was asked for her thoughts on Beverly Hills 90210 actress Tori Spelling potentially joining the show after the actress expressed interest in RHOBH on The Jenny McCarthy Show podcast.
"Well, I mean, if there's anybody that says Beverly Hills, it's Tori Spelling," the Bravo star dished. But Erika also admitted that it's hard to tell if new cast members will be a good match on the show. "You never know what happens when you put two people together. You know, sometimes you would imagine that you would get along with someone and you don't, so you never know."
On Jenny McCarthy's podcast, Tori explained that she was bummed about never being asked to join the RHOBH cast. "It actually makes me really sad," Tori said candidly. Since the actress was born in Beverly Hills and "drama follows her everywhere," she can't understand why she's never been approached to be on the show.
With ex-housewife Lisa Vanderpump leaving a huge void on RHOBH, who knows what new blood will grace our screens come season 10.
Photos Credit: Nicole Weingart/Bravo, Featureflash Photo Agency/Shutterstock.com, DFree/Shutterstock.com