Tamra Judge is being accused of ambushing her son Ryan Vieth's ex-girlfriend, Sarah Rodriguez.
After Ryan showed up to Sarah's home on Friday to pick up his daughter Ava, only to find that four police officers were waiting for him, Sarah took to her Instagram page and revealed that the Real Housewives of Orange County star and her mother "ambushed" her amid their custody issues.
#RHOC Ryan was just live on IG showing that when he went to pick up his daughter there were 4 police standing outside his ex's house not allowing Ava to go with him ???????? He says he's now heading to court pic.twitter.com/l7xT8mCB3i

— Ashley Ludgate (@Ashleylud1980) August 16, 2019
"So I just got ambushed by Tamra and her mom at my door. She recorded me without my knowledge which is illegal and now she is going to take me to court to get Ava taken away from me," Sarah alleged in a now-deleted Instagram post.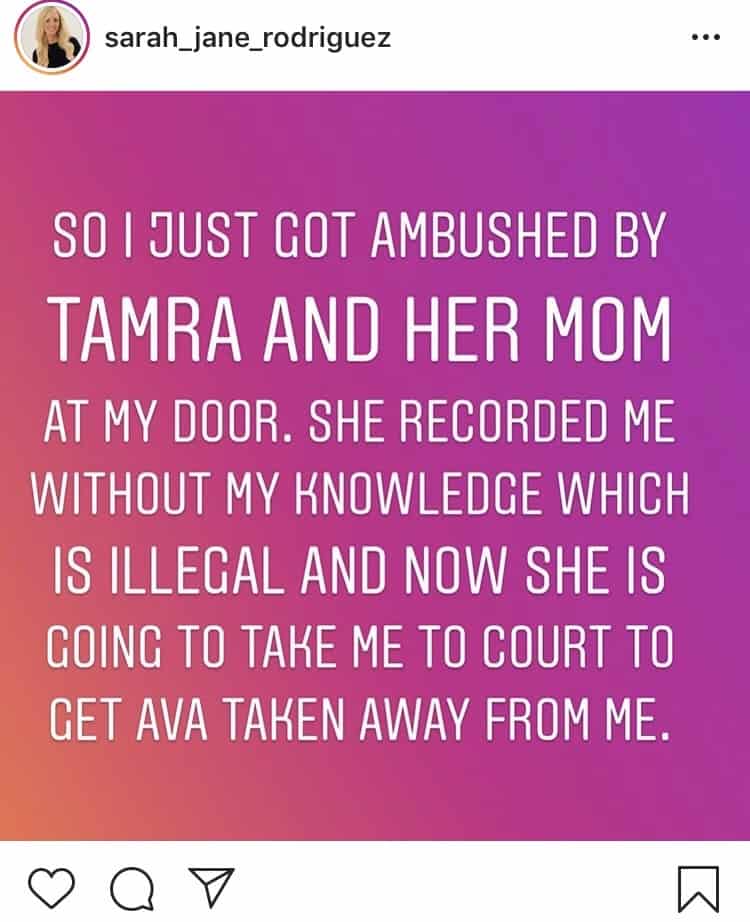 On Instagram, after revealing that the police officers were stationed at Sarah's home in an effort to prevent him from spending time with his daughter, Ryan reacted to a court order Sarah shared online by revealing that the order was old and no longer relevant to their case.
"That's from when I was working 12-hour days at 4:30 in the morning and my daughter was only a few months old and I didn't want to wake her up every single morning when I work. She knows what our schedule has been. Everyone around me knows what our schedule has been. I have my daughter every single Wednesday until Thursday. I pick her up again on Fridays and I drop her off on Sundays. It's been that way for years now," Ryan explained.
According to Ryan, Sarah is keeping his daughter from him out of revenge, days after he accused her of hooking up with Dakota Meyer, the ex-husband of former Teen Mom OG star Bristol Palin.
"She wants to play the game because she's mad because I posted stuff about her? She's using my daughter as leverage… I'd call that child abuse," he stated. "All I wanted to do was pick up my daughter on my day off like I always do… The only one that suffers is my daughter."
https://www.instagram.com/p/B1PQnh4nmIJ/
After his video was shared, Ryan apparently went to a courthouse in an effort to regain his visitation rights to Ava.
Ryan then went on to share that the bullet photo he sent to Sarah days ago, which she suggested was sent in a threatening manner, was actually meant for him.
"One person can only take so much, thank you Sarah for always causing chaos in my life by playing the media and show against me. Maybe I'll end up like your first boyfriend Luke. And for the record, the bullet was for me not for Sarah but [no one] cares to [know the] truth," he wrote.
Apparently Ryan was referencing himself with the bullet pic. Sarah made it look like it was meant for her. IDK #rhoc pic.twitter.com/jh9QSoShYH

— LoveAndyC (@LoveAndyC) August 16, 2019
Tamra reacted to the drama between Sarah and Ryan on her Instagram page by telling her online fans that she is only concerned about her granddaughter.
"My son and his ex have created a public circus. I'm absolutely disgusted and my only concern is Ava. Not my circus not my monkeys," she said on August 16 in a now-deleted Instagram post.
#RHOC pic.twitter.com/vr2zpxhZxy

— LoveAndyC (@LoveAndyC) August 17, 2019
The Real Housewives of Orange County season 14 airs Tuesday nights at 9 p.m. on Bravo TV.
Photos Credit: Gabe Ginsberg/FilmMagic/Getty Images, Instagram