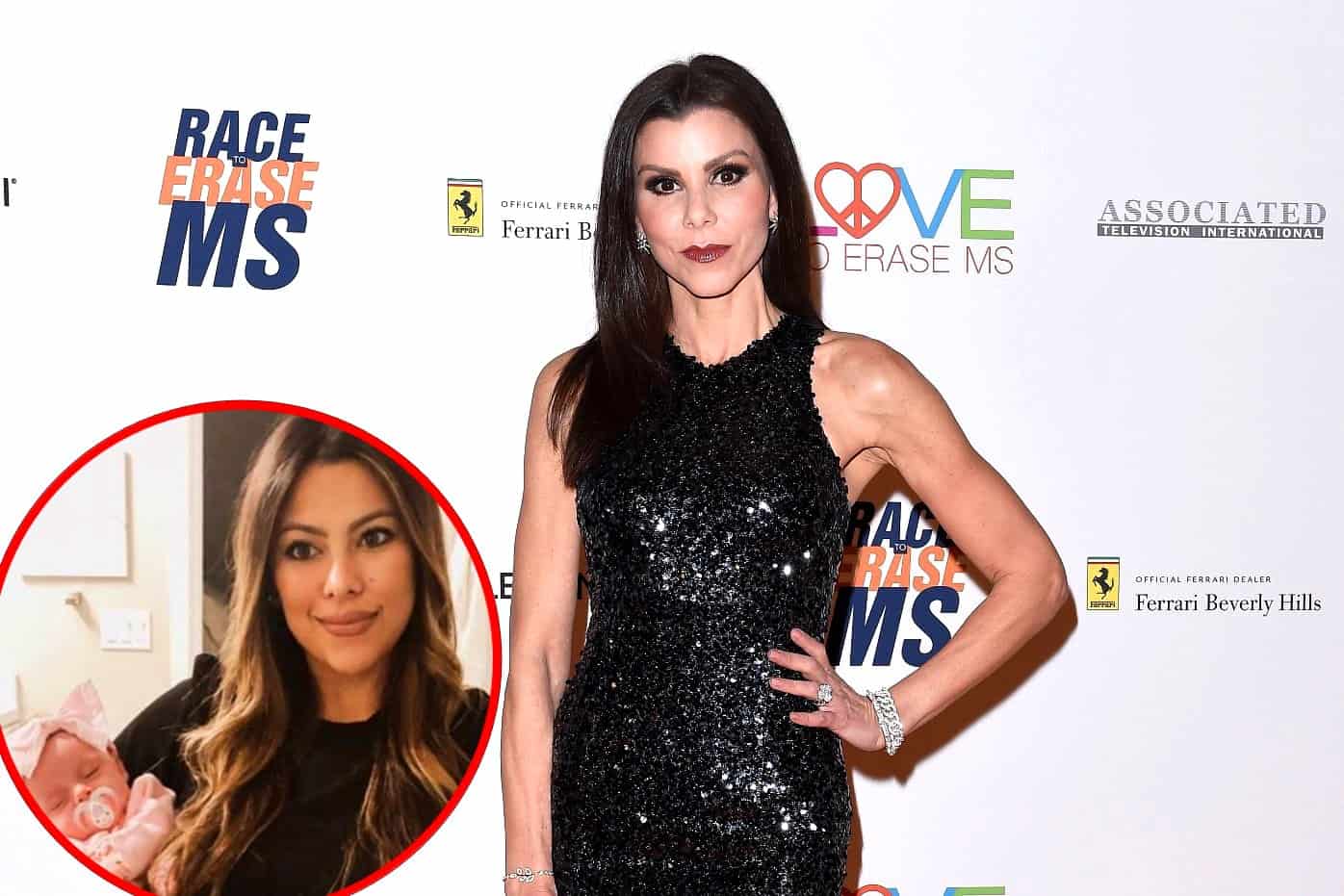 UPDATE: Heather is denying any claims she fired her assistant while she was on maternity leave, stating she offered Natalie a full-time job with a full salary and benefits and alleges Natalie's the one who turned down the job. Below are Heather's tweets plus the original story.
Unfortunately, she is posting lies about me. I will have to tell the whole story at some point. For the record : AFTER her maternity leave, I offered her a full time job with full salary and full benefits in a different capacity until she figured out what she wanted to do.

— Heather Dubrow (@HeatherDubrow) November 22, 2019
She declined. I would never leave her in the lurch. I love her and it's been very upsetting to see her post in this fashion when I've swallowed her disloyalty over the last year and I have said nothing. Trying to figure out how to handle this 🤦🏻‍♀️

— Heather Dubrow (@HeatherDubrow) November 22, 2019
Did Heather Dubrow fire her assistant and Heather Dubrow World's podcast co-host, Natalie Puche, just after Natalie welcomed her first child?
Eight weeks after Natalie announced the birth of her daughter, Piper Rose, she seemingly suggested that the former Real Housewives of Orange County cast member had allegedly given her the boot in an emotional Instagram post before Heather fired back at her insinuations with her own statement.
"This is a tough one…. For those who have followed my journey on the [Heather Dubrow's World] Podcast / Heather's Assistant for the past 4/8 years, my journey is sadly coming to an end," she wrote.
"I'm sorry I won't be able to say my proper goodbyes (as this was not by choice)," Natalie continued. "But I hope to be able to still connect with you on my journey into motherhood, an unforeseen career adjustment and all of the beautiful, hideous and honest moments in between… So with that, I won't say goodbye, just see you soon!"
After the post was shared, a follower of Natalie's asked, "Does that mean you won't be going back to work for Heather?"
"That's correct, I was let go," Natalie confirmed.
"What? During maternity leave? Omg ruthless," one person replied.
"What [a] horrible thing to do after you just had a baby!!" another said.
Some of Natalie's followers even suggested that she should sue Heather for wrongful termination while others wondered if it was legal for Heather to reportedly fire her employee while she was on maternity leave.
Natalie also responded to a fan on Twitter after the person suspected Natalie had quit her job with Heather.
In a screenshot of a conversation between Natalie and the unnamed person shared by Love Andy C on Twitter, the person was seen telling Natalie that she knew she'd leave Heather eventually.
"Yeah something like that .. she actually isn't having me come back to work .. but it's okay, onward and upward!" Natalie replied.
Then, when the person pointed out that Heather seemed to love Natalie and was "counting the weeks" until her return, Natalie told the fan, "Welcome to my world."
Nathalie also shared an emoji with its mouth zipped shut when the person suggested the ex-reality-star was "difficult."
While Natalie suggested that it was Heather's decision not to have her come back to work, Heather claimed it was actually Natalie who declined a new job offer with her family.
"It's been a really great run together, but unfortunately the position that Natalie was doing before has changed," Heather explained to Page Six after Natalie went public with the end of their professional relationship. "I love Natalie and offered her a full-time position with benefits in another capacity while she figured out what her next step is. She chose to decline it. It's very sad it's coming down in this way. I love her and really hope our relationship will stay in tact."
Heather added that she wishes the best for Natalie and her family.
Photos Credit: AXELLE/BAUER-GRIFFIN/MEGA, Instagram