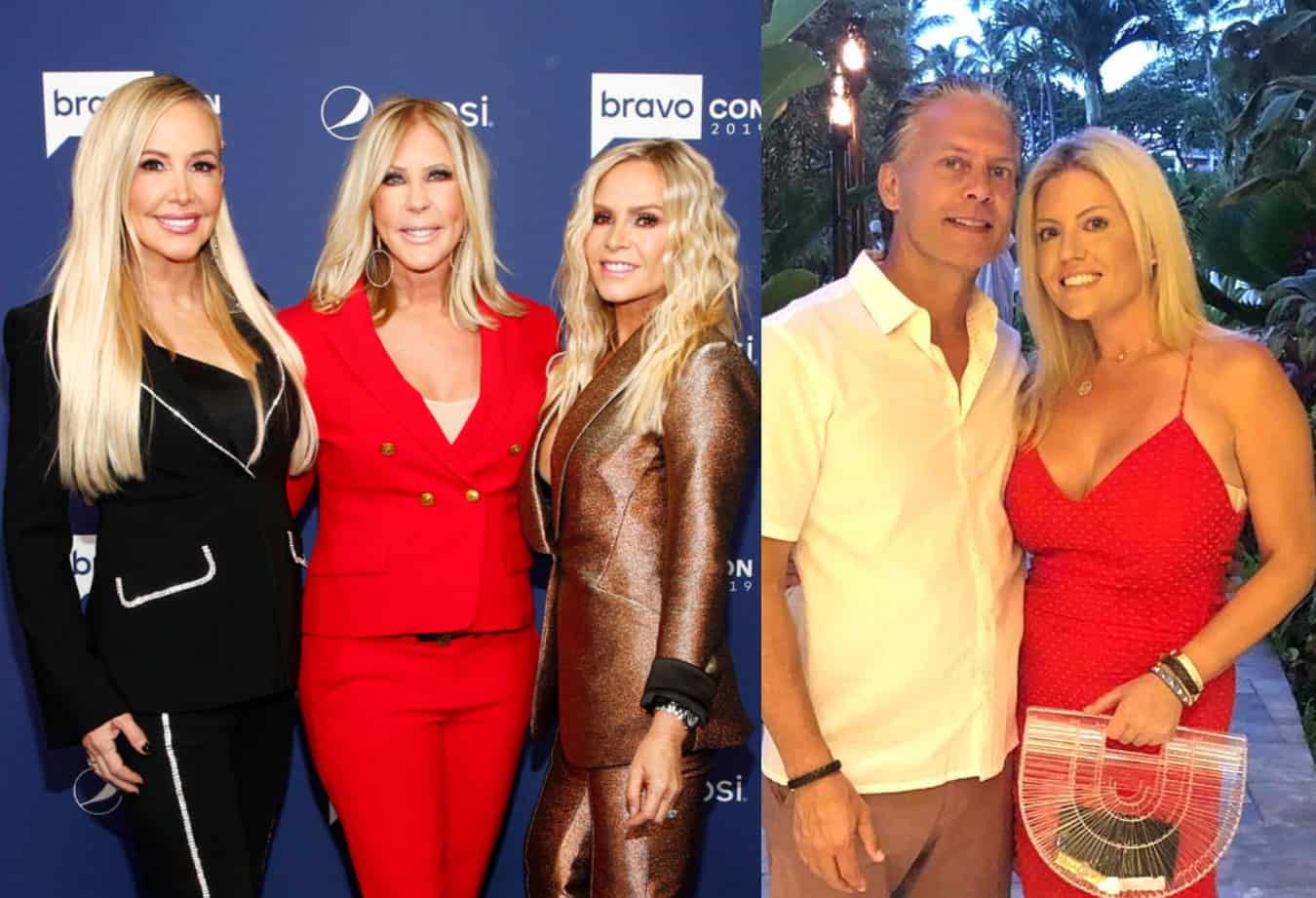 Shannon Beador and her Real Housewives of Orange County co-stars aren't thrilled about David Beador and Lesley Cook's racy hiking photos.
While preparing to film the RHOC season 14 reunion earlier this month, Shannon and her co-stars reacted to the images her ex-husband's girlfriend shared on her Instagram page, which featured Lesley and David hiking without their clothes on in Europe.
"The nu*e hiking photos are something that you'd never see me in. Personally, I think it's trashy but to each his own," Shannon said. "[David] can do whatever he wants."
"Oh my God!" Gina Kirschenheiter exclaimed. "What a dingbat. Ew… he has, like, old man butt and a really bad tan."
Shannon's closest friend on the RHOC cast, Tamra Judge, who has publicly feuded with Lesley in the past, was the most vocal about her disgust with David and Lesley's pics.
"Yuck!" she stated. "Do you know how many people texted me that? And I'm like, 'I can't unsee that.' That was like the most dehydrated couple I've ever met in my life. They're not even thirsty. They're dehydrated."
According to Tamra, she believes David had his girlfriend share the photos as a "big [f**k you] to Shannon."
"I think he wanted everybody to talk. They just needed some attention," she suspected. "They weren't getting enough attention when they were naked and hugging each other. So, they needed a little bit more attention."
"Obviously, the sex ain't good," Tamra added.
Emily Simpson was more concerned with the reasoning behind the photos than the actual pictures.
"Who took that picture? Was it a bear in the woods? How does someone get a photo like that?" Emily wondered. "How do you explain, like, 'I'm going to get naked in the woods but I'm going to wear hiking boots and I need you to take a picture of it.' I don't know. It seemed like a very bizarre concept for me. Like, what was the purpose of that?"
"I don't want to see his a**. Does anybody else?" Vicki Gunvalson asked. "I think it's weird. And why would she take a picture of them and put it on the internet? I think it's very classless."
The Real Housewives of Orange County season 14 airs Tuesdays at 9 p.m. on Bravo TV.
Photos Credit: Astrid Stawiarz/Bravo, Instagram