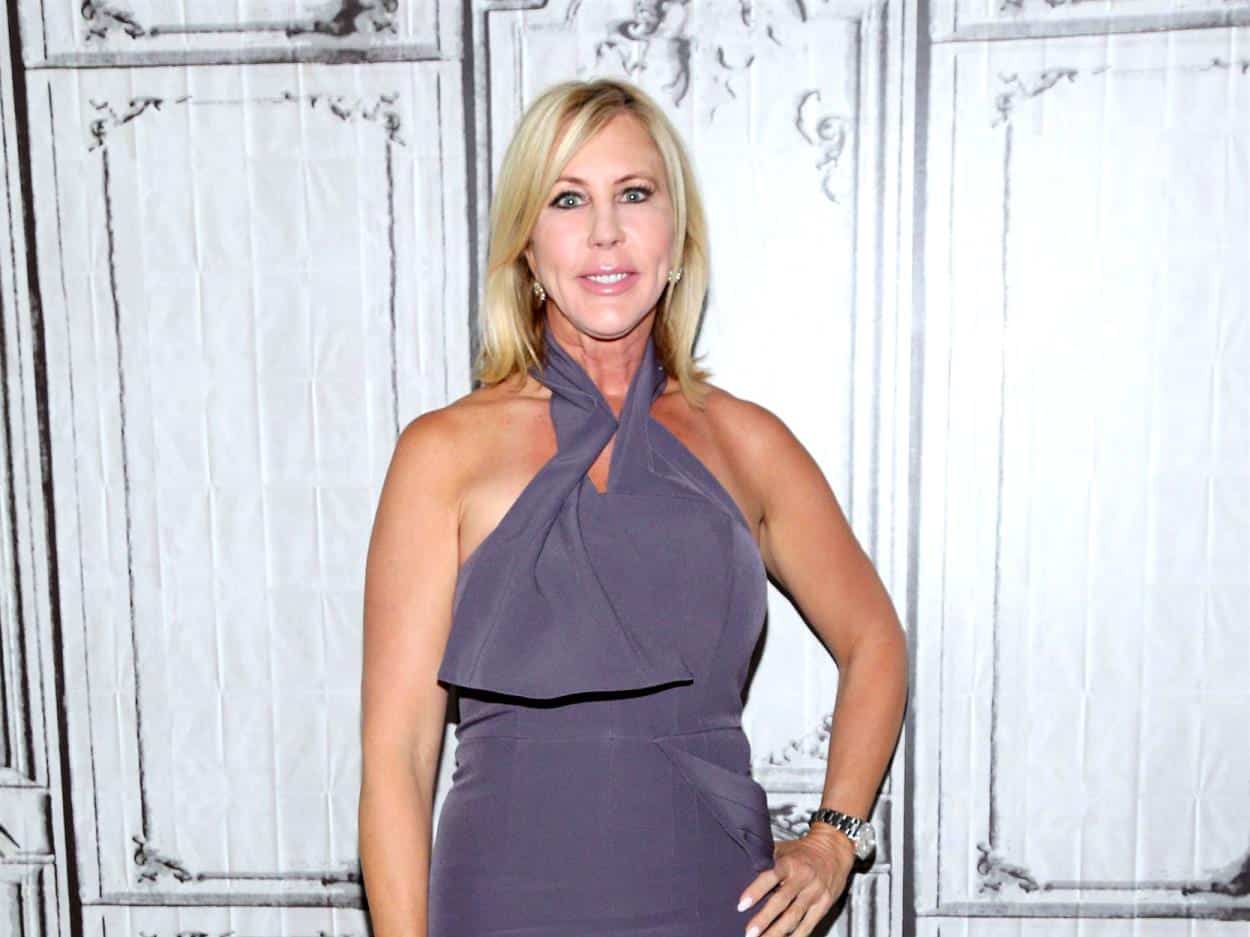 Vicki Gunvalson isn't one of the many Americans rushing to the grocery store to buy up all of the toilet paper and hand sanitizer she can find. Instead, she's staying calm as everyone else goes "crazy" amid the ongoing spread of the Coronavirus.
On Thursday's episode of her podcast, the former Real Housewives of Orange County cast member explained why she's staying calm before dishing on her upcoming wedding with Steve Lodge, admitting her late mother never liked seeing her on the show, and taking aim at Bravo for their seemingly biased focus groups.
"I think everybody's gone crazy. This is the flu. I'm not freaked out about it," Vicki said about COVID-19 on Whoop It Up with Vicki. "The Lord has already determined when we're going to die and how we're going to die so literally, I don't care."
According to Vicki, she attempted to go shopping for her new condo in Puerto Vallarta at Costco earlier this week and was shocked at how people were acting.
"The parking was out of control and people were outside with empty carts trying to get toilet paper," she recalled. "The aisles are empty!"
Meanwhile, Vicki said the only quarantine she's scared of is at-sea quarantine.
"I do not want to be quarantined on a ship," she explained, adding that her fiancé Steve wants to tie the knot on a cruise in April.
"I'm like, 'Our luck is we'll be on the ship forever and ever and we'll never be able to get off,'" Vicki explained.
Moving on, Vicki said that her late mother, Joanne Steinmetz, never really liked seeing her on RHOC.
"She said I was different than what I was in real life," Vicki confessed. "I said, 'No I'm not, I'm the same person.' She goes, 'No, you are 100 percent different.' And I started looking at past seasons and I'm like, 'I don't act like that.'"
Vicki went on to say that the Bravo focus groups that allegedly proved she "wasn't favored" on RHOC any longer were likely inaccurate due to the people polled. She also noted that while she questioned her PR people, she wasn't given any answers about who was included in these groups.
"I was always curious who does these focus groups because we have so many people online who are fanatics," Tamra agreed. "That's like one percent of the viewership. Go ask the neighbors. Talk to them, not these kids."
Photo Credit: Elizabeth Pantaleo/startraksphoto.com