Stassi Schroeder's husband, Beau Clark, shared a series of new photos of their daughter, Hartford Charlie Rose Clark, over the weekend, and in one, the former Vanderpump Rules cast member was seen post-birth.
Along with a slideshow of images of Hartford crying, lounging, and sleeping, Beau included a photo of Stassi in the hospital with their baby girl on her chest as he told his fans and followers that "life is good."
"She's a frowning, sleeping, crying, pooping bundle of light in my life. And [Refund the Dog] loves her too," Beau wrote in the caption of his January 24 post. "Life is Good."
At the end of the slideshow, Stassi was seen in her hospital bed.
Just over two weeks after giving birth, Stassi is struggling with separation anxiety.
"I struggle with separation anxiety whenever I place her down somewhere not next to me. It's an issue. Tell me it gets easier," Stassi wrote in the caption of a video shared on her Instagram Stories on Sunday.
After Stassi gave fans a look at her daughter relaxing in a swing, she turned the camera to herself as she showcased a frown on her face.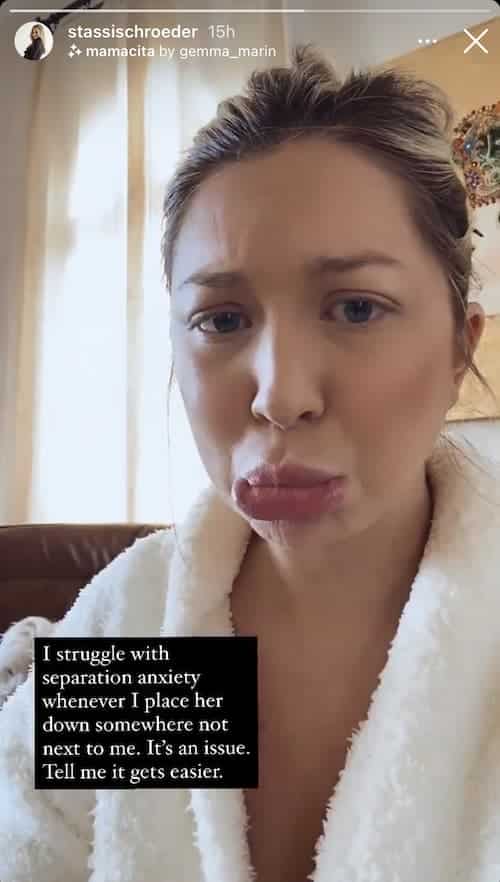 Last week, Beau gave fans their first look at daughter Hartford as he posted a video of his wife breastfeeding the child on his Stories and later shared a clip of a "little barf" on his shirt.
One day later, Stassi posted a slideshow of videos on her own page as she shared a heartfelt message about her first moments as a mommy.
"Beau [and] I have spent the last couple of weeks enjoying every moment with our daughter. Every cuddle, every sound, every poop, all of it. It's her two week birthday and I feel like I'm finally ready to share my little girl," Stassi wrote in the caption of a January 21 photo.
"Meet Hartford Charlie Rose Clark, the best thing that's ever happened to me. My heart is so freaking full. I can't believe I get to keep her," she added.