Is Kathryn Dennis married or engaged?
On Monday, the Southern Charm cast member and her boyfriend, Chleb Ravenell, sparked major rumors of a potential wedding as they posed for a series of photos, several of which featured Chleb getting down on one knee after less than a year of dating.
In a video shared by makeup artist Chelsea Shea, Chleb appeared to propose to Kathryn as she threw her arms in the air while standing in a doorway at The Nest at Steele's Farms in Taylorsville, North Carolina.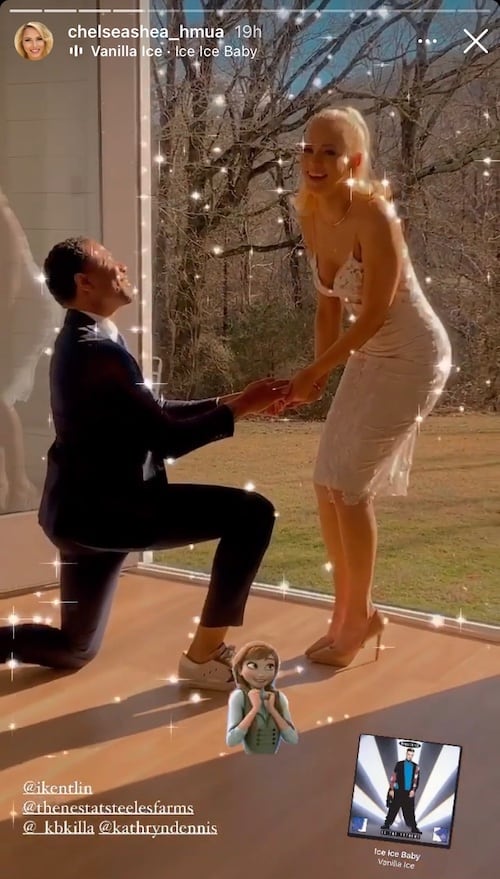 A short time later, Kathryn changed out of her white lace dress and into what appeared to be a wedding dress and sheer shawl as she posed for another set of photos in a chapel.
Kathryn was then joined by Chleb, who held her around the waist as more photos were taken.
In an Instagram post shared by The Nest, Kathryn's time at their venue was described as the "most romantic and stunningly beautiful day."
"We were together I forget the rest," the location captioned a series of images, seemingly quoting the Southern Charm star.
At the end of the night, after all the photos were taken, Chleb shared a photo of himself and Kathryn on his Instagram page.
Kathryn first publicly confirmed her relationship with Chleb in July of last year as they celebrated his birthday with friends.
As for whether or not Chleb will be appearing alongside her on the upcoming eighth season of Southern Charm, Kathryn said earlier this month that she hopes he will.
"I was afraid to ask that question about if there was another season, 'would you want to be involved at all if I did it,'" Kathryn told E! News. "I mean, he's open to it because he really does handle stress and adversity well."
Also this month, Kathryn told E! that when it comes to how her two kids, six-year-old Kensington and four-year-old Saint, feel about Chleb, there's no doubt they are fans.
"He's great with the kids. They love him. Kensie and Chleb have a cute little relationship. They like playing basketball together. I think sometimes she has a little crush," Kathryn revealed.
Kathryn shares Kensington and Saint with ex-boyfriend Thomas Ravenel.
Photos Credit: Instagram