Kelly Dodd calls Erika Jayne's estranged husband Thomas Girardi a "crook" amid the Real Housewives of Beverly Hills couple's legal troubles.
While in the Hamptons over the weekend, The Real Housewives of Orange County star took to Instagram to share a photo of herself with husband Rick Leventhal and a group of friends.
"Thanks Arthur Aidala for having us over … it's nice to have a high-powered attorney on your side," she captioned the post.
https://www.instagram.com/p/CPeLxD3Laju/
Since Kelly mentioned the attorney, a fan took the opportunity to throw some shade at Erika and Thomas.
"I bet Erika thought it was nice to have a high powered attorney on her side, too. Go out and BE the high powered attorney, ladies! Never rely on a man," the woman wrote.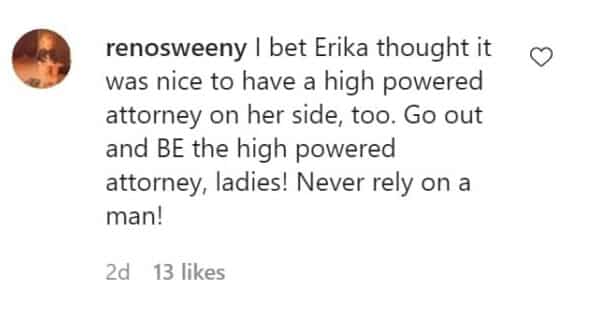 Kelly responded by letting the fan know her friend is nothing like Mr. Girardi.
"My attorney isn't a crook," the reality star snarked.
As Bravo fans well know, Erika filed for divorce mere weeks before Thomas was accused of embezzling millions of dollars from orphans and windows from the Lion Air plane crash. Since then, the disgraced attorney has been hit with numerous other lawsuits as investigators claim he has stolen at least $26 million dollars from past clients.
He was subsequently diagnosed with Alzheimer's and is currently living under a court-ordered conservatorship run by his younger brother, Robert Girardi.
As for Erika, investigators are currently tuning in to season 11 of RHOBH and transcribing every word in hopes of locating potential property and other assets. The "Pretty Mess" singer recently reacted to a fan on Instagram who suggested the season would be the  "Crucifixion of Erika Jayne" by reposting the fan's screenshot and writing, "Scapegoat."
It's unclear if Kelly and Erika are on friendly terms, but it's unlikely Erika will be too offended by Kelly's comment as she's reportedly planning to spill the beans about her life with Thomas in her own tell-all interview in the future.
"She wanted people to see her side of the story and when the time comes, she will do a full interview on this matter," a source recently told Hollywood Life.
The Real Housewives of Beverly Hills airs Wednesday nights on Bravo at 9/8c.