Is Randall Emmett cheating on Lala Kent? That's what many Instagram users are suspecting after a series of alleged photos of the producer turned director with a couple of women in Nashville, Tennessee, surfaced online.
As the Vanderpump Rules star deleted all traces of Randall from her Instagram page, Randall was accused of not only hanging out with a couple of women who weren't his fiancee but also of going into the Thompson Hotel with at least one of them.
Following a Blind Item shared by RealiTea Report on Instagram, which suggested Lala should be keeping a closer eye on her man, a series of photos of Randall walking across a street with two blondes was shared by GirlGangz7733.
"Saw Randall last night with [two] girls [in] Nashville that [were] not Lala. He tried to hide when we recognized him," an unnamed source claimed.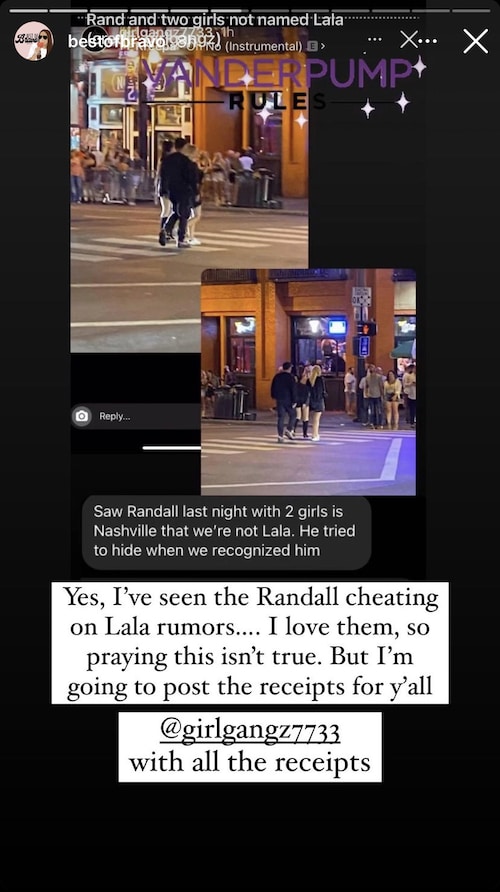 That same night, Randall was allegedly photographed inside of the Thompson Hotel.
Along with a screenshot of the supposed photo of Randall, the Best of Bravo fan page on Instagram reshared what appeared to be Lala's reaction to the images: Beyonce's hit single, "Sorry," which speaks of infidelity.
"Looking at my watch, he shoulda been home… Today I regret the night I put that ring on… He always got them fucking excuses… I pray to the Lord you reveal what his truth is," the song sings.
Amid the online drama, Randall took to his Instagram page, where he shared a photo of himself at the Bel Air home he and Lala have shared for the past several years.
"My baby Rylee," he wrote in the caption of an October 17 video, which featured his daughter promoting Lala's new book, Give Them Lala, and informing his followers that they can purchase the publication at Target.
In the comments section of the post, many were left unimpressed with his alleged efforts to win Lala back.
"Randall don't use your kids like this it's not cool. You cheated. Own it and privately fix your stuff," one person wrote.
"Please don't use your daughter to try and get Lala back," another agreed.
"Is this your way of getting Lala to come home?" wondered a third.
Lala and Randall intended to get married in April 2020 but were forced to cancel their big day due to the COVID-19 pandemic. And while they had yet to confirm an exact date for their potentially rescheduled wedding, Lala did say in June that they'd be tying the knot sometime in 2022.
Vanderpump Rules season nine airs Tuesdays at 9/8c on Bravo.