Crystal Kung-Minkoff is setting the record straight about her friend group.
After a June episode of The Real Housewives of Beverly Hills featured Lisa Rinna saying (and Crystal ultimately confirming) in a confessional that Crystal once told her "she had a falling-out with, like, 14 of her friends," Crystal responded to a fan question on her Instagram Story about the topic.
"Will it be revealed why the 14 friends dropped you? It just doesn't seem right," the fan asked, via a screenshot shared by The Real Housewives Zone on Instagram on July 3.
And while Crystal did speak of losing numerous friends on the show, reportedly after causing problems amongst the group, she told the curious fan that in the end, it was only three friends that she actually lost.
"In the end, it was only [three] people. The rest came back and apologized," she shared.
According to Crystal, who was added to the RHOBH cast ahead of season 11, a number of members of her former circle were put off by her success.
"Success affects people in different ways. It affects people around you too. Some can't handle it. Some celebrate it," she noted, adding, "Don't let your success stop you from achieving your goals. Don't let others convince you that you don't deserve it. And if you lose them, they were never your friends to begin with."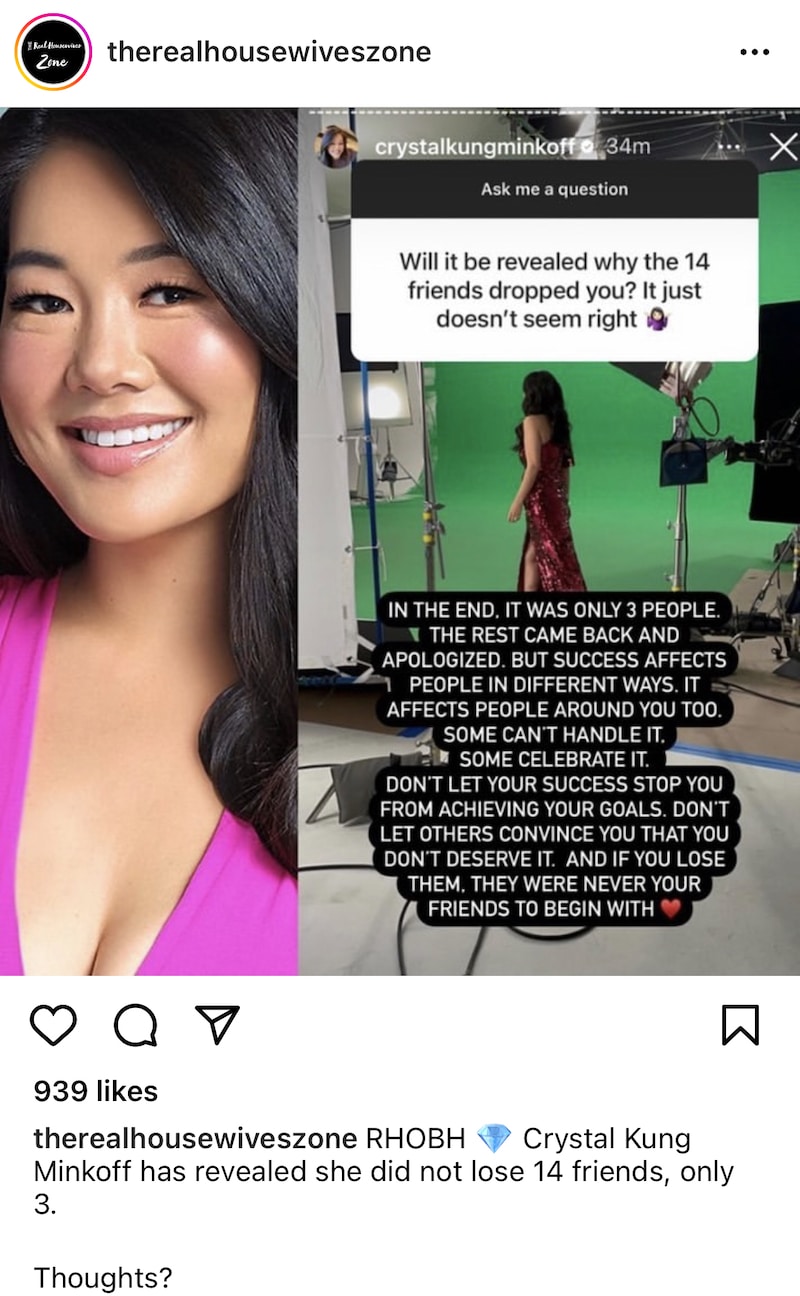 Following the RHOBH episode in question, Teddi Mellencamp, who recommended Crystal for the show, addressed her alleged friendship struggles on her podcast, Two T's in a Pod.
"I am in one of her friend groups. We're not best friends by any means but we're friendly," Teddi said, explaining that while she was not part of the friend group that allegedly iced out Crystal, she had been "messaged" by people who were.
"The people that are in [the group] tried to give me information that I did not want because I do think there's two sides to every story," Teddi shared. "In every friend group do people gossip about each other? Yes. So I think that was what was happening and as that happens in friend groups, and she said something to someone and that person then outed her to the rest of the friend group."
"It's not my place to share but it's people saying things," Teddi added.
The Real Housewives of Beverly Hills season 12 airs Wednesdays at 8/7c on Bravo.