Sara Al Madani is fighting back against Chanel Ayan.
In a couple of tweets shared earlier this week, the Real Housewives of Dubai cast member fired back at Ayan for suggesting she called the cops and threatened her and Caroline Brooks with legal action at the reunion for labeling her "preachy," clarifying that when it comes to potential threats, she won't hesitate to go after Ayan if she comes for her reputation or business again.
"A person with no purpose will step on others and drag them down to reach higher," Sara tweeted on September 5. "A lie can travel halfway around the world while the truth is still putting on its shoes. But what goes around comes around."
Then, in a second tweet, Sara slammed Chanel's "fake" claim and threatened legal action against her.
"I will say this once because I don't entertain false, fake and petty conversations: I did not call the police on her it's a lie," she confirmed. "I told her if she ever talks about my reputation or my business to social circles in my country behind my back again I'll take legal action."
When a fan on Twitter then asked Sara if Brooks was lying when she shared her own threatening message, potentially suggesting someone else on the RHODubai cast had "begged" Sara not to sue her, Brooks explained her statement.
"If you're going to post screenshots read it carefully!" Caroline replied. "Where did I say that she was going to sue anyone for saying she's preachy? I said she was going to sue for LYING! That's defamation which in Dubai is illegal. Read before you jump. Take care."
Amid the drama, Nina posted a message of her own, telling Sara that she doesn't "need to explain [herself]."
"Most people on here don't use common sense to think that there are [two] sides to each story. They only believe [one] side because they are bias to that person," Nina tweeted.
She then hinted that there was more to the story when it came to Sara's drama with Ayan and Brooks.
"If they knew what was really happened they would be shocked and disappointed!" she declared.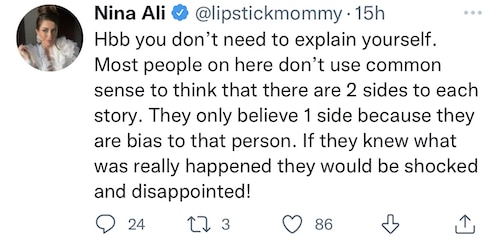 The Real Housewives of Dubai's season one reunion continues tonight, September 7, at 9/8c with part two.