Diana Jenkins took to her Instagram page on Tuesday to explain how she intended to get her $100,000 donation to the widows and orphans who were stiffed settlement funds from Erika Jayne's once-famed attorney husband, Thomas Girardi, and she was immediately met with questions.
After attorney Ronald Richards revealed on Twitter that Thomas' fraud victims had already been paid, the Real Housewives of Beverly Hills season 12 newbie was confronted about her gift to the families being a tax deduction and asked about the application process for the victims.
On September 13, after one person on Diana's page said they had "all the [victim's names]" and told Diana she could "give directly to their family," Diana responded to a second Instagram user, who wondered, "But would it still be a tax deduction?"
In her response, Diana shared three crying-while-laughing emojis.
Another person asked, "Can we go over the word 'apply'? Will the families be contacted to 'apply'? I thought they had been paid their settlement? I'm just curious how it all works since there's [a lot] of back and forth about the whole thing."
And while they included a purple heart emoji with their post, Diana didn't take too kindly to their inquiry, shading them for their "entitlement."
"And who are you?" she asked. "Concern civilian worried about how I spend my money and donate to people in need? The entitlement omg."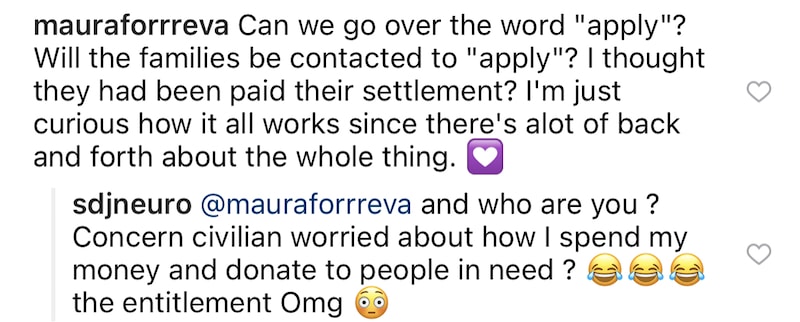 Prior to the comments, Diana had posted a lengthy message to her fans and followers in which she spoke of how she was planning to get the $100,000 to victims.
"Hearing about ALL the people who lost their lives on Lion Air Flight 610 weighed heavily on my heart during the filming of RHOBH and caused me to want to do something to support the families of the 189 victims. This has nothing to do with any past or ongoing litigation. It is simply a way for me, Sunela Foundation and our nonprofit partner GVNG to support the victims' families. All funds raised will be collected, safeguarded and dispersed by GVNG to immediate family members of those who died. Details about how family members can apply for this support from GVNG will be released in the coming months. Learn more about the Lion Air Flight 610 Victims' Project at SunelaFoundation.org," she wrote.
Although Erika "liked" Diana's announcement regarding her donation earlier this month, she also "liked" a comment in which an Instagram user slammed the gesture as "phony."
"It's phony. She knew about this as she brought up the dinner party when Erika threatened Sutton at Kathy's house last season. She's just not smart," their comment read.
But according to an insider who spoke to Page Six, Diana's donation wasn't meant to diss Erika. Instead, she hoped it would send a message to the cast members "who have expressed support for Tom's alleged victims, but never seem to do anything to help them."
The Real Housewives of Beverly Hills season 12 airs Wednesdays at 8/7c on Bravo.