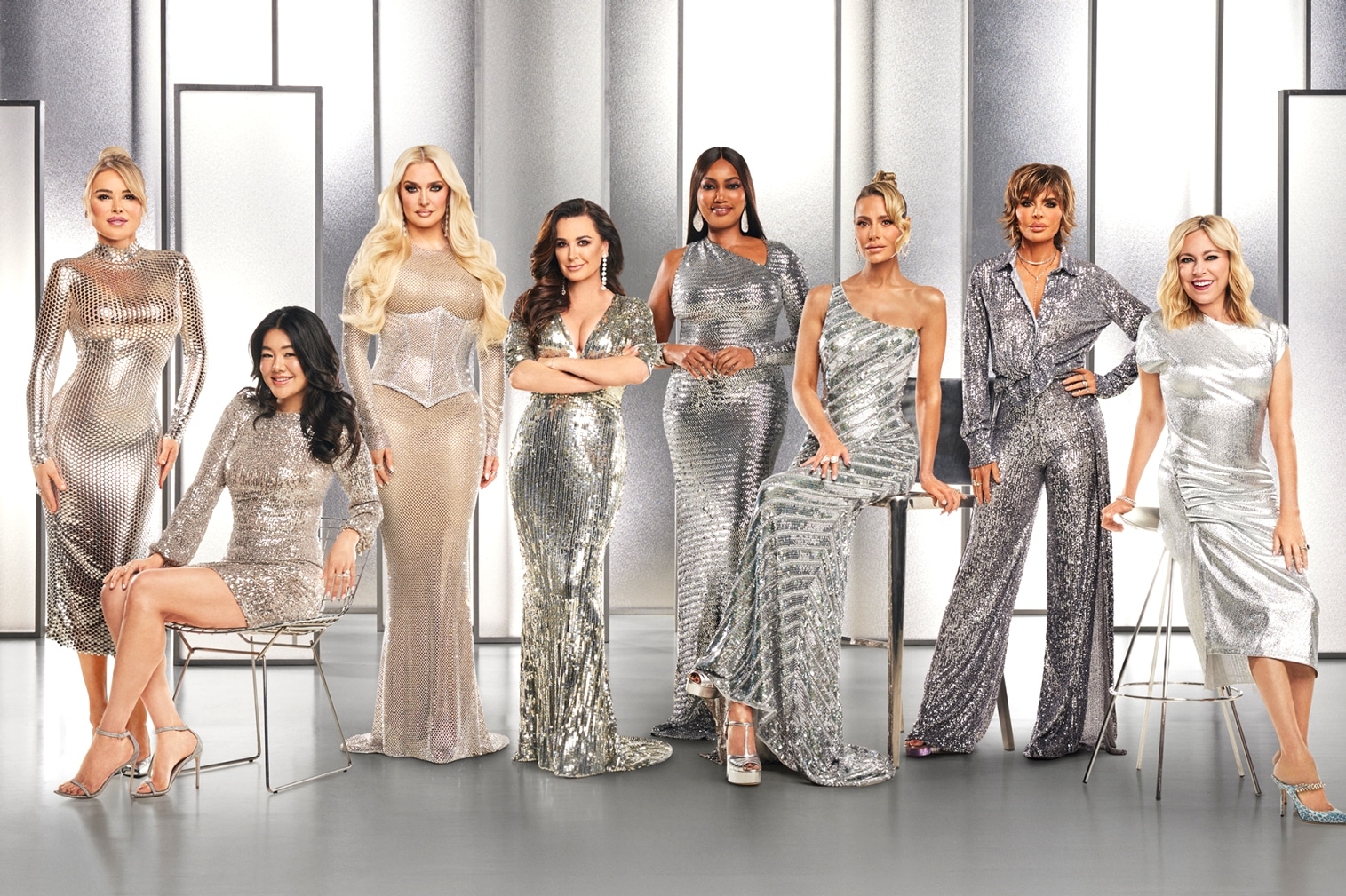 The Real Housewives of Beverly Hills trailer has finally arrived — and it's even more dramatic than we'd imagined.
In addition to Erika Jayne proclaiming that she doesn't "give a f-ck" about anyone but herself amid claims of having embezzled millions from former clients of her estranged husband, Thomas Girardi, Dorit Kemsley and her husband, Paul "PK" Kemsley, are seen breaking down while recounting the armed robbery that took place at their $7.9 million Encino home in October 2021. Plus, Lisa Rinna shockingly informs Kathy Hilton that she's not going to let her get away with the things she's said behind sister Kyle Richards' back.
While there was plenty of fun had amid RHOBH season 12, including skiing excursions in Aspen and surfing outings in Mexico, Erika, who claims to be "having a lot of sex," continues to be under fire as she was during season 11.
"'What about the people?'" she mocks someone, then adding, "What about the facts?"
"You want to be on the side of the victims cuz you think that's cool. What I'm telling you, I don't give a f-ck about anybody else but me," she says during a later scene.
"I don't think it's cool," Crystal responds, defending herself.
Erika also feuds with Garcelle, asking her castmate, "Is that to make Erika look bad or is that out of genuine concern?"
"Erika, I don't have to make you look bad. You can do that on your own," Garcelle Beauvais claps back.
According to Erika, she's done being "f-cking poked" and is ready for someone else's turn.
"So that's why you want Kathy to be called out?" Kyle asks her, seemingly giving a nod to the drama Kathy was involved in during their trip to Aspen.
"Yes, it is actually," Erika admits.
Erika's drinking habits are also a hot topic for the cast with Garcelle telling her, "Last couple of times I saw you, you were a little tipsy," and Lisa advising, "You take your antidepressants or you drink. But you can't do both."
In a scene featuring Dorit with PK and her co-stars, she's seen looking back on the pleas she offered to the men who broke into her home.
"Please I have little babies, please I'm a mother, please I beg of you my kids need me! Please, please," she had said, through tears.
"I can't stand that I wasn't there," PK replies.
"Never ever listen to casual," Garcelle recommends after Sheree shows up to an event in a brown sweatsuit and black hat.
Meanwhile, Diana receives a warm welcome from Dorit, who tells her she's giving her "Bridget Bardot vibes," and Lisa, who proclaims, "Cheers to Diana Jenkins!"
But not everyone is thrilled with Diana's position within the group.
"I think you're a soulless person," Sutton tells her at one point in the trailer.
"You need a new villain? Here I am," Diana fires back.
While dealing with the painful loss of her mom, Lois, Lisa tells her castmates she's "doing the best [she] can" before sitting Kathy down to discuss the things she's said about Kyle.
"You said some things about this beautiful sister of yours. I'm sorry, Kathy, you're not going to get away with it," Lisa declares.
"I feel that you hate me or something, how could you say those things?" Kyle cries.
"Kyle… Kyle…" Kathy replies, clearly not wanting the conversation to go any further.
The trailer ends with Kathy being locked out of a store and Erika and Dorit saying to leave the door locked.
The Real Housewives of Beverly Hills season 12 premieres on Wednesday, May 11, at 8/7c on Bravo