Ciara Miller treated her fans and followers on Instagram to an "Ask Me Anything" session on Monday, where she teased the upcoming drama of Winter House season two.
Weeks before the premiere of the Summer House spinoff, Ciara revealed that all was not well between herself and Craig Conover amid filming. She then teased their drama, compared the show to Summer House, and revealed which Bravolebrity she's most excited to cross paths with at BravoCon 2022.
"[Love] you and Craig's friendship! Will you go live [with] him to watch Winter House again?" a fan asked amid Ciara's September 19 chat.
"Maybe. Not [too] sure if I will watch, but just now when you're watching me and Craig fight, we do still love each other," Ciara replied. "It's a brother sister, can't let his head get too big type of love."
Then, when another person asked for Winter House spoilers, Ciara offered a bit more information.
"Craig messes up the [Paige DeSorbo]/Ciara roommate duo," she shared, signaling the couple's nearly year-long romance.
A third fan asked Ciara which series she preferred between Summer House and Winter House.
"I meannnn [I don't know] if I could pick really," Ciara admitted.
She then weighed the pros and cons of each show. She said that Summer House had better weather and included Mya Allen as a cast member, but it made her miss spending the summer months with other friends. She then noted that Winter House took up less of her time but required way more clothes.
Another person wondered, "Who are you the most/least excited to see at BravoCon?"
"Most excited to see [Garcelle Beauvais of The Real Housewives of Beverly Hills]," Ciara confirmed, adding that she's "been watching her since I was like [five] and she was on The Jamie Foxx Show. And I've always loved her."
As for who she's "least excited" about seeing, that honor went to Paige.
Ciara then continued with her sarcastic antics against Paige, joking that she "can't stand" her or Hannah Berner, whose wedding she recently attended.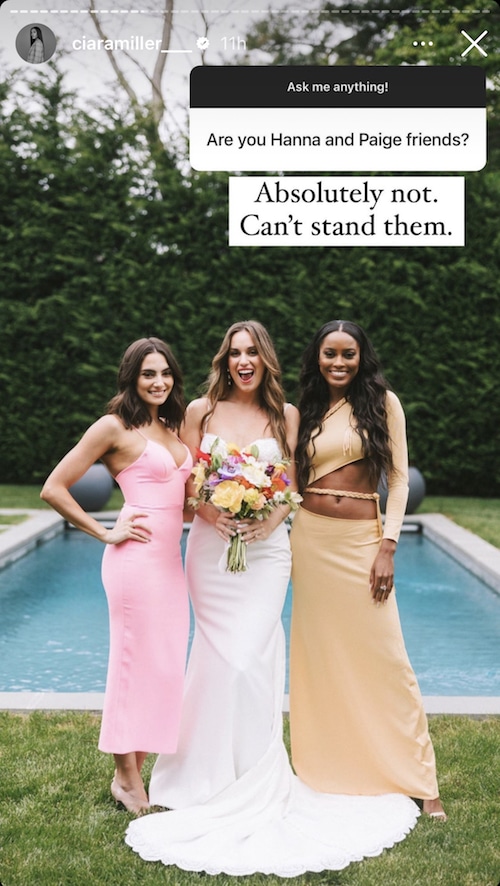 But despite her jokes, Ciara told another fan that when it comes to her friendship with Paige, she has complete trust in her castmate.
"Love that you [and] Paige are 'girl girls' and have each other's back. Good friends are hard to come by," a fan had noted.
"Eyes closed. Back turned. 365. In the middle of the night," Ciara agreed.
Also during the discussion, Ciara was asked about her favorite Bravo show other than Summer House.
"[The Real Housewives of Atlanta]," she replied. "Really can't watch reality TV without getting anxiety. But I love my [Atlanta] fam… [and] sometimes [The Real Housewives of Potomac]."
Winter House season two premieres on Thursday, October 13, at 9/8c on Bravo.