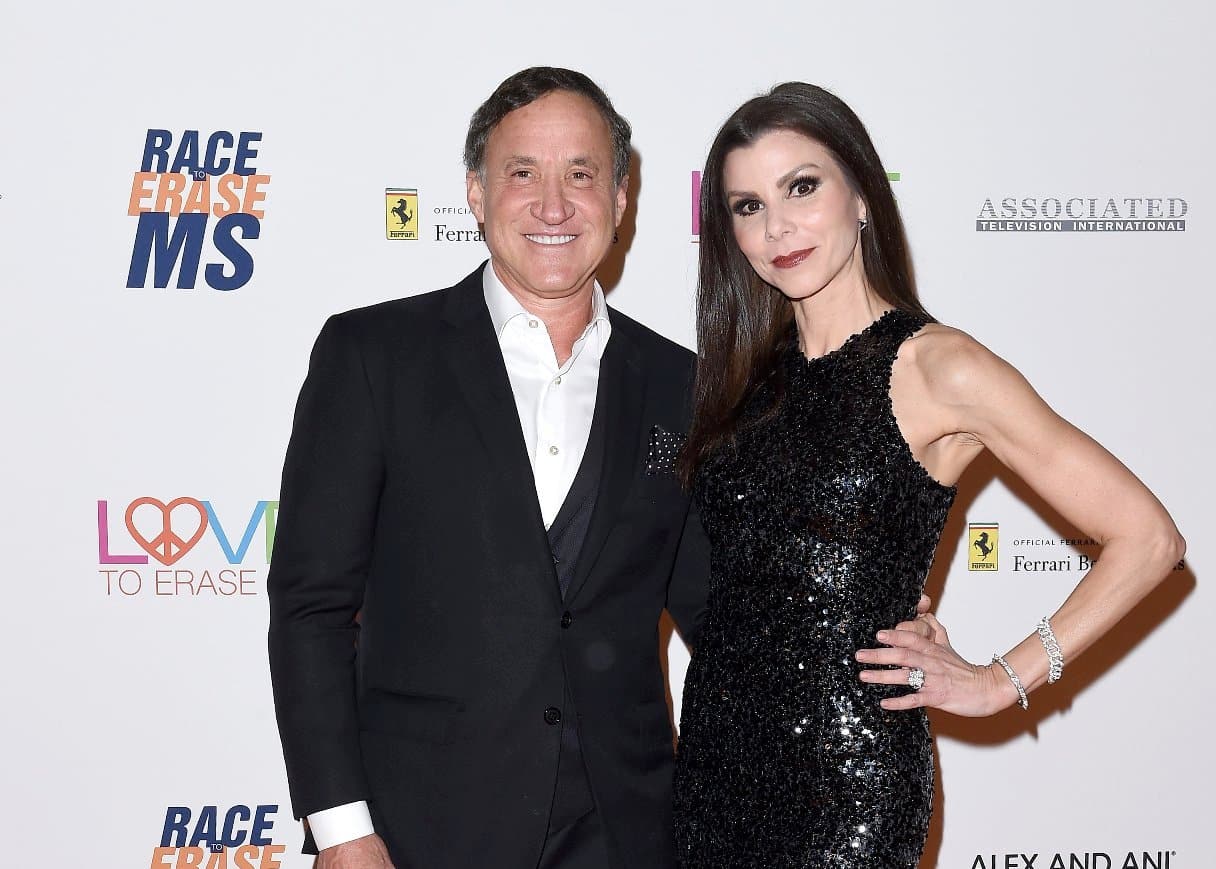 Heater Dubrow and husband Dr. Terry Dubrow faced rumors of an alleged restaurant dispute over the weekend and have since taken to social media to react to the reports.
After the Real Housewives of Orange County cast member was accused of wagging her finger and berating her plastic surgeon spouse at A Restaurant in Newport Beach, California, she and Terry appeared on her Instagram Story, where they recounted what really went down.
"Wow apparently breaking news… Honey, what is it?" Heather asked Terry as he showed her a screenshot of the report in a video shared to her Instagram Story.
"You were wagging your finger at me because we got into a heated argument because we couldn't get a table at a restaurant last night," Terry replied. "It was last night. Remember we went to Javier's and had dinner and we went to A's for a drink and you wagged your finger at me?"
According to Heather, she and her RHOC castmates had just finished the opening title shoot for the 17th season of their Bravo reality show when they went for dinner at Javier's.
"And you wore your frustration on your face. I took the brunt of it. She even 'wagged her finger in his face, which didn't go unnoticed by patrons,'" Terry continued as he read the report.
"So the question is, could everyone realize this is nonsense or is this gonna incite it further?" Heather wondered in a second clip.
"The bad news is you were wagging your finger at me because we couldn't get a table," Terry replied. Heather then reminded him, "We had already eaten."
"But the good news is apparently we're quite fashionable," Terry went on.
Then, as the video came to an end, Heather said she was "sorry" that she allegedly berated Terry and gave him a kiss.
Meanwhile, in a joking manner, Terry said, "How dare you do that to me?"
On Sunday, Bravo Housewives on Instagram shared a report from Radar Online, which shared details about Heather and Terry's supposed restaurant spat.
"Heather Dubrow's onscreen drama with her co-stars is seeping into her everyday life. The Real Housewives of Orange County star was spotted arguing with her husband, Dr. Terry Durbow, and putting her finger in his face at a fancy restaurant, and RadarOnline.com has exclusive photos of the intense showdown," they shared. "We're told the incident happened at A Restaurant in Crystal Cove on Saturday around 8 PM. Sources claim Heather, 53, and Terry, 64, were fighting because they couldn't get a seat at the local-favorite restaurant by River Jetty Restaurant Group."
The Real Housewives of Orange County season 17 is expected to debut on Bravo sometime in early 2023.