Meghan King took to her Instagram Story on Monday night with some major complaints.
After celebrating Christmas on December 26 with the three kids she shares with ex-husband Jim Edmonds, including daughter Aspen, 6, and twin sons Hayes and Hart, 4, the Real Housewives of Orange County alum told her fans and followers that the court system was "failing." She also confirmed that "no one" has permission to share pics of the kids online.
"When you share kids on holidays, you make up your own Christmas Day! It's the 26th but it's our Christmas morning!" Meghan wrote in the caption of a photo of her and the children in matching pajamas shared on Monday.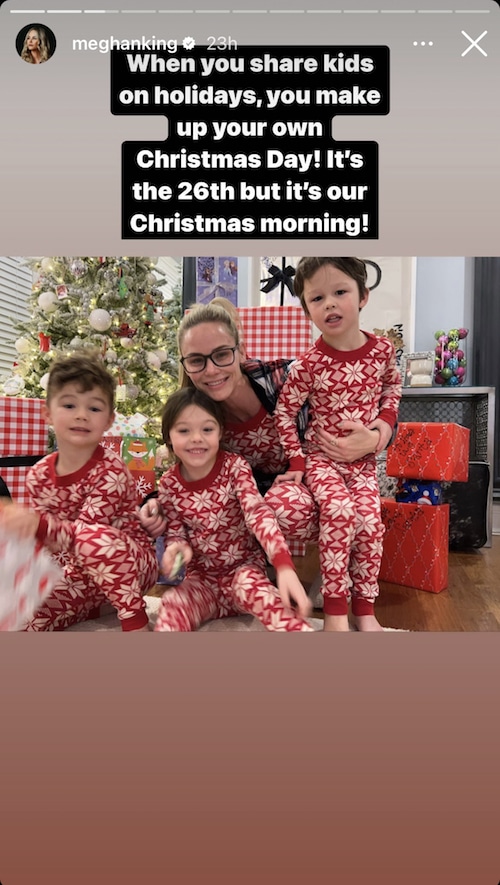 Then, hours later, Meghan shared a much lengthier set of statements in regard to her ongoing custody struggles with Jim.
"There's so much more to this story that I'm not choosing to share. Keeping this high level to promote awareness that the family court system is failing the single parent (typically the person in my place is the single mother who makes less money but has more custody)," she explained in her first message. "Other people being jerked around by the family law system, this one is for YOU and YOU and YOU."
According to Meghan, she believes her children aren't being respected or protected by those around them.
"I won't shut up until I believe my children are respected and safe, and so is their mother," she stated. "Mothers in this situation are unable to focus on mothering [because] of this nonsense. IT NEEDS TO END. No one stands up for the most important person in their life: arguably their mother. If I don't fight, who will?"
In her second message, she clarified that her comments were made in regard to photos being posted on the internet.
"I'm talking about exercising my ability to control who, what, and how my children are posted on the internet. No one but immediate family has my permission, NO ONE!" she declared. "Not any of my nannies, sitters, friends, schools, or camps have permission. If my coparent disagrees, I have the legal right to make the tie-breaking decision."
Meghan included a poll in her second post. And 97 percent of her online audience agreed that she should have control over who is able to share images of her children.
Meghan's posts came just after Jim's fourth wife, Kortnie O'Connor, who he wed in September, shared a slideshow of family photos of herself, Jim, and Jim's kids, including Aspen, Hayes, and Hart.
Jim also shared a slideshow of family photos on Christmas, which included son Landon and daughter Sutton, who he shares with second wife Allison Jayne Raski (he also shares two older daughters with late first wife Leann Horton).
"Merry Christmas from us … None of this is possible without you 'Kort.' The love that you give to our family and the love that you get back is clear to everyone. Thank you so much for all that you do. We all love you!" Jim wrote in his caption.
Meghan and Jim starred on The Real Housewives of Orange County from season 10 through season 12.