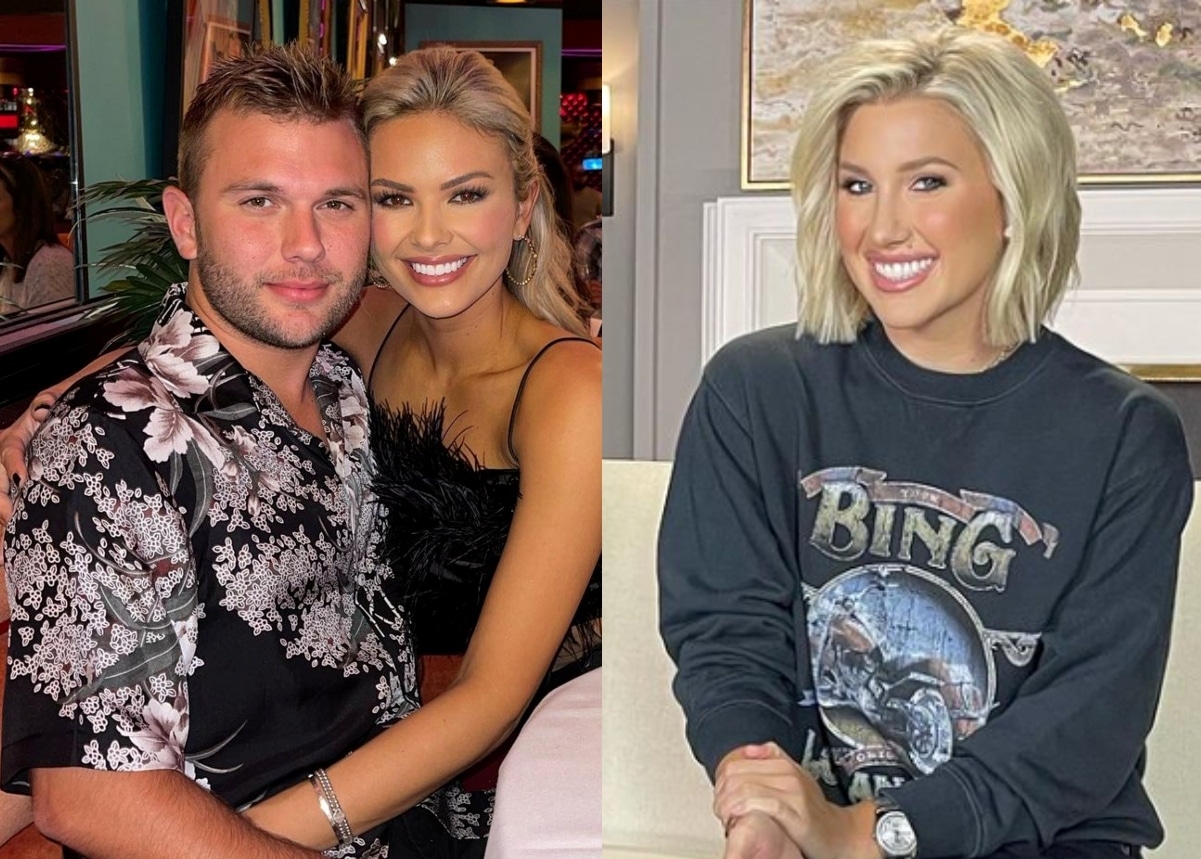 Chase Chrisley's fiancée, Emmy Medders, appeared on Savannah Chrisley's podcast on Tuesday, where she opened up about the ups and downs of her and Chase's relationship — and the hardships she's faced with Savannah.
Before Savannah opened up about "grieving" her parents, Chrisley Knows Best stars Todd Chrisley, 53, and Julie Chrisley, 49, as they prepare for the start of their prison sentences, Emmy, 28, confirmed the suspicions of fans, who thought she and Chase, 26, split prior to their October engagement.
"We've had some up and downs," Emmy admitted on the December 27 episode of Unlocked with Savannah Chrisley, via Page Six. "It was on and off, and then we were doing really well, and then we did have one, like, major breakup where we didn't talk for, like, I want to say it was two months, but it was probably more like two weeks."
Although Savannah, 25, confirmed Emmy and Chase, who began dating just before the COVID-19 pandemic, split for closer to two weeks, Emmy insisted their breakup "felt like two months."
"And then after that, we got back together, and we have been pretty, like, great, honestly," she continued.
Speculation about Chase and Emmy's potential split began early last year when the two of them quit posting photos of one another on their Instagram pages. But by spring, the couple confirmed they were back on.
As for Emmy's issues with Savannah, she once called Chase's sister a "b-tch."
"But that's what happens with sisters. I mean, I know we're not sisters yet, but, I mean, family is gonna get in arguments," Emmy explained.
And according to Savannah, any tension between her and Emmy has been the result of their family "wanting what's best" for Chase.
"Then, also at times, though, like, our family has said, 'Well, she's too good for him,' so it kind of switches back and forth," she confessed, noting that the family has "no hate at all" for one another following Chase and Emmy's engagement.
Also on the podcast episode, Savannah says that after dad Todd and mom Julie were sentenced to 12 years and seven years, respectively, for bank fraud and tax evasion, she's "grieving the loss of parents that are still alive."
"In my mind, I'm like, 'I can't move on with my life,'" Savannah said, via Us Weekly. "Until I know that they're going to be there, I can't get married. I can't have a kid."
"You can't just stop your life," Emmy replied. "And your parents, our parents, wouldn't want us to do that, no matter what happens."
According to Savannah, she received kind words from Todd after his sentencing.
"Dad was like, 'I may not be here in front of you, but I'm still alive. I'm still fighting. You don't have to live a day without speaking to me,'" Savannah recalled.
For now, despite receiving criticism online for doing so, Savannah has been focusing on her beauty brand, Sassy.
"I keep pushing forward because that's always been my easy, go-to, where I don't have to focus on anything else. So, business-wise, I'm going to push forward. I'm going to do my podcast, Sassy, I'm going to do all the things," she said. "But personally, I feel like there's a level of guilt associated with moving on with my life and thinking of mom and dad not being here during certain life events."
Savannah is also focused on family, especially now that she has custody of her brother Grayson Chrisley, 16, and her half-brother Kyle Chrisley's daughter Chloe, 10.
"[I'm] trying to navigate how you teach two younger children who aren't fully developed yet and … get them to understand the circumstances," Savannah shared. "That's a really, really difficult thing."
Todd and Julie will begin their sentences in January.