Heather Dubrow celebrated International Sons Day on March 4 by revealing her youngest child, formerly known as Collette, or "Coco," will now be known as Ace.
Along with a photo of the word "Ace" carved into the sand on a Southern California beach, the Real Housewives of Orange County cast member offered her love and support to Ace as she told her fans and followers she would be allowing him to tell his own story of transition in the future — if he so chooses.
"It's International sons day! We love you, our youngest son, Ace," Heather declared on Saturday.
"Our job as parents is to give our kids a safe and supportive environment so they can grow up as healthy, happy, confident, independent humans," she continued. "Since Ace is a 12-year-old child, with a long life ahead of him – we will let him tell his own story someday if he chooses to do so. All we can say is Ace, we love you so much, and we are proud to be your parents."
"Your brother and sisters love and support you too," Heather added.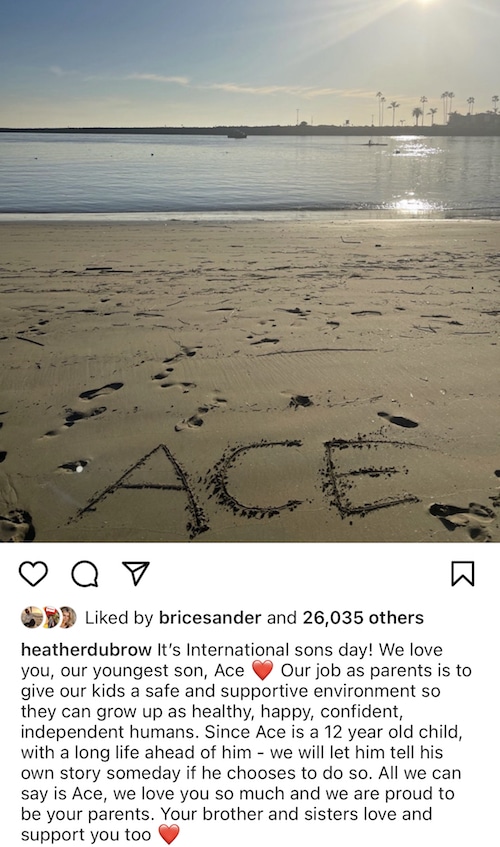 Following the sharing of the post, Heather was met with a plethora of support from her online audience, including Andy Cohen and Alexis Bellino.
As RHOC fans may know, Heather shares four children with her husband Dr. Terry Dubrow, of Botched, including 19-year-old twins Maximillia "Max" Dubrow and Nick Dubrow, and 16-year-old daughter, Katarina "Kat" Dubrow.
In 2021, Heather's oldest daughter, Max, came out as bi-sexual. And, in 2022, Kat revealed she is a lesbian.
Around the time that Kat shared her news, she and her sister spoke to PEOPLE about their mother's acceptance.
"Even if she doesn't understand something, my mom tries very hard, and she learns and teaches herself, and she grows with us," Max revealed.
"She's asked me trillions of questions that really show she cares. She's asked me about my pronouns. It's really easy to talk to her," Kat agreed. "It's not like I have to build up courage if I have something to tell her."
And during the same interview, Heather said it was important to create "an environment" where each and every one of her kids "felt safe, comfortable, and happy."
The Real Housewives of Orange County season 17 is expected to premiere on Bravo sometime in the coming months.