Shannon Beador and her children, including daughter Sophie, 21, and twins Stella and Adeline, 18, have been joined by her new boyfriend in Mexico.
Months after the Real Housewives of Orange County cast member suddenly split from former beau John Janssen, Shannon shared a series of pics from Cabo San Lucas, where she and her mystery man spent time with the girls and Sophie's boyfriend, Reese Perry.
"Someone flew in for a visit," Shannon wrote, along with a red heart emoji, in the caption of a slideshow of photos shared on April 10.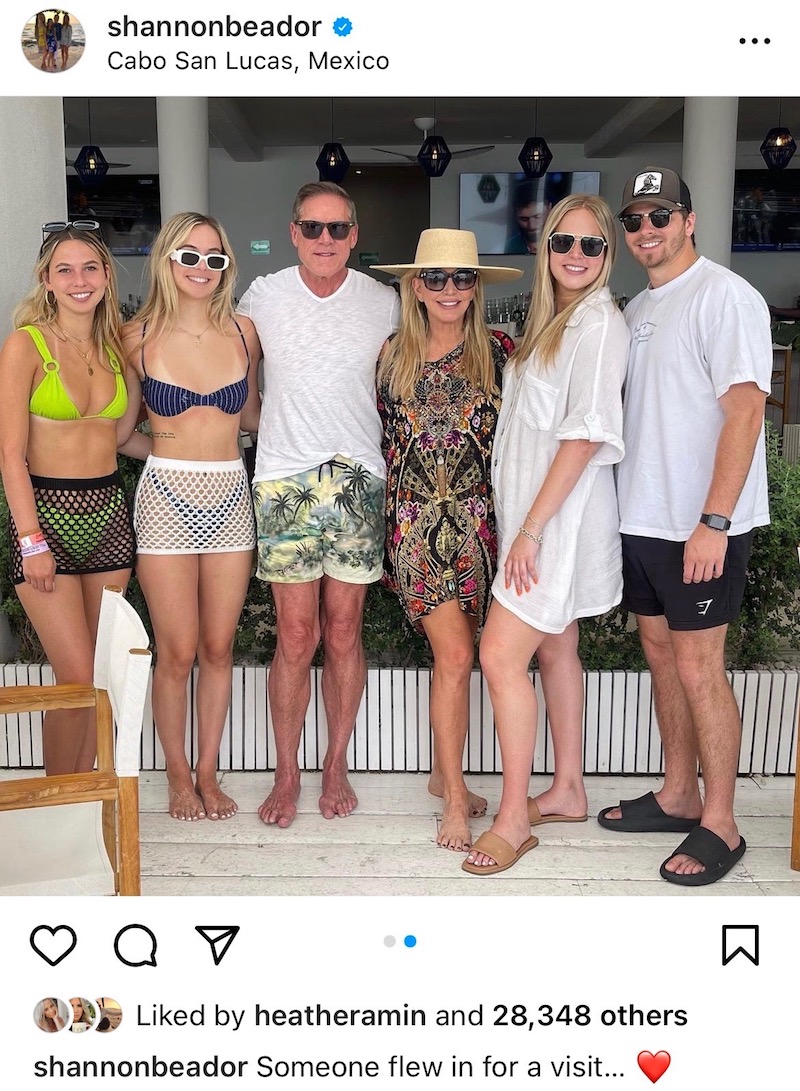 In addition to sharing a casual photo of herself, her boyfriend, and her kids, the RHOC cast member also posted an image of the group dressed up.
Following the sharing of the pics, Shannon was met with compliments from her fans and followers.
"Nice upgrade," one person wrote.
"Definitely an upgrade!" someone agreed.
"Girl, he's a major freaking upgrade! So hot! Very happy for you!" another proclaimed.
Then, as a fourth fan agreed Shannon's new boyfriend was a "great improvement," someone else applauded the unnamed man as "very good-looking."
"Every time you move up a level!!! Congratulations," they added.
The RHOC star first revealed she was seeing someone new during an appearance on Jeff Lewis Live last month.
"Shannon had a date last night," Jeff Lewis revealed. "We're not gonna say the name, but she brought a gentleman caller with her to dinner [and] I liked him a lot."
Meanwhile, Shannon described him as "very handsome" and "super fit," adding that he's "a good influence for me."
"I thought, 'Okay, it's a dinner. Like, I'm not gonna like this guy,' but he's super sweet," she went on.
Shannon then went public with her new romance on March 27 as she shared a photo of the two of them with friends.
"Always a great time [at The Quiet Woman]," she wrote in the caption of her pic.
Then, on April 3, Shannon told fans she was enjoying "great weather," "great times," and "great friends" at The Deck on Laguna Beach as she posed alongside her new man and her co-stars, Taylor Armstrong and Jennifer Pedranti, who were joined by their husbands, John Bluher and Ryan Boyajian, respectively.
During a previous episode of Jeff Lewis Live, Shannon explained why she felt "blindsided" by John ending their relationship, noting that he seemingly hinted they'd be taking the next step in their relationship as filming wrapped on RHOC season 17 at the end of last year.
"It was great. John and I filmed together. I got teary-eyed with the words that he was saying and I thought, 'We're gonna get there,'" she admitted. "I just thought, whatever the next step is, we're gonna take it and I remember tearing up and I remember saying very kind things to him back. So for that reason, that's why I felt blindsided."
The Real Housewives of Orange County season 17 is expected to begin airing on Bravo sometime this summer but a premiere date has not yet been set.