Ariana Madix and Katie Maloney's sandwich shop appears to be on the verge of opening.
As the Vanderpump Rules stars put the finishing touches on their West Hollywood establishment, which can be seen in a series of posts shared to TikTok and Instagram, an expert has revealed that Ariana is likely being paid six-figures for each of her post-"Scandoval" brand deals.
On May 29, branding expert Bernt Ullmann told TMZ that while Ariana was probably being paid around $15,000 to $30,000 for brand deals prior to the news of Tom Sandoval and Raquel Leviss' affair, she's likely been making at least $75,000 in the months since.
According to Bernt, "Scandoval" resulted in tons of media attention and a major boost in ratings for Bravo. So, when it comes to Ariana's fame, she could be worth as much as $200,000 per deal.
As Pump Rules fans may have seen, Ariana has landed partnerships with the likes of Bloomingdales, UberOne, BIC razors, Raising Cane's, and MyJoyBurst Cocktails in recent months. She even staged a fake move from her shared home with Sandoval for SoFi, a financial company.
As she collects the big bucks for her deals, Ariana seems to be hard at work on Something About Her, and her and Katie's most recent progress was seen in a TikTok video shared by Ben Finer earlier this week.
"I think they'll time the opening for when filming resumes. [It definitely] needs to open on the show," Ben suspected in the caption of his clip.
Inside Something About Her, decorations can be seen lining the walls as furniture, much of which is still wrapped, sits on the floor.
In addition to the walls appearing to be complete, there are also several items on the shelves, including kettles, and there are light fixtures hanging from the ceiling.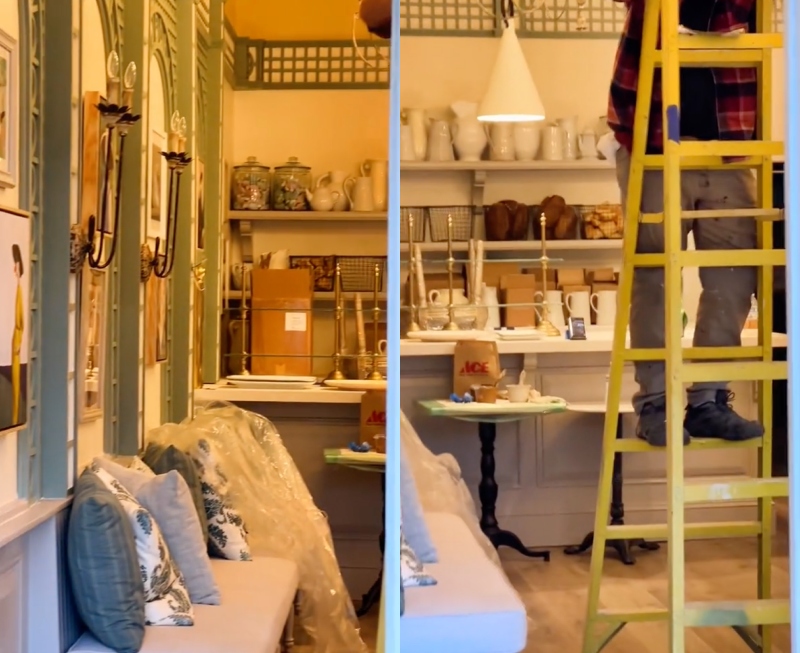 Ryan Bailey also offered a look at Something About Her on his Instagram page.
"Not sure when [Something About Her] opens but I'm first in line out here," he declared. "Been camped out for two days now. Hoping it's soon cuz I'm hungry and i smell but the place looks great!!"
The Vanderpump Rules season 10 reunion concludes next Wednesday, June 7, at 9/8c on Bravo.