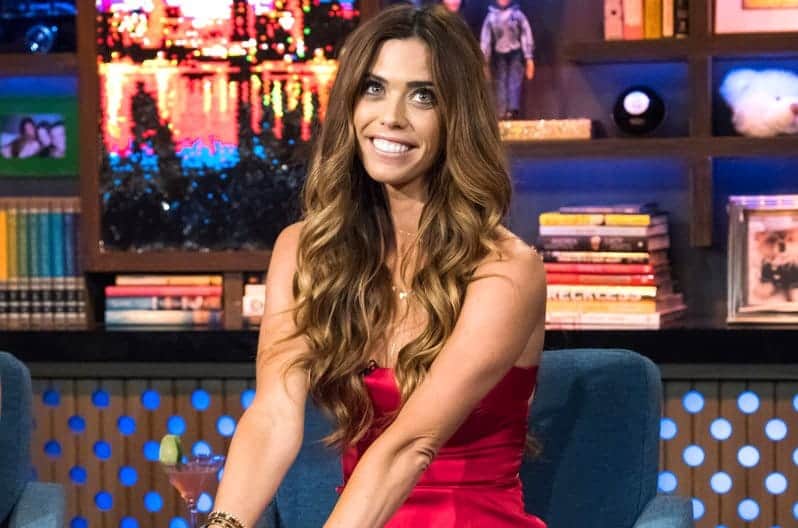 Another Real Housewives of Orange County firing to report today.
Just days after it was revealed Peggy Sulahian had been fired by Bravo, a new report is stating Lydia McLaughlin has also been let go by the network.
According to Radar Online, Lydia will once again be leaving the RHOC but unlike her earlier departure back in 2013 when she left to spend more time with her family, this time around Bravo is firing her.
"Lydia came back, but she wasn't interesting," a show insider revealed. "Producers mainly wanted her to bring Tamra and Vicki back together, and it was mission accomplished."
"And, unfortunately for her, she was aligned more with Peggy so she's on the chopping block," continued the insider. Ouch!
The site also touches on more casting news for next season. Apparently Meghan King Edmonds was also on the chopping block but her recent revelation that she is pregnant again with baby number two appears to have saved her.
"They were not planning on bringing Meghan back," stated the source, "but she sprung the pregnancy news on them at the reunion. So she's kind of forcing them to bring her back even though they didn't want to."
As for the other housewives, the insider says Bravo is planning to invite all of them back. That means viewers can expect Vicki Gunvalson, Tamra Judge, Kelly Dodd, and Shannon Beador back for the RHOC season 13. Yes, we are on the 13th season!
Finally the sources state that Gretchen Rossi might be making a return to the show next season to stir up some drama!
"They're strongly considering bringing Gretchen back next season," the source shared. "They need an antagonist to create some drama."
Gretchen might make a great addition as her return would include her fiance Slade Smiley who might or might not be an honorary housewife, plus Gretchen recently had a Twitter war with Tamra over some comments she made about Tamra's strained relationship with her daughter Sidney. So the producers already have some built in drama.
Similar to Peggy's firing, must say Lydia's firing is not all that surprising as she just didn't form any strong bonds with any of the women on the show. Plus in addition to that, she simply wasn't a fan favorite to put it mildly.
Photo Credit: Charles Sykes/Bravo
TELL US – ARE YOU SAD OR GLAD TO SEE LYDIA GO? DO YOU WANT GRETCHEN TO RETURN?