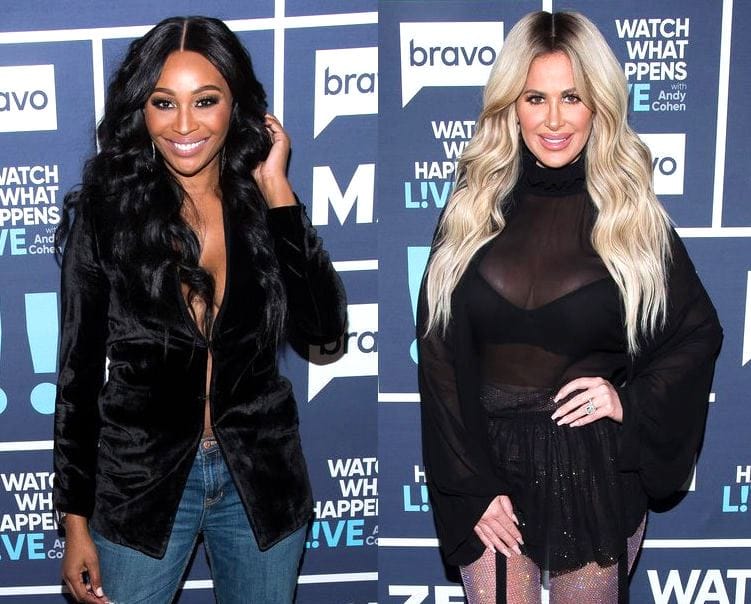 It's safe to say we can now add Cynthia Bailey to the growing list of Real Housewives of Atlanta cast-members who do not like Kim Zolciak!
Perhaps Cynthia has good reason after Kim all but told her to shut it on the latest episode of RHOA. The drama started during the 'Elephant room' event with the medium when Cynthia defended BFF Kenya Moore by rightfully pointing out the fact that Kim was the aggressor during her earlier fight with Kenya at Nene Leakes' white party.
Kim didn't take Cynthia's comments too well and told her to "not talk" and "just be a pretty face." Yikes. Cynthia is now clapping back at Kim in her latest blog by calling her "rude, nasty, and disrespectful."
Below are excerpts from Cynthia's Bravo blog –
Bravotv.com: What did you think of Mbele the medium?
I thought Mbele was interesting, and I was open to what she had to say. I didn't really have many elephants to address that night, so in the spirit of fun, I was looking forward to my reading but wasn't looking forward to getting READ, LOL! At least not by her! Ms. Mbele can read with the best of them and fit right in with the shady bunch! Anyway, I am a very spiritual person. I love to get readings and I consider myself to be an energy person. However, I felt like her energy was a bit off putting. Very direct but kind of mean spirited. I received her reading regarding Will, but took it with a grain of salt. I love getting to know Will, and I truly believe he is a good guy. If he is not the guy for me, I will know when my heart and God let me know, not her.
Bravotv.com: What went through your mind when Kim told you to be quiet?
Kim is rude, nasty, and disrespectful. Not just to me, but to anyone that she has not aligned herself with. I refuse to allow her barbarity, insults, and disrespectful comments to upset me or take me out of character.
Bravotv.com: Do you think anything was resolved at the "Elephant Room" event
Absolutely not. Nothing was resolved at the Elephant Room. However, I was totally bummed that Kim didn't allow Mbele to give her a spiritual bath with the bushes she mentioned. That alone would have been worth the wig, outfit, makeup, and lashes that I wasted. As happy as I was to leave, I would have stayed the night to see that, LOL!"
Photos Credit: Charles Sykes/Bravo TV

Loading ...
TELL US – THOUGHTS ON CYNTHIA'S BLOG? TEAM CYNTHIA OR TEAM KIM?