Vanderpump Rules star Jeremy Madix has gained fans on the show as the younger brother of Ariana Madix. However, there's a lot that fans may not know about the series' newest star.
Throughout the past year, numerous reports have surfaced in regard to Jeremy's shady or "creepy" past, one of which revealed that the reality star and SUR Restaurant employee has been arrested on several occasions for domestic violence.
In January of last year, Radar Online revealed details of those arrests, claiming Jeremy was taken into custody after repeatedly violating a restraining order placed against him from one of his ex-girlfriends in Florida. According to the report, the former girlfriend filed for the restraining order in 2011 after dating Jeremy for under a year.
In her report, Jeremy's ex-girlfriend alleged that he had been abusing her for three and a half months.
"[He] threw a beer can at me, hitting me in the chest," she wrote in the report. "Then he forced me in the car. As we were driving, he was ripping off my top and slamming me into the passenger's side door."
"When we arrived home, I tried to get out of the car and he jumped into the passenger's seat from the driver's set and tackled me onto the driveway," she continued. "I was screaming for him to get off of me but he continued to wrestle me and push my face in the ground."
While the woman was able to get away from Jeremy, they continued to fight inside of their shared home and at one point, Jeremy allegedly "started waving his guns around, threatening to shoot me and my adult children."
As a result of the incident, the woman said she suffered from "excessive bruising" but she was not financially able to move out of the home they shared together. Five days after the encounter, the ex-girlfriend chose to have her restraining order thrown out and she and Jeremy began living with one another yet again.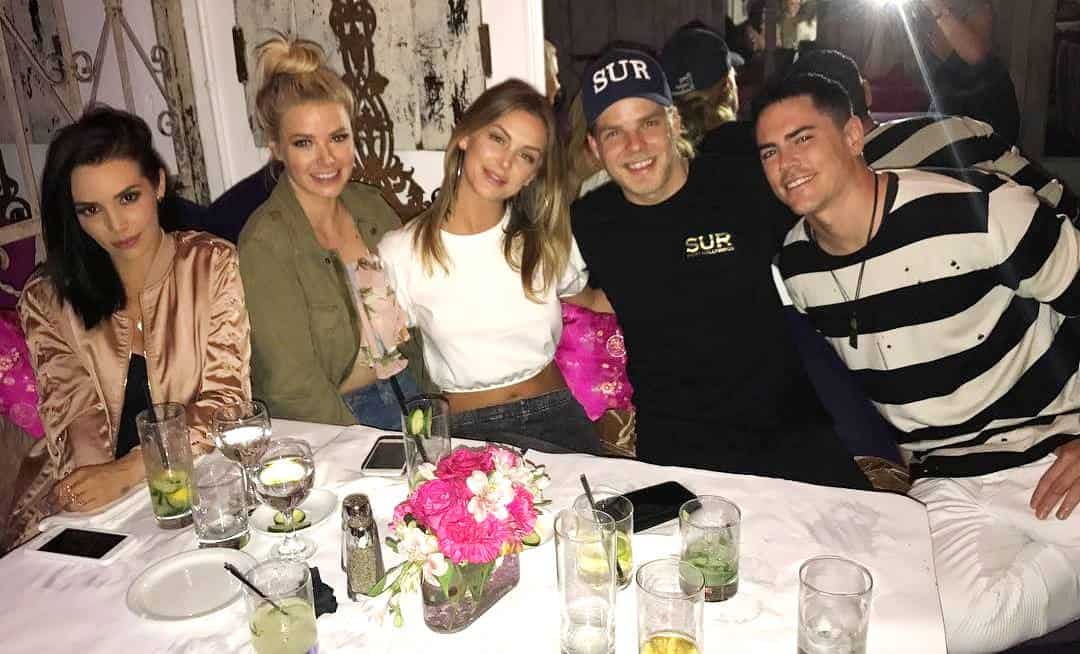 The former couple's relationship  however took a turn for the worse in 2012 when Jeremy was arrested for battery and domestic violence.
Although Jeremy denied that their encounter was physical, he was arrested after an eyewitness gave their account and later released on $500 bond. Days later, he was arrested again after another violation.
Around the time of his relationship drama with his ex-girlfriend, Jeremy was also arrested for drug possession after police found him with marijuana in his vehicle.
When the shocking information regarding Jeremy's shady past was being revealed online, the Vanderpump Rules cast was assembling for the season five reunion and although the issues weren't discussed at the show, Stassi Schroeder brought up the reports on Twitter after filming took place.
After Jeremy fired shots at Stassi on Twitter, defending his sister and suggesting Stassi's on-screen arguments made no sense, Stassi tweeted that the only one taking Ariana's side was an "abusive woman beater."
While Ariana has not directly addressed the claims made against her younger sibling, she did tell The Daily Dish that she was quite proud of him for his move to Los Angeles.
"I'm just really proud of him," Ariana said last March. "I'm proud of the fact that he made the move to L.A. He's always wanted to live in California. And to see him really put forth so much effort and really just make it happen for himself, I'm really proud of him for doing that, for making his dreams be a reality."
"I've always been really protective of him," she added. "In elementary school, because he used to get made fun of when he was super little, I left my class, went to the recess of another class to bitch out this bully girl, whatever. You've got to do what you've got to do."
Recently, Jeremy began facing rumors of a romance with Vanderpump Rules' transgender star, Billie Lee, but during a recent interview, Ariana refused to confirm or deny a thing.
"They are very close. I don't know what their status is," she explained.
Vanderpump Rules season six airs Mondays at 9 p.m. on Bravo TV.
Photos Credit: Instagram
TELL US – THOUGHTS ON THESE ALLEGATIONS FROM JEREMY'S PAST?