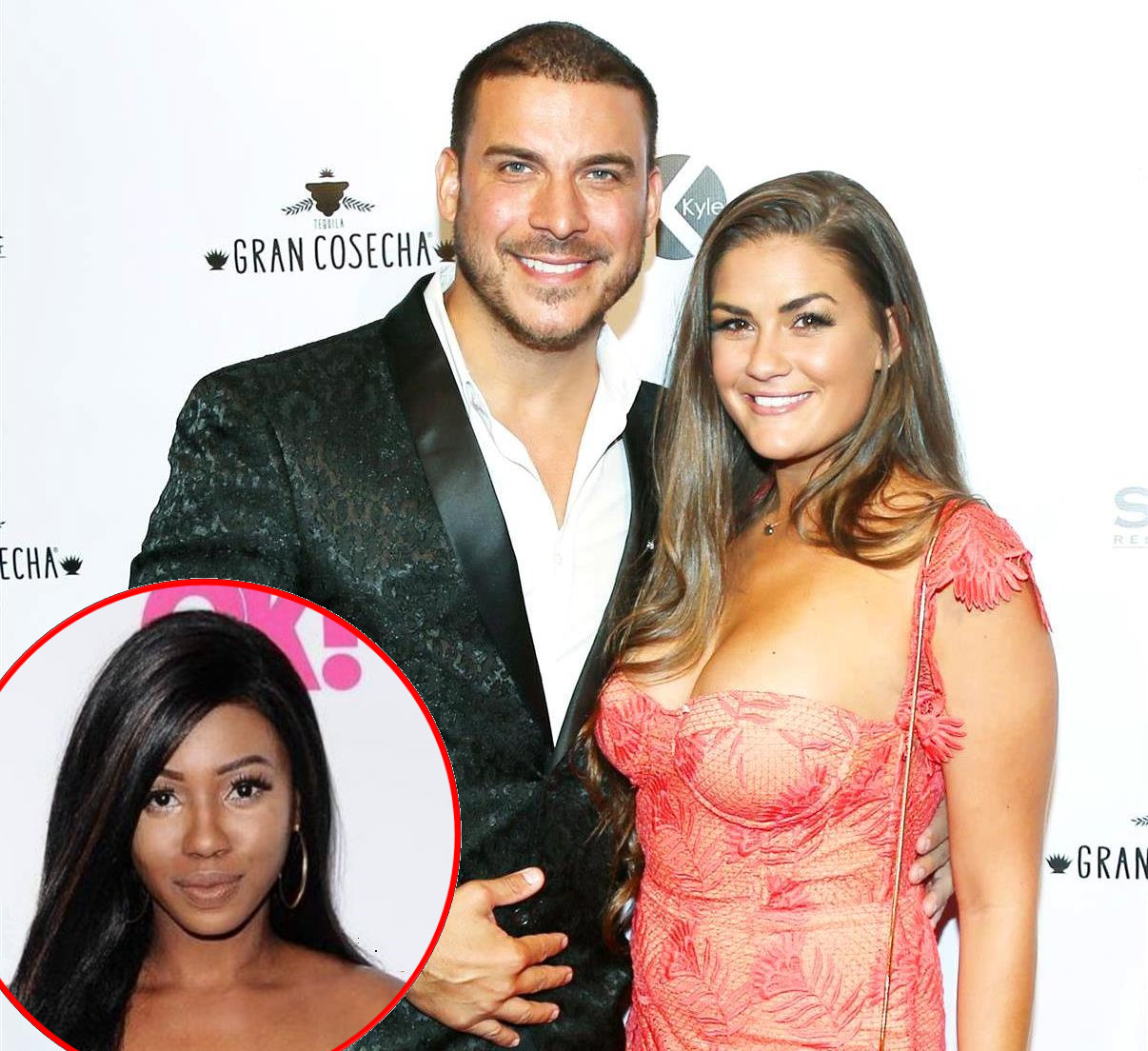 Jax Taylor will be forced to face his infidelity on tonight's episode of the Vanderpump Rules season six reunion special.
While sitting next to his girlfriend, Brittany Cartwright, who took him back despite his unfaithful behavior, Jax is confronted by Ariana Madix, who claims she is 100 percent sure that he slept with Faith Stowers more than once.
"Faith told James, and multiple people," Ariana reveals in a sneak peek video posted below.
"No, I swear on my father… my father. It happened one time," Jax insists.
According to Lisa Vanderpump, Faith targeted Jax because she wanted to be a part of the Vanderpump Rules group.
"She was chasing him, clearly," Lisa says. "I'm not excusing [Jax's] behavior or [his] actions, but I'm assaying as much as she wanted [his] gorgeous body, I'm sure, she also wanted to be part of this whole situation. She did. That's why she taped him. It was a premeditated move."
During an early episode of Vanderpump Rules season six, Lala Kent was seen playing a recording Faith had made of their post-hookup chat for Brittany, who was devastated to hear her boyfriend bashing her to his mistress. Although many questioned Lala's decision to share the clip with Brittany while she was intoxicated, Lala has no regrets.
"Absolutely not because I asked Brittany, 'Do you want to hear this?'" she explains.
Still, Tom Sandoval points out that Brittany was "utterly sh*tfaced" and in no condition to hear such a thing.
"Maybe don't be with another woman. How about that? Then there isn't any recording ever," Lala argues.
"At that point in time, at a housewarming party, it's not the right time for that. Lets be real," Tom points out.
"Is there a right time?" Jax asks.
"Is there a right time to stick your d*ck in someone whose not your girlfriend?" Lala fires back.
While Jax and Brittany did split up for three months at the end of last year, they were back together by December of last year and claim to be doing great at this time. In fact, weeks ago, Brittany told E!'s The Daily Pop that she and Jax are "better than [they] ever have been."
The couple also updated fans on their relationship on Twitter.
It's so crazy that 3 years ago I met Jax in Vegas. Never would I have imagined my life to be like it is today.We def. have our ups& downs, but today we are happier than ever. I know people are skeptical & think I'm cray for sticking around but I know I did the right thing for me.

— Brittany Cartwright (@BNCartwright) May 7, 2018
Thank you, Britt and I are great we are both in such a good place. I lost my dad and unless you have gone through something like this you have absolutely no idea on what I am going through, everything triggers my father. So you all need to relax. https://t.co/SxmhAX3Jxt

— Jax (@mrjaxtaylor) May 8, 2018
The second installment of the Vanderpump Rules season six reunion airs tonight at 9 p.m. on Bravo TV.
Photos Credit: Milla Cochran/startraksphoto.com, Startraksphoto.com
 TELL US – DO YOU THINK JAX CHEATED ON BRITTANY MORE THAN ONCE? DID FAITH SET HIM UP?