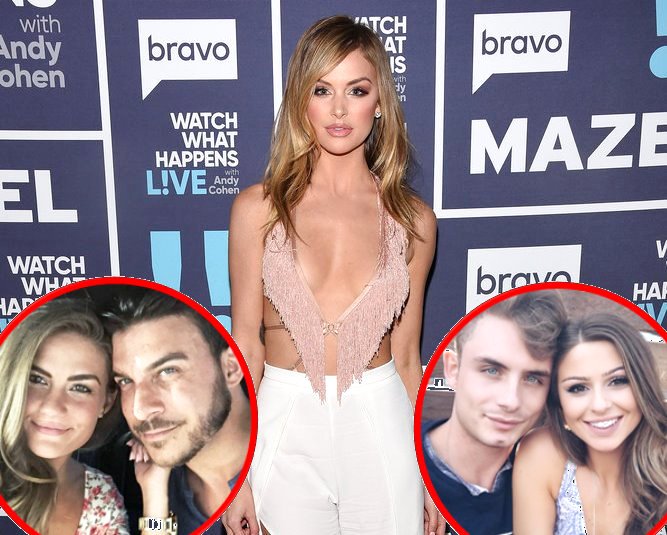 The always outspoken Lala Kent did a recent podcast interview during which she addressed many issues concerning Vanderpump Rules and her castmates!
Lala, 27, dished on Brittany Cartwright and Jax Taylor's relationship, dropping a bombshell by stating she believes Jax has cheated on Brittany more than once. She also took another shot at James Kennedy's girlfriend Raquel Leviss by calling her weak, plus she denies being a homewrecker when it comes to her relationship, and reveals why she stopped being friends with former BFF Faith Stowers.
During her interview with The Daily Dish podcast, Lala was very honest when the hosts asked her if she believes Jax's fling with Faith was the only time he's cheated on Brittany.
"No I don't," answered Lala. "I think Jax, he has a good heart, I just don't think he should be in a relationship. You know, there are those people who just don't have it in them. I don't think that Faith was the first, and I definitely don't think Faith will be the last."
She does make it clear she's fond of Brittany and simply believes she deserves better. "I love Brittany. She's such a good human being. She deserves the most incredible man," she added.
The topic turned to James and Lala makes it clear she has ZERO plans of mending her friendship with James due to the disparaging comments he made about her boyfriend Randall Emmett.
"The way that he spoke about my boyfriend is something that I cannot forgive. I would hope that if my boyfriend had a friend, and they spoke about me the way he spoke about my man, that he would end his friendship with them," said Lala. "He's just an inappropriate person who is a loose cannon. And you never know what hatred he's going to spew…Our friendship is very much never going to be revived."
She didn't hold back when it came to her true feelings about Jame's girlfriend Raquel, who she deems as being "weak."
"I don't think I've ever really been friends with Raquel. She's just James' girlfriend and if they were to break up tomorrow, I don't think I would ever speak to her again," dished Lala. "Not trying to be rude. Yeah, she's just kind of there. I tend to not really connect with women who aren't tough b–ches. I just feel like she lets him get away with murder. And people that are weak, we don't have much in common because it makes me feel like I'm too aggressive and too rough."
Lala is asked if she believes James still has feelings for her following the recent episodes of Vanderpump Rules including the trip to Big Bear where he professes his love for her.
"It didn't feel that way in the moment. And now it's been brought to my attention and the things that he was saying in Big Bear like 'I love you Lala,' I'm like WTF is happening? Who says this?," she stated. "And I have to remind him, you have Raquel inside and I have a boyfriend that we owe respect to. Why do I have to tell someone that?"
Faith was also discussed as Faith and Lala, plus James, used to be best friends. However, Faith recently revealed she feels Lala and James stopped being friends with her as not to rock their relationship with the rest of the Vanderpump Rules cast after it came out she had cheated with Jax. Lala however denies this and reveals there are other reasons she's no longer friends with Faith. One of those reasons being due to the way she handled the Jax drama.
"I was disappointed in [Faith] for the way that she handled it because the way that she relayed it to me, I knew that they had slept together literally an hour after it happened," said Lala as she also revealed she advised Faith to keep her hook-up with Jax under wraps. "Then there was a recording, and somehow James has the recording so I kinda felt like I was a little bit played"
It seems Lala felt Faith was deceitful about the Jax situation. Additionally, she heard Faith had been badmouthing her to others.
"I had found out through the grapevine recently that she was not kind about me even when we were friends," shared Lala. "And I'm a loyal soldier. When I have a friend, it's like you're not going to catch me talking badly about you. I'm always going to defend you, so that was hurtful too."
Finally, she once again denies those pesky rumors that she was once a mistress to her beau Randall, and says she is actually on good terms with his ex-wife actress Ambyr Childers.
"I did not wreck anybody's home," said Lala about the rumors. "His ex-wife is already happily engaged to someone else. They met a few months after Randall and I got together. We celebrate birthdays with the kids together. I've always resented that name homewrecker because I definitely believe in marriage and my parents have been together a long time."
Photos Credit: Bravo, Instagram
TELL US – THOUGHTS ON LALA'S INTERVIEW? DO YOU BELIEVE JAX HAS CHEATED ON BRITTANY MORE THAN ONCE?