They're back! The second season of TLC's hit show 90 Day Fiance: Before the 90 Days will feature some familiar faces along with five new couples.
This week, the TLC network announced the new season of the 90 Day Fiance spinoff will premiere Sunday, August 5 at 8/7c.
In a surprising move, season one couples Paul Staehle and Karine Martins, alongside Darcey Silva and Jesse Meester, will return. Paul and Karine were expected to appear on another show as they had been filming for the past year but most had suspected it would be for 90 Day Fiance since the couple has since gotten married with Karine being currently pregnant.
In the video trailer below, we see Darcey and Jesse doing the usual, aka non-stop fighting when Jesse comes to the United States to visit Darcey. In one scene, Darcey is seen crying about just wanting to be loved. You can click here for the latest update on Darcey and Jesse. Back in Brazil, Paul is shown facing Karine's family as they question him about his criminal record.
Below are bios and photos for each couple!
Darcey, 42 (Middletown, Connecticut) and Jesse, 24 (Netherlands)
Last season we met Darcey and Jesse, who first connected through online dating. Darcey traveled to Amsterdam to be with him, eventually leaving with a promise ring, but since then their lack of communication has driven them even farther apart. Now, Jesse is traveling to the U.S. and Darcey is determined to talk through their issues and exchange her promise ring for an engagement ring.
Paul, 34 (Louisville, Kentucky) and Karine, 21 (Brazil)
We'll also catch up with another returning couple who clicked online, Paul and Karine. Last time around, Paul immensely prepared for his trip to Brazil, only to realize how large the language barrier would be. Now he's heading back down the river for three months with the intention to seal the deal and ask for Karine's hand in marriage, if her father approves.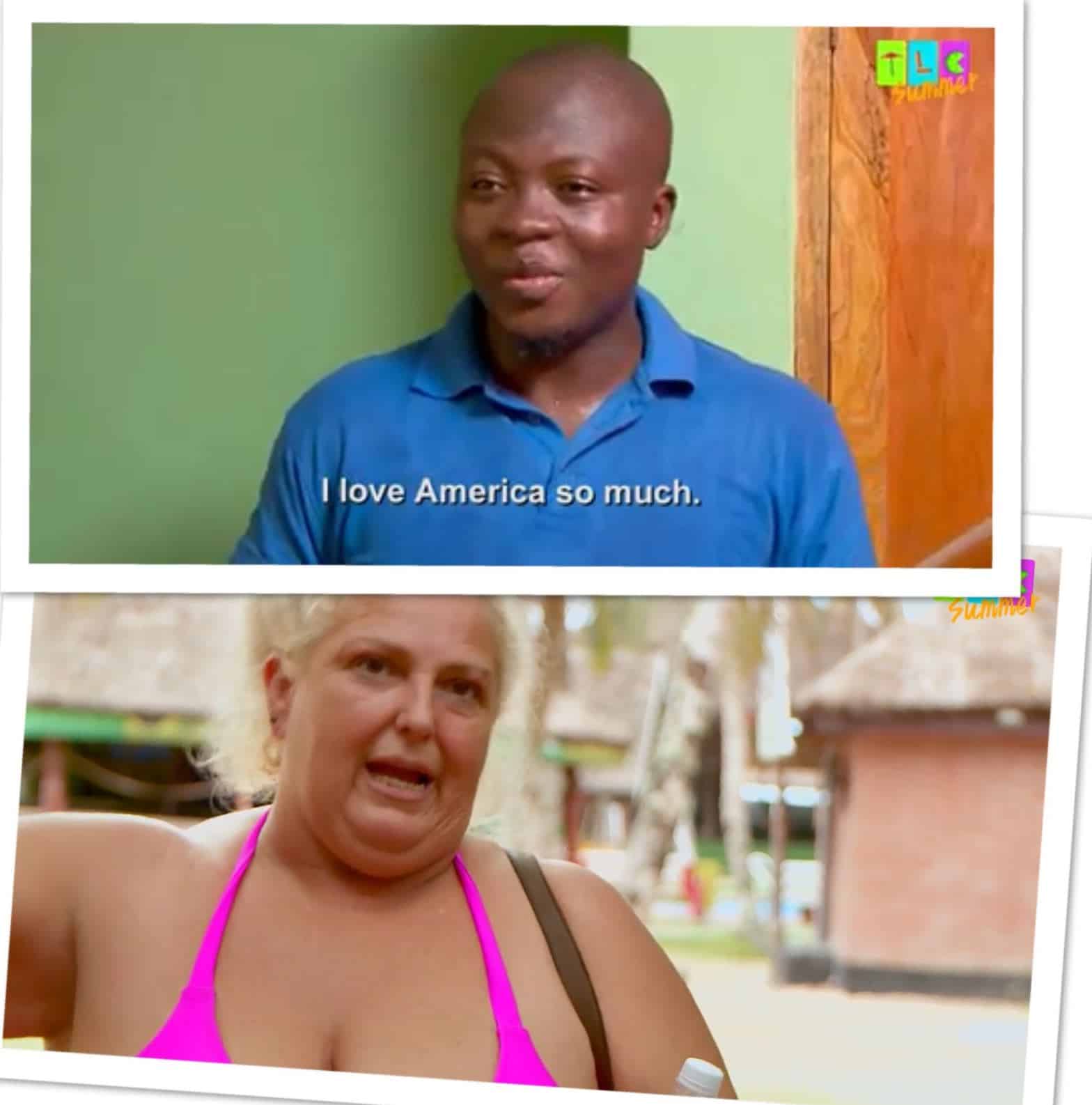 Angela, 52 (Hazlehurst, Georgia) and Michael, 30 (Nigeria)
A mother of two and a grandmother of six, Angela believes age is just a number when it comes to love. Michael is more than 20 years younger, but his confidence in reaching out to her via social media was enough to motivate her to make the trek to Nigeria, and propose. Angela's family and friends have major doubts about the relationship, but she insists that there's something real.
Rachel, 33 (Albuquerque, New Mexico) and Jon, 34 (England)
Rachel met Jon after they performed a virtual duet on a karaoke app. While they were getting to know each other, Rachel learned that she was pregnant with another man's baby, but Jon was completely on board with being a part of her pregnancy and the birth. After two years, Rachel is finally traveling to England with her eight month old to meet Jon in person for the first time. She also intends to confront Jon about his suspicious past and decide if he's the right man to settle down for.
Ricky, 33 (Columbus, Ohio) and Melissa, 28 (Colombia)
Two-time divorcee and father Ricky met Melissa through a Latin dating site. He instantly found her attractive but admits she's out of his league. Ricky has been supporting Melissa by sending her money, which is concerning to his friends. They communicate mostly through text, but when Ricky asked her to video chat, something was mysteriously wrong with her connection. After only three months, Ricky is ready to head to Colombia and wants to propose, but his eldest daughter feels like their relationship is moving too fast.
Tarik, 43 (Virginia Beach, Virginia) and Hazel, 25 (Philippines)
Through an Asian dating site Tarik met Hazel, and after only three weeks of talking he was madly in love with her. Being a single parent to a young daughter with autism has Tarik ready to settle, but his brother is very skeptical of Hazel's real motives. Now Tarik and his very cautious brother are flying to the Philippines to find out if these feelings are sincere or if Hazel is simply looking for a one-way ticket to a better life in America.
Marta, 30 (Milwaukee, Wisconsin) and Daya, 26, (Algeria)
As an exotic dancer supporting two children, Marta has not had the easiest time finding love. She was surprised to find a message one day from a 26 year-old man named Daya from Algeria. Daya does not speak English so there was a major language barrier, but they continued to fall for each other. Coming from a strict Muslim family, Daya must learn to accept Marta's job. Now after almost a year of calling each other "husband" and "wife" Marta is ready to take the next step and meet Daya in person, but will his family be accepting of her wild side?
90 Day Fiance: Before the 90 Days "follows couples before the K-1 Visa process begins, from how they found each other, to meeting in person for the first time and traveling to a foreign country with surprises along the way. Despite challenges including 20-year age gaps, language barriers and questionable pasts, these lovestruck hopefuls travel across the world to meet the person they believe is their soulmate."
TELL US – ARE YOU EXCITED ABOUT THE NEW SEASON OF BEFORE THE 90 DAYS?