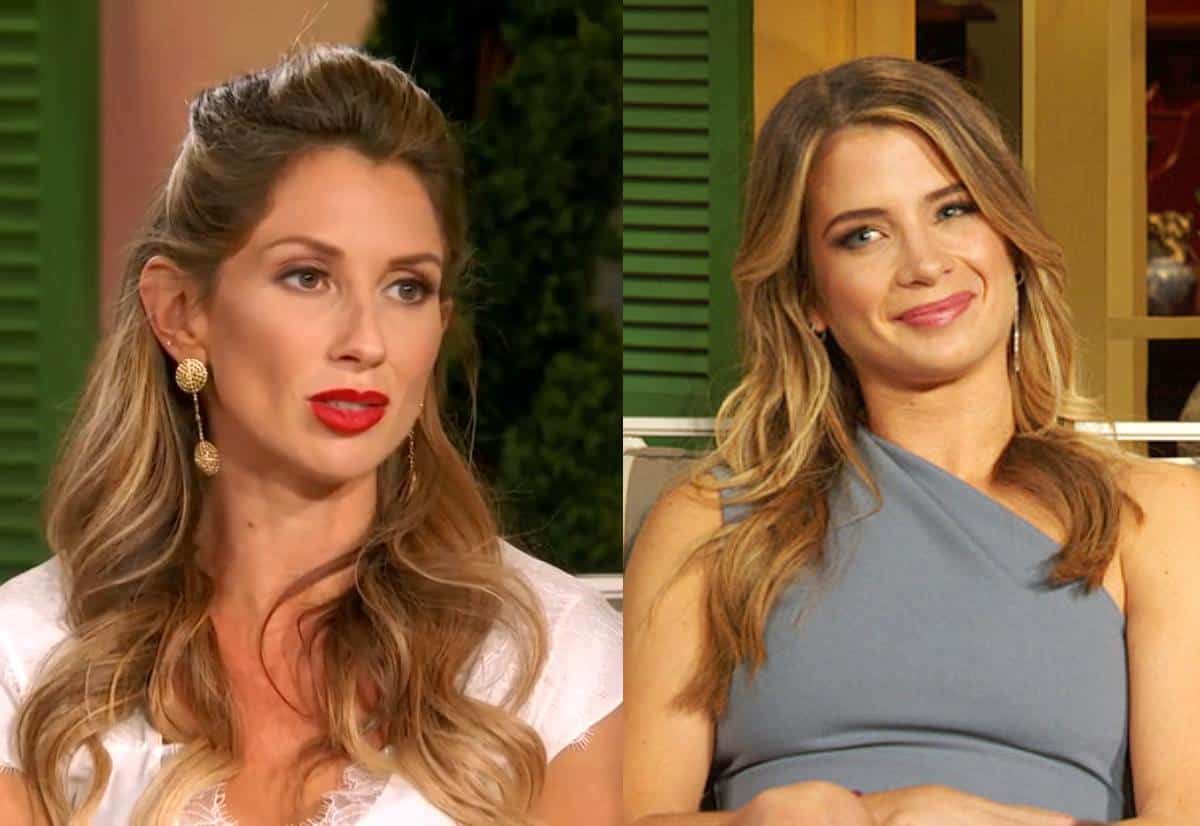 Ashley Jacobs might be officially off Southern Charm, but she is still bringing the cray cray drama away from the show!
As reported, Ashley was spotted with ex-boyfriend Thomas Ravenel over the weekend, prompting rumors of a reconciliation, but days prior, she was caught spending time with a mystery man in Charleston, South Carolina. Even more, Ashley got into a confrontation with Naomie Olindo while she was out on her date.
Just one day after the 33-year-old former Bravo reality star revealed her breakup on Instagram with a tearful video, she was photographed grabbing the backside of a man as he stood with his arm wrapped around her waist.  Days later, the man's identity has been revealed.
This week, Fits News described Ashley's date as a "younger, more muscular Thomas Ravenel with an odd hipster haircut" before identifying him as 39-year-old Ryan Trout. According to the report, Ryan is a graduate of the University of Virginia but was born and raised in Philadelphia, Pennsylvania.
Currently, Ryan is working as a marketing manager for his family's company.
Last Thursday, Ashley and Ryan were caught "canoodling" at a bar in Charleston, where Ashley's former co-star, Naomie, was spending time with her boyfriend, Metul Shah, and another couple. Not surprisingly, Ashley wasted no time causing drama at the venue and after approaching Naomie and her group, she proceeded to speak rudely towards them and used foul language.
While Ashley seems to love a good fight, Naomie and Metul weren't on board with her aggressive behavior and chose to cut their night short as they quickly made their way out of the lounge.
The AllAboutTheTea blog is also reporting the same, adding that Ashley was actually attempting to cozy up to Naomie, allegedly in an effort to try to get back on the show, but Naomie gave her the cold shoulder which set Ashley off.
"Ashley recently spotted Naomie and her boyfriend at a local bar, and tried to speak to her," an insider revealed. "Ashley approached them, and Naomie was rude, and gave her the cold shoulder."
"Ashley responded with a snide remark, but Naomie just ignored her," the source added.
Although Ashley and Ryan appeared to enjoy their night together, it doesn't look like they are on the cusps of anything serious, especially considering Ashley has since reunited with Thomas.
As Fits News confirmed, Ashley and Thomas recently began following one another on Instagram after deleting all images of each other from their accounts and were photographed having drinks together on Sunday afternoon at Home Team BBQ in West Ashley.
Thomas and Ashley will not be featured during the upcoming sixth season of Southern Charm.
Photos Credit: Bravo, Instagram