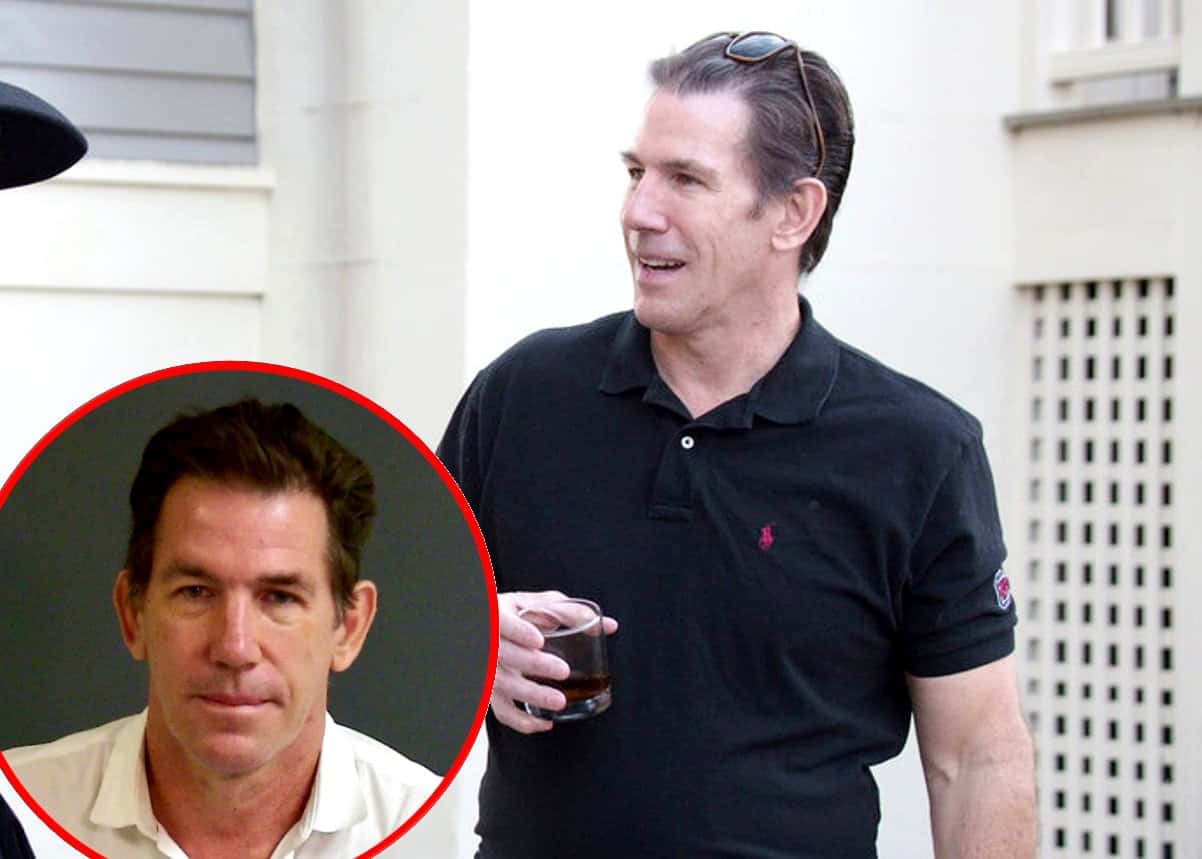 Slowly but surely, more details are now trickling out about the arrest of former Southern Charm star Thomas Ravenel.
Thomas, 56, appeared in court today following his arrest this morning for assault and battery in the second degree. His accuser also appeared in court as cops confirmed his case is related to a sexual assault claim.
Earlier today, Charleston Police spokesman Charles Francis confirmed that Thomas's case was related to a sexual assault accusation. The police report reveals that back in May, a 43-year-old South Carolina woman went to cops and accused Thomas of sexually assaulting her in January 2015 at his Charlotte Street home.
The police report lists the crime as a "sex offense/forcible rape" and all signs, including the date of the alleged assault, point to Thomas's arrest being related to the rape allegation made by his former nanny Dawn. If you recall, Dawn (who wanted to keep her last name private) publicly accused Thomas of rape in May of this year. Her accusation came after Ashley Perkins, a 29-yr-old model and realtor, alleged that Thomas sexually assaulted her 53-yr-old mother following a Tinder first date in December 2015, and later paid her $200,000 to settle the case.
South Carolina news outlet, Live5News, was present in the courtroom this afternoon as Thomas appeared for his bond hearing.
The outlet reports that Thomas's accuser, who we're presuming is Nanny Dawn, was also present in court during which she stated that the incident was not just an assault, but rape.
In addition to the rape accusation, she alleged that Thomas's kids and her kids were "exposed to constant alcohol and drugs" during the period she worked for him.
Cops also revealed that they are in possession of photographic evidence which shows injuries to the accuser's chest and neck. The photos are said to be "appropriately time-stamped," corroborating the date and location of the alleged incident via employment records of the accuser and Thomas.
TMZ shared more details from the police report, in which the accuser alleges that Thomas 'grabbed her hand and placed it on his penis. And while he allegedly tried to remove her clothing, her shirt got wrapped around her neck, causing her to struggle to breathe.'
The documents allege that Thomas then pulled down the accuser's pants and said, 'Show me your pu**y," while he allegedly began to grab her genitals.' She was ultimately able to escape, and told her ex-husband and sister about the alleged assault right after it happened. Additionally, she took photos of her injuries.
During her appearance in court today, the accuser stated she was not aware that Thomas would be getting arrested this morning. We however have to wonder if Thomas or his attorneys were given a heads up as he went on a bizarre Twitter rant just this weekend, lashing out against his ex-girlfriend and mother of his two kids, Kathryn Dennis, and his former Southern Charm castmates.
Thomas's attorney Cameron Blazer appeared in court and asked the judge to grant him a PR bond, which would allow Thomas to get out of jail without paying any money.
The judge granted a $20,000 PR bond, and ordered Thomas to turn in his passport, remain in the state, and avoid all contact with his accuser.
Judge orders @Thomasravenel to turn in his passport, avoid contact with victim, stay in state. $20,000 PR bond granted, means Ravenel will not have to pay money to get out of jail. #chsnews

— Harve Jacobs (@HarveJacobs) September 25, 2018
It also appears the Bravo network is taking an extraordinary step to distance themselves from Thomas, as just moments after news of his arrest broke this morning, the network confirmed to PEOPLE that he will not be returning to Southern Charm next season.
As for Kathryn, she is keeping mum while also sending out a clear message. She took to her Instagram page this afternoon to share a photo of her two kids with Thomas, daughter Kensie, 4, and son Saint, 2½, with the caption, "Everything in life to me."
https://www.instagram.com/p/BoKRDVyHZw2/?taken-by=kathryndennis
Finally, FitsNews was able to obtain a copy of the probable cause affidavit. It is posted below.
It is currently unknown why Thomas was charged with assault and battery, rather than rape. It is likely that the police felt a rape case would be harder to prove and decided to go with battery charges instead.
Thomas has yet to address his recent arrest.
Photos Credit: Bravo, Charleston County Police, Live5News