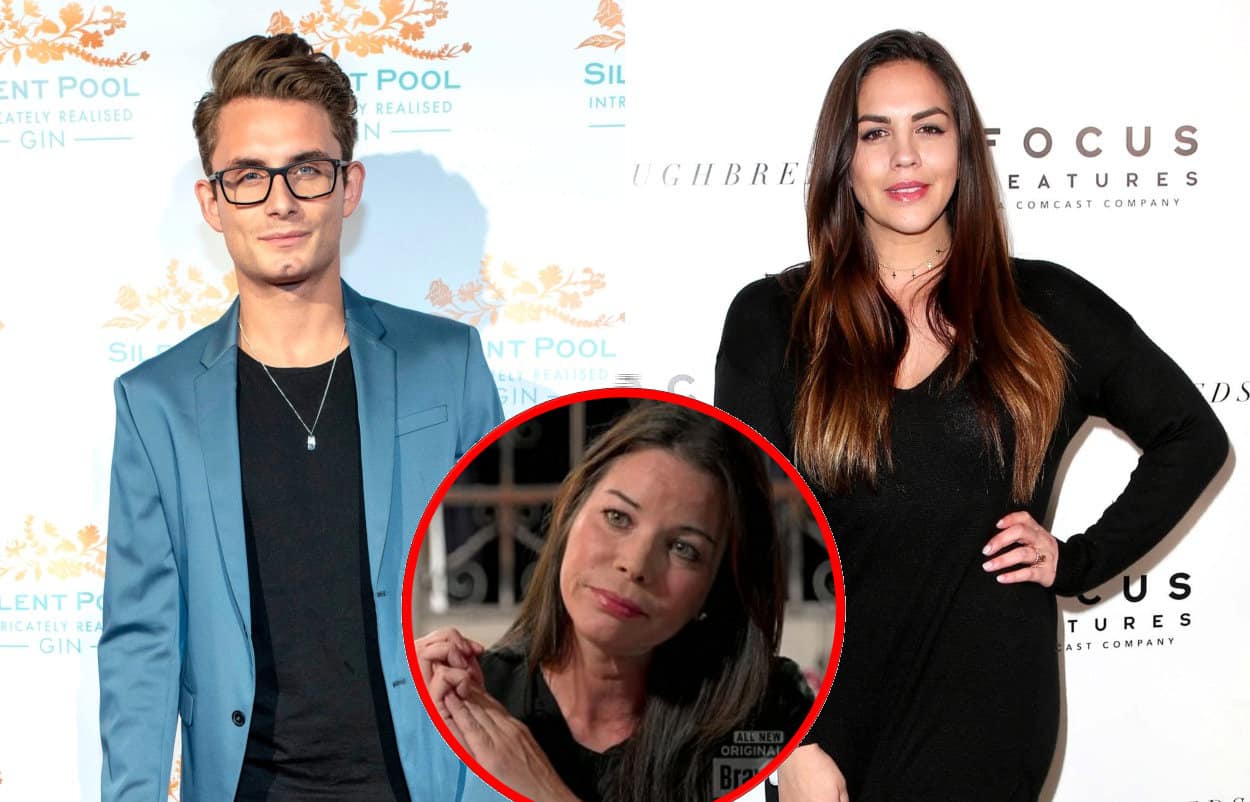 James Kennedy's mom, Jacqueline Georgiou, isn't happy with the way her son has been treated over the past few years on Vanderpump Rules.
Following an appearance on the show on Monday night, during which she begged Lisa Vanderpump to give James his job back, Jacqueline took to her Instagram account and lashed out at the "double standards" and "hypocrisy" that has gone down on the Bravo TV reality show.
"To whom it may concern… When I filmed with Lisa I had no idea what had happened, regarding my son being fired. I watch [Vanderpump Rules] episodes as they air like everyone else and in my opinion, James should never have been fired," she began on her Instagram page.
As she continued in her hand-written note, Jacqueline proceeded to share some "facts" with her online audience, starting with a message revealing her son never called Katie Maloney "fat." Instead, in her opinion, he simply reacted to something she said to him, leading Katie to "play victim."
"James never used the word 'fat' nor did he speak to Katie first. She commented on his shorts and James then responded… Let's not claim to be a feminist then play victim," she wrote.
Although James may not have used the word "fat" in the episode in question, he did suggest that the small shorts Katie was wearing weren't complimentary to her figure.
Continuing on, Jacqueline addressed the claims Kristen Doute and her friend Hope made against James, which suggested he cheated on girlfriend Raquel Leviss, during the L.A. Pride Festival at SUR Restaurant.
"James was 'working' is there a reason for condoning this in the workplace?" Jacqueline asked, slamming the women for "harassment" and suggesting they attacked her son "single white female style."
James' mom then slammed Kristen for "repeatedly [beating] the sh*t out of [her] son on previous episodes."
"Is this not considered abuse and battery? Or because he is male he should take it?? Hypocrisy…Double Standards" she wrote.
During her chat with Lisa on Monday night's episode, Lisa questioned Jacqueline's decision to suggest she was a "mother figure" to James and told Jacqueline it was she who was James' mother figure. However, according to Jacqueline, anyone with "1/2 a brain" should have known what she meant.
At the end of her note, Jacqueline slammed the cast of Vanderpump Rules for constantly abusing her son's girlfriend, Raquel.
Vanderpump Rules season seven airs Mondays at 9 p.m. on Bravo TV.
Photos Credit: Faye Sadou/MediaPunch/INSTARimages.com, Eugene Powers/Shutterstock.com, Bravo TV
TELL US – THOUGHTS ON JACQUELINE'S POST? AGREE OR DISAGREE?