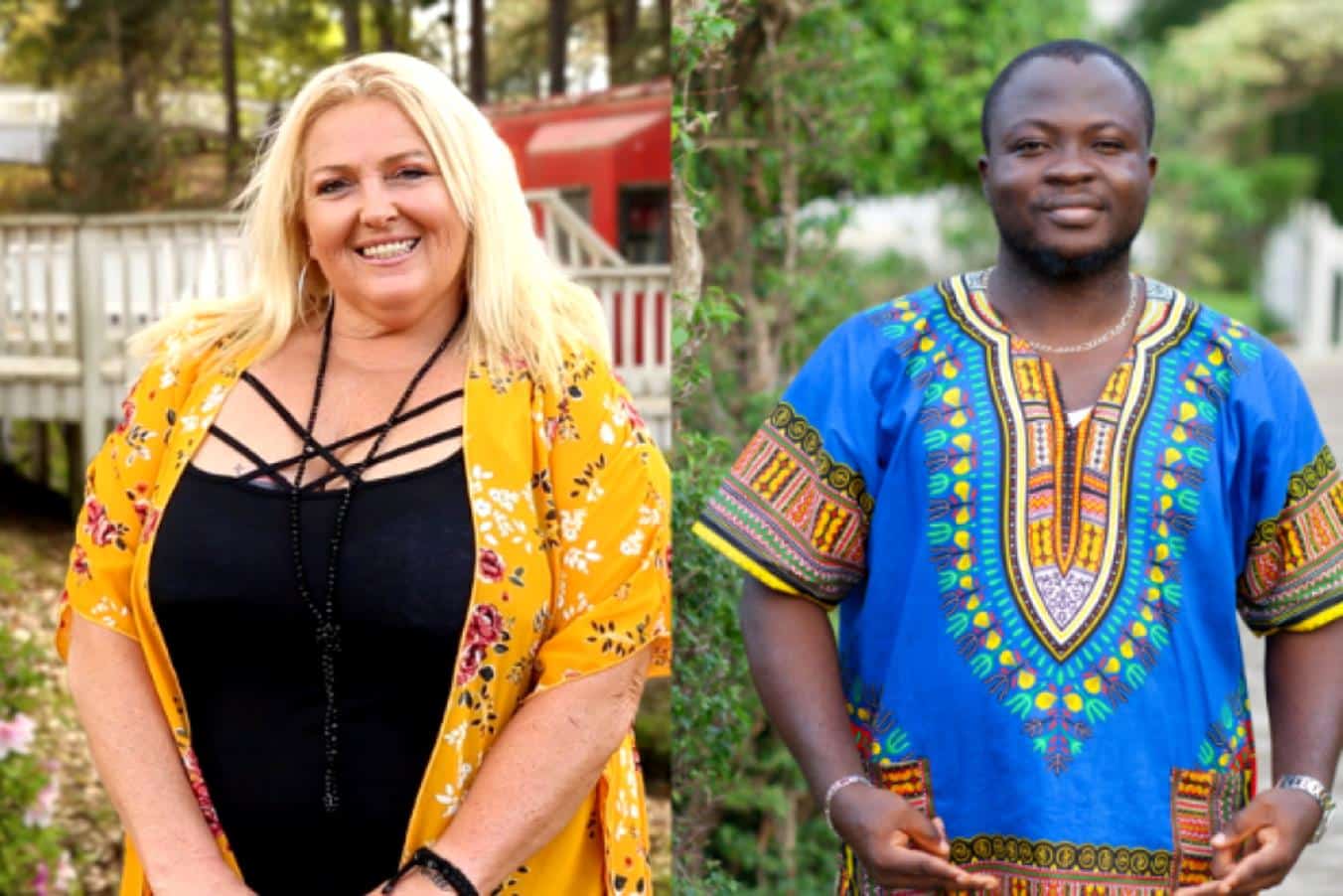 While many 90 Day Fiancé: Before the 90 Days couples seem to be leading dead-end relationships, is there any actual hope for Angela Deem and Michael Ilesanmi's love story? Are Michael and Angela still together? Find out below.
Audiences were first introduced to the TLC stars in season 2 of Before the 90 Days and learned they met online. At the time, Angela, 53, lived in Hazlehurst, Georgia and was working as a nurse assistant for a hospice care facility. Michael, 31, lived all the way in Nigeria and was a self-proclaimed President Donald Trump enthusiast. After talking back and forth online, mainly on social media, Angela decided to pack her bags and visit Michael in his hometown.
As fans saw throughout season two, the couple had their fair share of both happy and tumultuous moments. But one of their biggest issues was Michael's lying tendencies, something that Angela just couldn't get on board with — especially when it involved her boyfriend allegedly getting down and dirty with another woman at a club.
When Angela visited Michael in Nigeria, she gave him her bank card so he could help her retrieve cash in his country. But when she returned to the states and realized all her cash was gone, she accused Michael of stealing her money. However, it was later confirmed that the confusion was caused by an ATM error and Angela was refunded the money that was lost.
But during season two's "tell-all" special, Michael referred to Angela as an "elder" which completely embarrassed his girlfriend who is just over 20 years his senior. It was right then that she announced their engagement was off.
However, the couple's love prevailed as they've continued to work on their relationship in season 3 of Before the 90 Days. Angela and Michael started their sophomore season off strong, revealing that they were still engaged. Back in the states, cameras followed Angela as she searched for wedding venues, however, they all proved to be out of her budget.
Angela also boldly asked her daughter Skyla if she'd be willing to provide her with eggs in hopes of carrying Michael's baby one day since she claims to have already gone through menopause. "I can tote it, I just need your egg," the reality star explained to her daughter in a recent episode.
Fans also learned that while Angela wanted Michael to come live in the states with her, getting his Visa was going to take a very long time and would cost her an incredible amount of money. And given the fact that Angela was still catching Michael in lies (like when he said he'd wait to celebrate his birthday with her and instead went out drinking with his friends), she was reluctant to start the process.
Despite Michael's lies, Angela decided to take another trip to Nigeria and give their relationship a fighting chance. And while the beginning of the trip seemed to be going well for the couple (which may or may not have included a gift of boxers with Trump's face on them), it didn't take long before Angela caught Michael in another lie.
While the TLC stars were heading toward the docks for a day on the water, Michael claimed he had never been on a boat. But Angela remembered quickly that her boyfriend had posted a picture of himself on a boat on his Instagram page, meaning he was lying AGAIN. Needless to say, Angela was not amused.
Angela stormed off to a beauty parlor to get her hair braided only to be followed by Michael, with apologies and cake in tow. But unlike the last cake-apology combo Michael presented during a previous fight, this one didn't do the trick. Angela took the cake and smashed it right into Michael's face.
"I've had it! I'm sick of his lying and his bulls***," Angela said straight to the camera on the show. "I don't want to see him again. He's not sleeping in the room with me. I don't know where he's going, and I don't give a f***. I am done with Michael for good."
After all this fighting, there's no way that the TLC stars could still be together….is there? Believe it or not, the couple seems to be going strong these days!
According to Michael's Instagram page, his love for Angela is still very real. Just three weeks ago, the 30-year-old posted a picture of himself alongside his American girlfriend.
"Like her or not she's so beautiful and looks like an angel to me 😍❤️" Michael lovingly wrote.
https://www.instagram.com/p/B1rSERSHNR8/
And while Angela's Instagram account is private, pictures of her and Michael are all over her Facebook page. From her banner photo that appears to have been updated in August to her profile pic, Micheal is everywhere!
And just ahead of season three of the show, In Touch reported that the couple was planning to get married. According to the report, a fan named Jacqi Gugliotti bumped into Angela in New York City on May 15 just as she was stepping out of a pedicab. And of course, the excited fan couldn't help but ask the TLC star whether she was still with Michael or not.
"We are getting married! We're filming Before the 90 Days right now! He's coming here," Angela reportedly exclaimed.
Jacqi also inquired if Michael had "learned how to act right," according to the article. Angela appeared positive and replied, "Yes girl, just gotta feed him some chicken and behind closed doors, he ain't back talking."
Jacqi claimed to have spoken with Angela for about 10 minutes before they went their separate ways. "[Angela] was a ton of fun, exactly as you see her on the show," the fan said.
Wondering the relationship status of some of the other TLC couples? Find out if Darcey and Tom are still together or if Cesaer has made it work with Maria.
Tune in to new episodes of 90 Day Fiance: Before the 90 Days every Sunday at 8 P.M. on TLC.