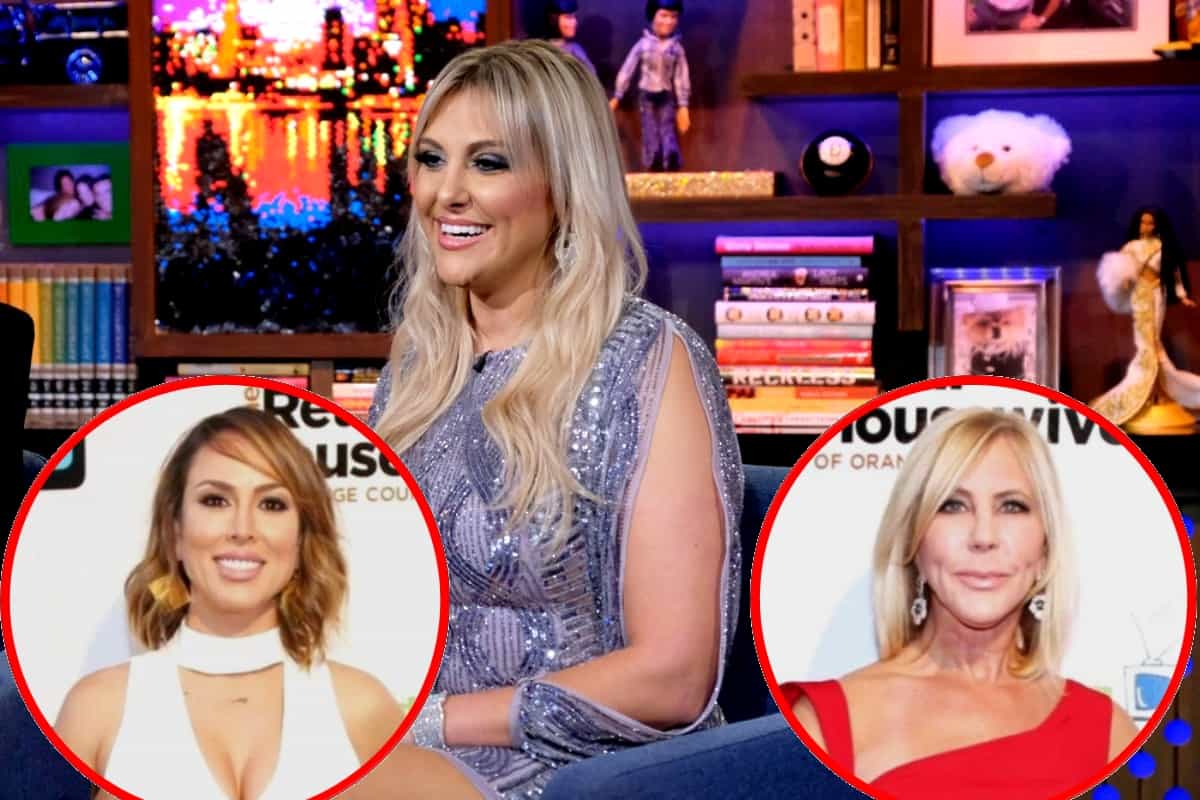 Gina Kirschenheiter is sharing new info about how the 'train' rumors regarding Kelly Dodd got exposed on The Real Housewives of Orange County, and she explains why Vicki Gunvalson is to blame over Tamra Judge. Gina is also revealing the comment Kelly made on the show this season that crossed the line, and she surprisingly reveals that Kelly actually apologized for what she said.
While appearing on Tuesday night's Watch What Happens Live After Show with Andy Cohen, a caller phoned in to ask Gina if she felt that Vicki was unfairly blamed for the train rumor about Kelly. After all, the woman noted, it was actually Tamra who said the word "train."
Gina seems to be echoing Tamra's earlier statement that editing didn't portray that scene accurately. According to Gina, Vicki simply refused to stop her insinuations about the rumor even though she didn't outright mention it.
"I think that is a very big misconception," Gina replied. "Miss Vicki knows exactly what she did. I love Vicki but Vicki kept pushing and pushing and pushing and saying over and over again, 'I know more than I'm saying,' and finally Tamra was like, 'Alright, enough already. Either [sh*t] or get off the pot.'"
"Tamra gets a bad rap for a lot of stuff that happens and it's not that way," Gina added.
As the episode continued, the topic turned to what Kelly said about Gina's children. During an earlier episode of the RHOC this season, Kelly implied that Gina was not doing a great job in raising and disciplining them.
"I was really upset about that. I feel like there are lines you don't cross and definitely children are one of them," Gina said during the After Show.
While Gina was understandably peeved by Kelly's comments, she credited her co-star's statements to her loose tongue and revealed Kelly has since apologized.
"Usually with Kelly, the things that she says, she doesn't even know what she's saying and I think this is one of those times," Gina explained. "She did text me and apologize and she did mean it, like I could tell in her text that she meant it."
As fans of RHOC well know, Kelly's season 14 behavior has been quite controversial and recently included the reality star getting physical with two of her co-stars, Gina and Shannon Beador. Luckily, though, Gina believes Kelly really meant it when she apologized for what she said about Gina's children.
"She understood she crossed the line which for Kelly, I think, is a really good thing," Gina revealed.
The Real Housewives of Orange County season 14 airs Tuesdays at 9 p.m. on Bravo TV.
Photos Credit: Charles Sykes/Bravo, Milla Cochran/startraksphoto.com