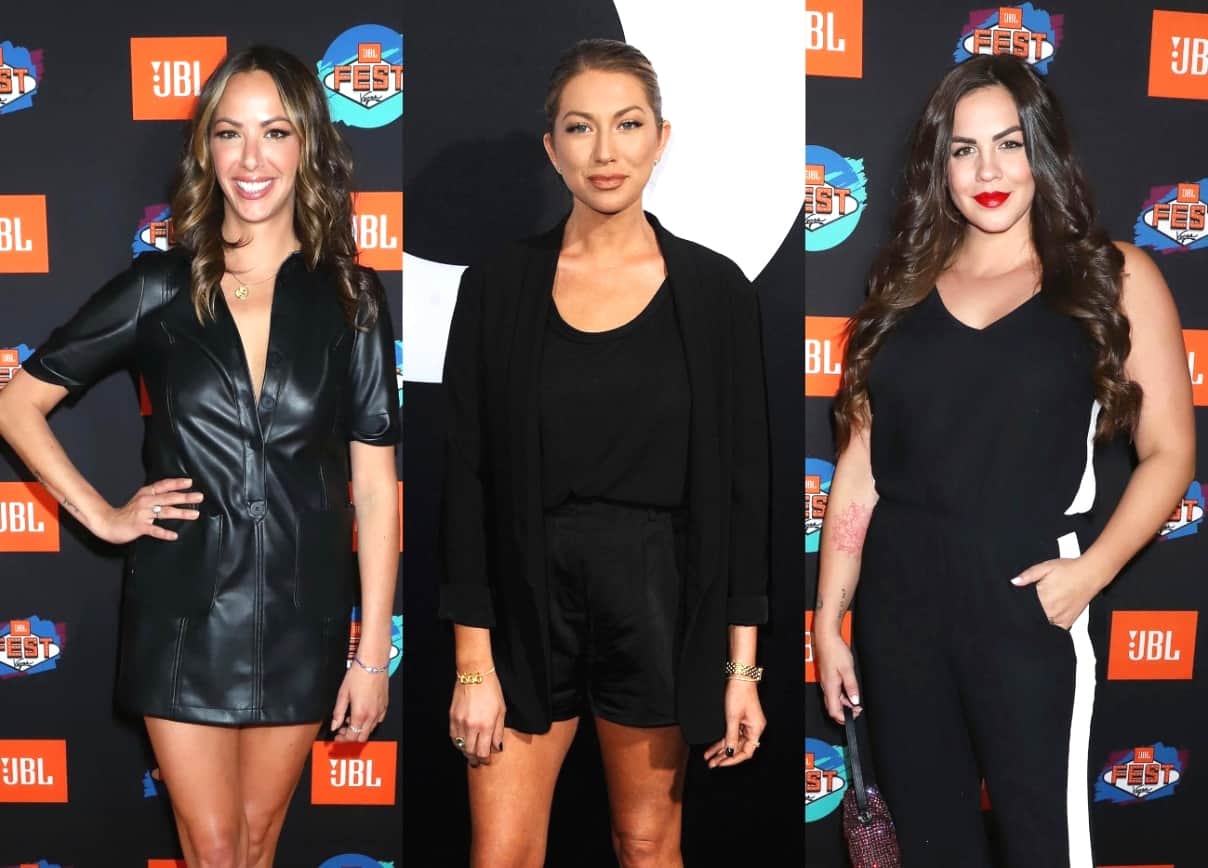 Kristen Doute has been feuding with her Vanderpump Rules co-stars, Stassi Schroeder and Katie Maloney, for months. During a new interview, she revealed what it would take for her to make amends with her former besties.
While attending Tom Sandoval and Ariana Madix's book launch for Fancy AF Cocktails, Kristen confirmed a recent run-in with Stassi and Katie before opening up about their feud, making amends, and revealing whether or not she thinks Stassi is standing in the way of her potential reconciliation with Katie.
"We exchanged pleasantries," Kristen told Hollywood Life about her interactions with Stassi and Katie at last month's BravoCon event in New York City. "We were all there for the same reason and we all have a job to do, and we were all on the same team when it comes to the show, but that was it."
News of Kristen's feud with Stassi and Katie first hit the web over the summer after Kristen was noticeably absent from Stassi and Beau Clark's engagement party. Then, weeks later, the tension between them was further confirmed when both Stassi and Katie skipped an event for Kristen's T-shirt line.
Although Kristen's friendship with the ladies has been up and down in the past, she doesn't seem to have much hope for a reunion in the near future. In fact, when asked what it would take to make a group sit-down happen, Kristen said it would likely not happen unless Pump Rules is given "a season nine" during which she would then have a sit down with them to hash things out. That said, she is open to reconciliation at some point.
"I never say never to any of that. I love them both. My personal POV is I love them both. They're still my sisters to me. I still have a lot of love. They asked for space, so I'm giving them space," Kristen explained.
While what exactly prompted Kristen's feud with her co-stars won't be revealed until season eight begins airing next month, Kristen said it was Stassi and Katie who started it before suggesting Stassi may be more upset with her than Katie.
"It was them," Kristen explained. "And Katie actually texted me the day that my book came out for pre-order on Amazon, and she sent me a screenshot that she had pre-ordered it and texted congratulations. And I thought that was over the moon sweet of her and I really appreciated it."
As for whether or not Stassi was influencing Katie to stay mad at her, Kristen said she "could be, or not."
"I don't know. Katie's definitely no one's minion. I think… I don't know. I mean maybe it's just a respect thing for Stassi because Katie's definitely kinder to me and more friendly than Stassi is," she said. "But Katie is her own person."
Vanderpump Rules season eight premieres on January 7 at 9 p.m. on Bravo TV.
Photos Credit: PA Images/INSTARimages.com, Sara De Boer/startraksphoto.com